Report: Joe Paterno Statue To Be Removed This Weekend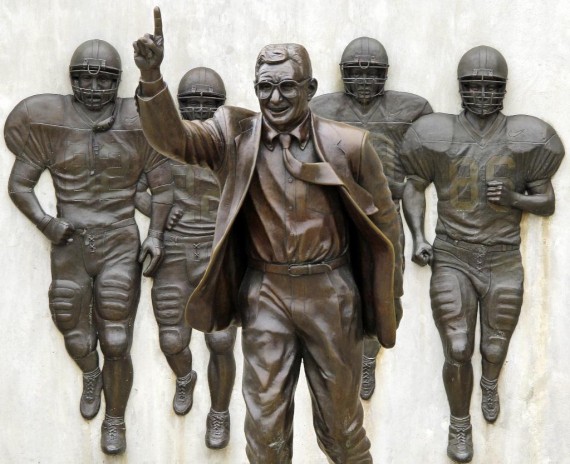 When Penn State students return to campus in the fall, a familiar landmark will apparently be gone:
The emotional and controversial debate over whether the bronze statute of Joe Paterno should remain standing could well be over. The NFL Network first reported that the statue would come down this weekend. A source told Bonnie Bernstein formerly with CBS and ESPN.

The 7-foot image of Paterno raising a finger to the sky, was erected in November 2001 outside of Beaver Stadium. It has torn the fabric of State College in two.

Students clinging to the memory of a coach who led generations of young men through his program, camped out in front of the statue to protect it from vandalism. And earlier this week, a plane flew over the stadium with a banner that read, "Take the statue down or we will."

They now won't have to: The Board of Trustees, whose former chairman and current board member Steve Garban resigned Thursday night, will make sure that happens.

The sculptor, Angelo Di Maria said removing the statue now would be too hasty.

"I think we should all wait on it. Put a cover on it," Di Maria told the Boston Herald. "Let's see how everyone feels in six months…or a year."
But for the emotions surrounding the issue, that might not seem like an unreasonable request. After the revelations in the Freeh Report, though, the idea of honoring Paterno just seems really inappropriate.