Reporting and Commentary Should Remain Separate
There's more than enough opinion journalism.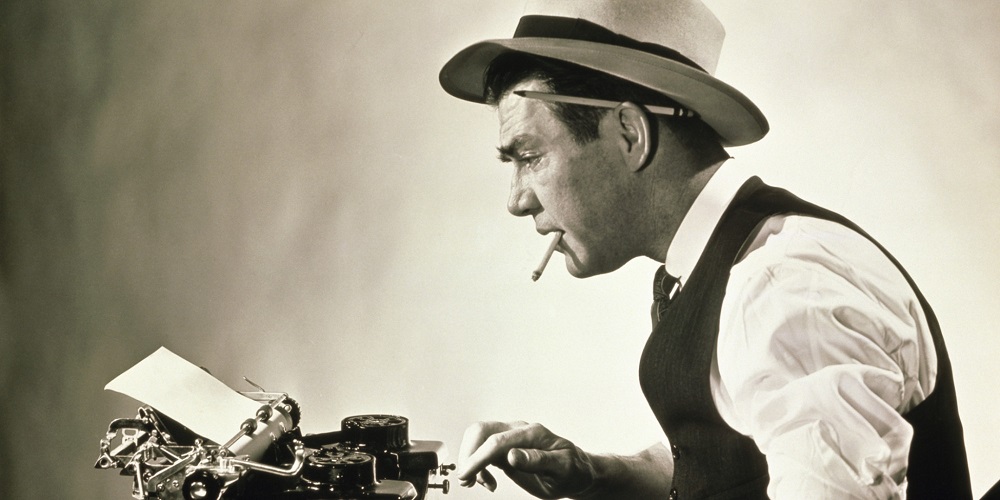 In his essay "Limbaugh obituaries show the mainstream media still fawning over the people who poisoned politics," Dan Froomkin continues his quest to have his opinion treated as the Objective Truth by reporters.
The leaders of our elite newsrooms had a whole year to figure out how they were going to frame Rush Limbaugh's life.

He announced he was dying of lung cancer last February, right before Donald Trump gave him the Presidential Medal of Freedom, the nation's highest civilian honor. It was a striking moment, symbolic of how thoroughly Limbaugh's moral rot had infected the body politic, all the way to the presidency and its most hallowed traditions.

[…]

Our newsroom leaders still cannot bring themselves to declare that the hysteria and conspiracy theories that once inhabited only the lunatic fringes of our political discourse – until Rush Limbaugh, and then Donald Trump, came along – don't merit respect, but banishment, rejection, and denial.

And that is why, even with a year to prewrite and edit, major media outlets on Wednesday published obituaries celebrating Limbaugh's extraordinary success as a "conservative provocateur." They whitewashed his once-unimaginably vile and divisive demagoguery as "comic bombast." They hailed him as "the voice of American conservatism," when what really matters about Rush Limbaugh is that he spread hatred more effectively and lucratively than any American before him. He didn't hide his bigotry, and, thanks to him, neither, eventually, did the Republican Party.
Froomkin and I largely agree on Trump, Limbaugh, and the state of the Republican Party. My Limbaugh obit, written hastily immediately upon learning of his death, conveyed that. But, like Froomkin, I'm a commentator on the news, not a reporter.
Here's what Froomkin suggests should have been the lede in the major press obits:
He pushed the national political discourse far to the right, giving voice to racism, misogyny and conspiracy theories that became central to the rise of Trump and the radicalization of the Republican Party.
I think that's a fair characterization of Limbaugh's legacy. But that's opinion, not news. And goodness knows, there's plenty of space—including at places like the New York Times and Washington Post—for commentators to express their opinions of Limbaugh. Indeed: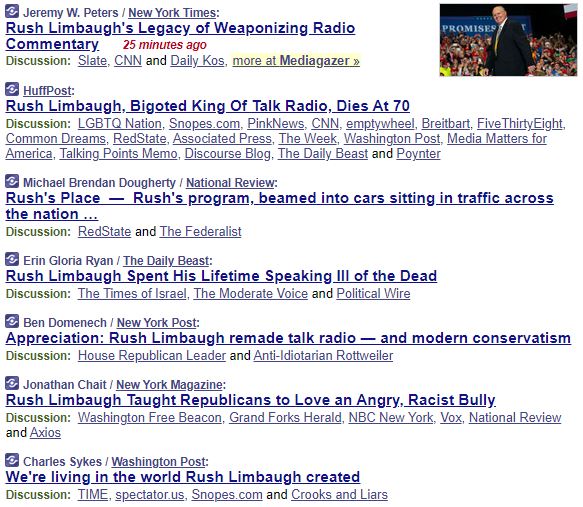 The job of newspaper obituary writers is to provide broad content, not give opinions about a person's character
Ah, you say, but Limbaugh was unassailably evil!
Aside from the fact that tens of millions of Americans hold a different opinion, casting that sort of judgment just isn't and shouldn't be the norm for obituaries.
Take, for example, the New York Times' May 2, 2011 obituary for Osama Bin Laden. The header is a simple "OBITUARY | OSAMA BIN LADEN, 1957-2011" and the headline "The Most Wanted Face of Terrorism."
Here's the lede:
Osama bin Laden, who was killed in Pakistan on Monday, was a son of the Saudi elite whose radical, violent campaign to recreate a seventh-century Muslim empire redefined the threat of terrorism for the 21st century.

With the attacks on the World Trade Center and the Pentagon on Sept. 11, 2001, Bin Laden was elevated to the realm of evil in the American imagination once reserved for dictators like Hitler and Stalin. He was a new national enemy, his face on wanted posters. He gloated on videotapes, taunting the United States and Western civilization.
Now, while some readers might disagree, I happen to believe bin Laden a more reprehensible figure than Limbaugh. Certainly, few Times readers would have objected to calling him awful names. But the obit simply put his life into broad context, leaving it to the editorial and op-ed pages to debate his character.
Long before, he had become a hero in much of the Islamic world, as much a myth as a man — what a longtime C.I.A. officer called "the North Star" of global terrorism. He had united disparate militant groups, from Egypt to the Philippines, under the banner of Al Qaeda and his ideal of a borderless brotherhood of radical Islam.

Terrorism before Bin Laden was often state-sponsored, but he was a terrorist who had sponsored a state. From 1996 to 2001 he bought the protection of the Taliban, then the rulers of Afghanistan, and used the time and freedom to make Al Qaeda — which means "the base" in Arabic — into a multinational enterprise for the export of terrorism.

To this day, the precise reach of his power remains unknown: how many members Al Qaeda could truly count on, how many countries its cells had penetrated — and whether, as Bin Laden had boasted, he was seeking chemical, biological and nuclear weapons.

He waged holy war with modern methods. He sent fatwas — religious decrees — by fax and declared war on Americans in an e-mail beamed by satellite around the world. Qaeda members kept bomb-making manuals on CDs and communicated through encrypted memos on laptops, leading one American official to declare that Bin Laden possessed better communications technology than the United States. He railed against globalization, even as his agents in Europe and North America took advantage of a globalized world to carry out their attacks, insinuating themselves into the very Western culture he despised.

He styled himself a Muslim ascetic, a billionaire's son who gave up a life of privilege for the cause. But he was media savvy and acutely image-conscious. Before a CNN crew that interviewed him in 1997 was allowed to leave, his media advisers insisted on editing out unflattering shots. He summoned reporters to a cave in Afghanistan when he needed to get his message out, but like the most controlling of C.E.O.'s he insisted on receiving written questions in advance.

His reedy voice seemed to belie the warrior image he cultivated, a man whose constant companion was a Kalashnikov rifle that he boasted he had taken from a Russian soldier he had killed. The world's most threatening terrorist, he was also known to submit to dressings down by his mother. While he built his reputation on his combat experience against Soviet troops in Afghanistan in the 1980s, even some of his supporters questioned whether he had actually fought.
There's a whole lot more but you get the idea. This was a man responsible for nearly 3000 innocent deaths in a single day three-and-a-half miles from where the newspaper is published. Yet their description is nuanced and fair. Indeed, I might argue that it's actually kinder than the Limbaugh obit.
I share Froomkin's distate for what Jeff Jarvis has long termed "the view from nowhere." Journalists should certainly be more than stenographers who parrot back what one side says and what the the other says as though they are always equally true.
A Limbaugh obit of feature length should certainly include—as all the ones I read yesterday afternoon did—enough information for an uninformed reader to come away with a solid understanding of why he was a controversial figure. It's fair game to report on some of the inflammatory things he said on air, his problems with drug addiction, and all the rest. But they should absolutely have led with his stature as the most influential and popular political talk radio host of the television era.