Reports Of Shots Fired At U.S. Capitol
A tense afternoon on Capitol Hill.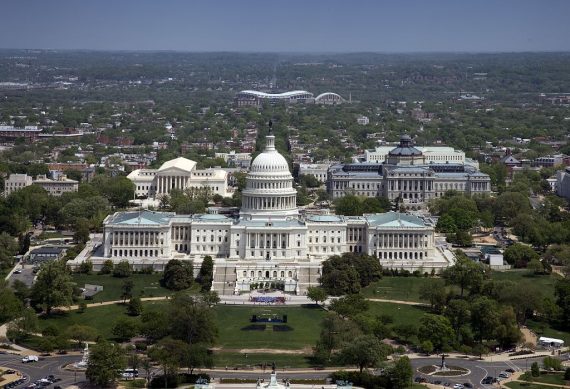 The U.S. Capitol is on lockdown after reports of shots fired near the Hart Senate Office Building:
WASHINGTON – October 3, 2013 (WPVI) – Police say the U.S. Capitol has been put on a security lockdown amid reports of possible shots fired outside the building.

People standing outside the Supreme Court across the street from Congress were hurried into the court building by authorities.

U.S. Capitol police said they had received reports of gunshots and one police officer has been injured.
Various reporters are sending in reports via Twitter but, as with other situations like this, it's always important to remember that initial reports are often incorrect.
More from Politico:
The U.S. Capitol and adjacent buildings were locked down Thursday afternoon, after multiple gun shots were fired on Capitol Hill.

Capitol Police have advised House and Senate employees to "shelter in place" and move away from and lock doors and windows. The order was lifted around 3 p.m.

Two eyewitness said U.S. Capitol Police fired multiple shots at a black sedan on Constitution Avenue near the Hart Senate Office Building. Two people — including a child — were removed from the vehicle. One adult from the vehicle appeared to be hit by gunfire, according to a eyewitness on the scene. A helicopter landed on Capitol grounds, and one person was taken away.

Secret Service at the White House say the car slammed into the south side of the White House gate and then fled to Capitol.

When shots were fired, Capitol Police cleared the plaza on the East Front of the Capitol, and quickly moved dozens of members of Congress, aides, reporters and tourists into rooms.

Rep. Gerry Connolly (D-Va.) was on the balcony off of the speaker's lobby when he heard what he said sounded like "fireworks," he told reporters. Guards immediately told members on the balcony to step inside.

Rep. Bill Posey (R-Fla.), who was also on the balcony, said he heard "five or six" gunshots.

"Boom, boom, boom, boom, boom!" Posey told POLITICO. "Then sirens went off, cops started going everywhere yelling 'get inside, get inside!'"

Sens. John Cornyn (R-Texas), Richard Blumenthal (D-Conn.), Chris Murphy (D-Conn.) and Claire McCaskill (D-Mo.) stayed in the U.S. Senate chamber.

While being interviewed by a reporter, McCaskill was pulled into the chamber by a Capitol Police officer.

"Senator, we're locking down the Capitol" the officer yelled.
Reports on Twitter are saying that the driver of the sedan was a female and that she was either injured sufficiently to be taken away via ambulance, or that she may in fact be dead. Obviously, it's far too early to determine what this may be all about. Although it's worth noting that, more often than not, people who tend to do things like attack the White House gates tend not to be in full possession of their mental faculties.
Update: According to media reports, all of the shots fired today were fired by police and it's not entirely clear that the woman driving the car, or anyone with her, had any kind of a weapon. There was also apparently a small child in the car who was, thankfully unharmed during this whole bizarre event. Whether she's alive or dead is still not officially confirmed at this point, but there are multiple reports of a woman being taken from the scene on a gurney who needed assistance to breathe so she likely took a lot of gunfire after getting out of the car.
This being Washington, there's already video of the incident out. This first one comes from the Arabic network Al-Hurra:
Given the plethora of cameras in this part of Washington, it is likely that there is video of the entire pursuit from the White House to the Capitol that will eventually be released.
Update #2 The woman who was shot, who is indeed dead, has been identified:
The incident started when the driver, 34-year-old Miriam Carey of Stamford, Connecticut, tried to ram her car through a White House gate, authorities said. Secret Service agents fired shots — and the pursuit began down Pennsylvania Avenue.

Carey, a dental hygienist, is the mother of a one-year-old child. A one-year-old was taken from her car at the scene and is now in protective custody.
The FBI searched a building believed to be Carey's condo building in Stamford, NBC News reports.
Still unclear is why this all happened, why Carey apparently tried to breach a White House security gate, and why she evaded police.