Republican Candidates Battle For Final Debate Slots
With just over a week to go, Republican candidates for President are fighting for the movement in the polls that could get them in to the August 6th debate.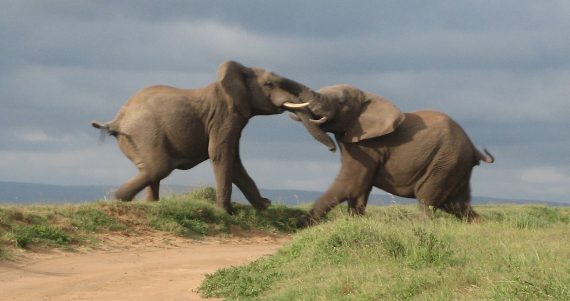 One week from now, the deadline that Fox News has imposed for the polls that it will consider in making its invitations to the debate that will be held on Thursday August 6th in Cleveland will close. At that point, the people who are in the top ten of the five most recent polls will get their invitations while the remains six (or seven, if you count Jim Gilmore who gets in the race next week) will be invited to a "consolation" show that will air a few hours before the debate that Thursday. Given the size of the field, the difference between who gets into the debate and who doesn't is going to quite small. In the RealClearlPolitics average of the national polls, for example, the difference between John Kasich, who is the tenth candidate, and Rick Perry, the eleventh, is two-tenths of a percentage point, which amounts to a handful of people in a couple of polls. In the Huffington Post/Pollster average, which includes several polls that RealClearPolitics does not, Rick Perry is in tenth and leads Kasich by three-tenths of a point. Regardless of which measure you use, these results could change significantly as additional national polls are released over the next week.
As it stands, the core group of candidates that will get into this first debate is clear. Donald Trump will be there, of course, as will Scott Walker, Jeb Bush, Marco Rubio, Mike Huckabee, Ben Carson, Ted Cruz, and Rand Paul. Beyond that group of eight, things get a a little less clear largely because the differences between 9th, 10th, and 11th place are so small, within one percentage point of each other, that a major shift in polling even over a few days could have a big impact on who gets invited and who doesn't This is  why there is a lot of clamoring among candidates for that tenth and final spot:
Rick Perry called Donald Trump a "cancer." Rick Santorum racked up five national TV hits in a single day. And Lindsey Graham filmed himself setting his cellphone on fire.

Welcome to the race for 10th place.

The 11th-hour scramble for attention among the longer-shot candidates comes ahead of a major early test in the Republican presidential primary: qualifying for the first debate, slated for Aug. 6 in Cleveland.

Debate host Fox News has decided that only the top 10 contenders, determined by an average of national polls out by Aug. 4, will merit a spot onstage — setting off a Darwinian struggle that has some candidates taking desperate measures to try to move their numbers, and others spinning away their near-certain failure to qualify. Several campaigns also are already spending hundreds of thousands of dollars on TV ads to boost their profiles, even though the Iowa caucuses are six months away.

"We can't ensure anything, obviously, but it's important that he is standing on that debate stage," said Austin Barbour, a prominent Mississippi Republican operative who is running the pro-Perry super PAC effort, which has run national ads boosting the candidate this month. The first debate, he added, is a "big deal. Big deal."

According to POLITICO's latest average of national polls, eight candidates are looking like a lock for the debate: Donald Trump, Jeb Bush, Scott Walker, Marco Rubio, Ted Cruz, Rand Paul, Mike Huckabee and Ben Carson. Perry and Chris Christie are in for now, but only barely. Those still with a chance to make the stage are John Kasich, Rick Santorum and Bobby Jindal. For the other candidates — Carly Fiorina, George Pataki, Lindsey Graham and Jim Gilmore — it will be very difficult to get to Cleveland.

Perry, the former Texas governor, and Christie, the New Jersey governor, are the most outwardly bullish of those on the bubble.

"The source of my confidence is that the people behind me aren't gonna catch me, and I'm more likely to move up than I will [be] to move down," Christie told reporters in South Carolina last week. "So, I'll be there. I know there are some who hope I'm not. But, I'll be there. Don't worry about it."

The Christie campaign last week made a $250,000 Fox News ad buy, which runs through the debate, and a super PAC supporting him has invested nearly $800,000 in ads to run on Fox News and Fox Business through Aug. 4.

Perry, during an appearance last week in Washington — the same speech in which he called Trump a cancer — said, "We'll be on the stage and we'll be making the case for conservatism — and we'll be making the case for executive leadership." The super PACs supporting Perry had spent at least $500,000 as of Monday morning, for national ad buys on Fox News and Fox Business, and have invested in online and radio buys. Perry's allies aren't ruling out another investment ahead of the debate.

The Republican National Committee decided earlier this year to limit the number of presidential primary debates, while the television stations hosting the RNC-sanctioned events are generally allowed to set the rules. Per Fox News, the candidates who don't qualify for the prime-time event will be able to speak at a 5 p.m. forum ahead of time — not much of a consolation prize.

The whole process has generated angst and anger among the campaigns getting squeezed out.

"I think it sucks," Graham, who barely registers in the polls, said last week on MSNBC's "Morning Joe."
On some level, I suppose, the format and the rules for these early debates is less than ideal. As things standing right now, among the people who will likely be excluded from the debate next Thursday will be Governors who have served several terms such as George Pataki, Bobby Jindal, and either Rick Perry or John Kasich, Senators such as Lindsey Graham and Rick Santorum, and the only woman in the Republican race for President. Ideally, I suppose, all of these candidates should be included in the first round of debates so that voters have at least some chance to get to know them before the political pundit class writes them off as "unelectable" and their campaigns die due to lack of interest and money. At the same time, though, a debate that lasts only 90 minutes or two hours with as many as sixteen candidates would simply be unworkable. At two hours, that would leave an average of seven and a half minutes per candidate, which doesn't factor in either time for questions or time for commercials. Some pundits have suggested ways around this problem, such as breaking the debate up into two nights. Others, such as longtime politician consultant Liz Mair, have suggesting something that kind of resembles the NCAA basketball tournament with brackets of candidates debating each other over the course of what I would imagine would be several weeks. The problems I see with both of these proposals is that it's unlikely that any network would be willing to give up the television time needed to cover such a spectacle, and it's unclear exactly how you'd determine who "won" a debate that didn't feature all the candidates. Finally, these suggestions run up against likely objections from the campaigns and the RNC's desire to limit the numbers of debates after the spectacle we had in 2012. In the end, then, the debate structure we have this time and the rules that Fox News and CNN have established for the first two debates, while imperfect, seem to me to be the best way to resolve a problem to which there cannot really be a "fair" solution that is going to make everyone happy.
There are still a lot of questions about how exactly Fox News will be making its determinations for this first debate. As Andrew Prokop notes, they haven't made clear exactly what polls they are going to be using as their guidepost, for example. While this won't really matter very much to the candidates at the top of the pack, it will be crucial for the two or three candidates still fighting it out for the 9th and 10th spots on the debate stage. Additionally, they haven't made it clear how they might handle a potential tie at the bottom of the back. Let's say that net Tuesday morning, the polling averages show Rick Perry and John Kasich tied at 2.2%, who gets invited to the debate. One solution, obviously, would be to invite both of them and just add an eleventh podium to the debate stage. At that point, though, the candidate who is 12th place at 2.0% or even 2.1% will have an even more legitimate case to make for the inclusion, and so forth down the line. By not making this part of their selection criteria clear, the organizers of the Cleveland debate could be setting themselves up for a lot of controversy over the next ten days.