Republican Governors Remarkably Unpopular
Are the new crop of GOP governors too conservative?
Nate Silver does some correlation plots of governor ideology versus constituent ideology. Given the admitted crudeness of the methodology, I'm not sure the results are especially useful. His chart of approval ratings, however, is pretty straightforward: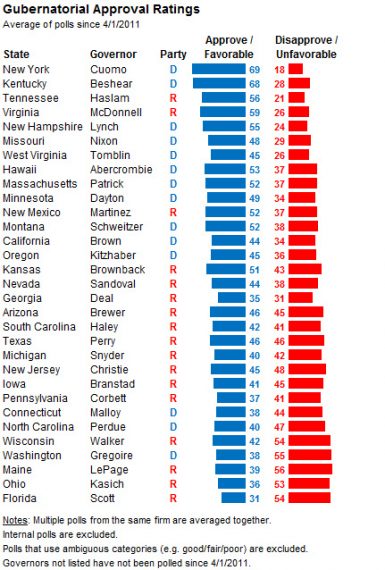 This appears to be sorted based on the delta between approval and disapproval ratings. Most of those on the good side of the curve are Democrats and most of those at the bottom are Republicans. Silver attributes this to the Republicans being too ideologically extreme for their constituencies:
The unsurprising result is that Republicans now have a group of extremely unpopular governors — particularly Mr. Scott of Florida, Scott Walker of Wisconsin, John R. Kasich of Ohio and Paul R. LePage of Maine, all of whom have disapproval ratings exceeding 50 percent. Other Republican governors in crucial swing states like Michigan and Pennsylvania also have below-average ratings.

Republicans do have a couple of bright spots — especially Susana Martinez of New Mexico and Bob McDonnell of Virginia — who remain quite popular and should have a long political future. But other Republican governors who are linked to national politics, like Rick Perry of Texas and Chris Christie of New Jersey, are not especially popular in their home states.
The problem here is that it's impossible to draw useful conclusions given just three variables (party ID, ratings, and ideological disparity) and I simply don't know enough about the governors and their states to make informed alternative assessments.
Obviously, Scott Walker, Rick Scott, and John Kasich have been in the news because of battles with their legislatures and/or labor unions. In Walker's case, at least, this seems to have been mostly an ideological showdown, where breaking the union was more important than the short-term budget crisis ostensibly at the heart of the dispute. At least in the short term, Walker seems to have lost the PR battle on that one, with the teachers unions coming across as more sympathetic. But is that a function of Walker being too ideological? Or simply one of ruthless management?
There's just not enough information here. Off the top of my head, what is the unemployment rate in these states? Have the governors been forced into unpopular budget cuts and/or tax increases to deal with fiscal crises largely out of their control? How long have each of these people been in office? What's the historic approval rating of governors in these states? What's the partisan makeup of the electorate in each state? How pleasant is the personality and management style of each of these governors?
I'm not even sure how to go about operationalizing the data for these things, much less how to comparatively weigh them. Nor am I inclined to attempt to do any of this for the purposes of a blog post.
My point isn't to disparage Silver's effort here but simply to point out that approval ratings are about much more than ideology. People often like politicians they disagree with and think politicians who are very similar to them ideologically are jerks or simply doing a bad job. Look at the wild swings in the approval ratings of George W. Bush; neither his ideology nor that of the electorate fluctuated nearly as wildly as his job approval.
I should add that I'm inclined to think Silver's supposition is right. Several of the new crop of Republican governors rode in to office on the Tea Party wave and may in fact be too ideological for the taste of the broader public. But that's a very hard conclusion to draw across-the-board for 50 states with widely varying conditions.