Republican Hypocrisy In The Health Care Debate
The GOP's arguments about the impact of ObamaCare on Medicare are dishonest and hypocritical.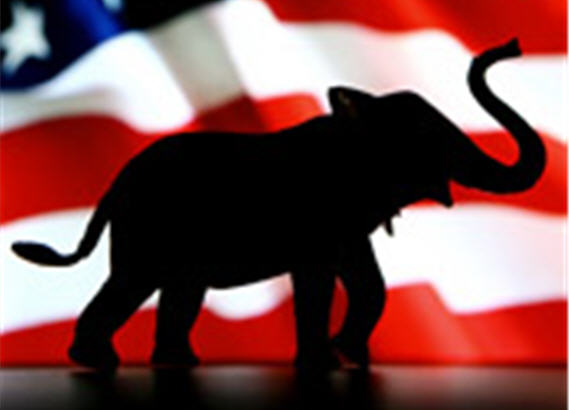 Back during the initial debate over what became the Patient Protection And Affordable Care Act, one of the more bizarre messages that came from the people who would show up at Congressional Town Halls was summed up in the seemingly contradictory slogan "Keep Your Goddamn Government Hands Off My Medicare." It wasn't just ordinary citizens saying stuff like this, consider what Arthur Laffer said on CNN in August 2009:
 "If you like the Post Office and the Department of Motor Vehicles and you think they're run well, just wait till you see Medicare, Medicaid and health care done by the government."
And, when some Republicans tried to explain to people that Medicare already was a government program, well, it didn't go so well:
In other pockets of the state, the reaction to Democratic proposals has been strong, too. At a recent town-hall meeting in suburban Simpsonville, a man stood up and told Rep. Robert Inglis (R-S.C.) to "keep your government hands off my Medicare."

"I had to politely explain that, 'Actually, sir, your health care is being provided by the government,' " Inglis recalled. "But he wasn't having any of it."
Inglis, of course, had more than a few run-ins with the Tea Party crowd during that year and was rewarded for his apostasy by being booted out of office in 2010. In any event, for some reason, the fundamental illogic of campaigning against the PPACA by pointing out that it would turn a government-run heath care program into, well, a governing run health care program doesn't seem to have occurred to many people on the right. Indeed, conservatives at The Weekly Standard and National Review argued that there wasn't anything inherently contradictory about the argument at all. During the 2010 campaign, after the PPACA had passed, the theme returned in many Republican Congressional and Senate campaigns, with the additional comment that the recently passed law had "taken" money from Medicare.
In the two years that have passed, of course, Republicans have talked about Medicare in many other contexts. Paul Ryan and other members of Congress have proposed plans that are meant to address the long-term solvency issues that the program faces and Democrats have responded by accusing them of wanting to fundamentally transform the program. Now, with the ObamaCare battle rejoined in the context of the 2012 elections, the GOP has returned to using Medicare as a weapon in its fight against "government run health care":
WASHINGTON — For much of the past year, Republicans assailed President Obama for resisting the Medicare spending reductions they say are needed to both preserve health benefits for older Americans and avert a Greek-style debt crisis. Representative Paul D. Ryan, the House Republicans' point man on the budget, has called the president "gutless."

Yet since the Supreme Court upheld the Democrats' 2010 health care law, Republicans, led by Mitt Romney, have reversed tactics and attacked the president and Democrats in Congress by saying that Medicare will be cut too much as part of that law. Republicans plan to hold another vote to repeal the law in the House next week, though any such measure would die in the Democratic-controlled Senate.

"Obamacare cuts Medicare — cuts Medicare — by approximately $500 billion," Mr. Romney has told audiences.

That is a reprise of Republicans' mantra of the 2010 midterm elections, which gave them big gains at both the state and federal levels and a majority in the House. Yet the message conflicts not only with their past complaint that Democrats opposed reining in Medicare spending, but also with the fact that House Republicans have voted twice since 2010 for the same 10-year, $500 billion savings in supporting Mr. Ryan's annual budgets.

The result is a messaging mess, even by the standards of each party's usual election-year attacks that the other is being insufficiently supportive of older people's benefits.

And in this year's contests, which both parties describe as a referendum on who can best correct the nation's economic course, such talk underscores how far Republicans and Democrats are from truly squaring with the public about curbing the growth of the major entitlement programs: Medicare, Medicaid and, to a lesser extent, Social Security. That growth is driving the projections of a federal debt that is mounting unsustainably as the population ages and health care costs rise.

"A pox on both their houses," said Ron Haskins, a former Congressional staff member who is now a scholar of social programs and budgeting at the Brookings Institution. Democrats and Republicans "know they have to do something about Medicare, and then they harass each other about cutting Medicare. It's so discouraging to me, but I'm a Republican, so I'm much more distraught about Republicans."

And, Mr. Haskins added, "$500 billion is modest compared to what Ryan would do."
It's understandable why politicians do these things, of course. Medicare is a popular program, as is Social Security, and there have been numerous times over the decades where a politician has been attacked for threatening those programs with one idea or another. Since these attacks tended to work — see, for example the uproar that occurred in the wake of President Bush's relatively modest Social Security reform proposal in 2005 — they keep getting used again and again, even when its apparent that the attack itself doesn't really amount to much of anything. Remember, for example, the over-the-top response to Paul Ryan's plan that included a commercial where a Ryan look-a-like pushes an old woman in a wheelchair over a cliff? That's not rational politics, that's blatant fear mongering, and that's exactly what the GOP is going here.
There's a broader point here, though.
Haskins is right when he points out that the manner in which both sides demagogue the issues of Medicare (and Medicaid, and Social Security, and pretty much every other important item in the Federal Budget) makes it next to impossible for any real reform to take place because that just mean your political opponents are going to ram it down your throat. Where Social Security was once called the "third rail" of American politics, we now have fourth, fifth, and sixth rails, all of them equally dangerous to the politician who would dare to put forward a bold idea about how to deal with a problem we all know is coming at us at full speed. Add into that the hyperpartisan nature of American politics, and the odds of any kind of real bipartisan effort on issues like this become pretty low because nobody is willing to compromise in areas that would be politically disadvantageous for their party. It's the reason why we're never able to solve our long term problems until they're right on top of us, and that's a problem we've had for decades now.
In this particular case, though, the Republican position has always struck me as especially hypocritical. Arguing against what you contend is a big government health care plan by arguing that it poses a danger to another big government health care plan is really quite idiotic notwithstanding the justifications that I noted above. Using political rhetoric that makes it seem like Medicare and Medicaid aren't already government run programs is dishonest. Putting forward plans to reform Medicare and then attacking the President for "endangering" the program with cuts that are smaller than the ones your own party is proposing is hypocritical. Quite honestly, they ought to be ashamed of themselves for doing stuff like this, but I really don't think they have any shame.