Republican Race Status Quo in First Post-Debate Poll
The first poll after the third Republican debate, by Investor's Business Daily, shows no substantial change.
After taking a battering in last month's poll, Donald Trump has re-emerged at the top of the Republican field in the latest IBD/TIPP poll.

Support for Trump among registered Republicans and those leaning Republican is 28%; support for Carson is 23%. Last month's poll had Carson up by 7 points over Trump.

Marco Rubio comes in third at 11%, the same as last month.

No other GOP candidate reached double digits. Support for Jeb Bush dropped two points to 6%; Carly Fiorina collapsed to 3% from last month's 9%. Ted Cruz held at 6%.

"Trump's support in the last poll suffered somewhat because of his nearly weeklong boycott of Fox News, which has since been lifted," said Raghavan Mayur, president of TechnoMetrica Market Intelligence, which conducts the IBD/TIPP poll. "Carson has recently been under more scrutiny by both the media and other candidates."

Mayur added, "Though our latest poll shows Trump leading Carson, the poll's margin of error of +/- five points means that Trump and Carson are still running a close race."
Here's their graphic comparing the two polls: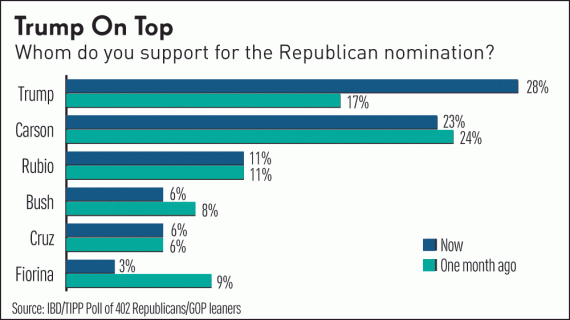 The only movements outside the margin of error were Trump and Fiorina. But Trump's plummet and Fiorina's rise in the previous iteration would seem to have been flukes, as they weren't sustained in the RealClearPolitics average for more than a few days. Rubio, Bush, and Cruz all remained within the margin of error in this poll.
It'll be interesting to see if there's significant movement in other polls as they're released over the next few days. Certainly, though, there seems no obvious reason for any of the serious candidates to drop out at this juncture. Iowa is just around the corner now and I don't see why anyone wouldn't just ride it out and see what happens.