Republicans Cower In Fear In The Face Of Trump And His Supporters
Republicans are afraid to oppose Donald Trump for fear that his supporters will come after them.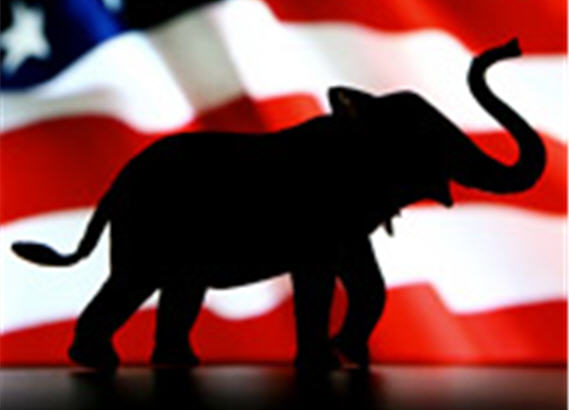 When the contest for the Republican nomination was going on, and indeed right up until the Republican National Convention itself, Republicans on Capitol Hill as well as a great portion of the Republican "establishment" were quite loud in their opposition to Trump. Many of them, for example, were reportedly behind largely futile schemes to prevent him from getting a majority of delegates to the convention in the hope that a floor fight would lead to the nomination of a different candidate. Others were reportedly engaged in the largely futile search for a third-party candidate to give conservatives an option other than voting for Hillary Clinton or getting behind an established third-party candidate such as Libertarian Party nominee Gary Johnson, who ran on a platform that was actually consistent with the principles of smaller government and individual liberty that conservatives claim to believe in. This opposition in the background continued for much of the General Election, especially when it appeared that Trump was going to lead the party to disaster by threatening the loss of the Senate and losses in other down-ballot races. Republicans in vulnerable seats, such as Senators Mark Kirk, Ron Johnson, Rob Portman, Pat Toomey, and Kelly Ayotte, distanced themselves from Trump while others did their best to stay invisible when it came to Trump. The most notable example of the latter, of course, was Speaker of the House Paul Ryan, who took longer than most prominent national Republicans to officially say he would support Trump after he won the nomination and who openly criticized Trump several times during the course of the campaign when some controversial remark from Trump put his fellow Republicans on the spot.
Once Trump won the election, though, things began to change rapidly. Republicans who had been critical of Trump began flocking to his offices at Trump Tower to curry favor with the President-Elect. Others who had openly criticized him during the primary began to clamor for positions in the Administration and became obsequious in their praise for the same person who they were denouncing only months earlier. Even people like Mitt Romney, who had made a scathing speech in March that seemed like a declaration of war against the New York real estate developer, gladly met with Trump when word leaked out that he was being considered for the position of Secretary of State. On Capitol Hill, the number of Republicans willing to say anything negative about the new President-Elect shrank drastically and, now, as Politico reports, Republicans on Capitol Hill are afraid to confront Donald Trump for fear of raising the ire of his supporters, a sign that any hope that the House or Senate will end up being much of a check on after he takes the oath of office in less than a month:
It's little wonder that Capitol Hill Republicans have papered over their not-insignificant policy differences with Trump, shying away from any statement about the president-elect that might possibly be construed as critical. They're terrified of arousing the ire of their tempestuous new leader — or being labeled a turncoat by his army of followers.

It's a novel form of party message discipline that stems from Trump but doesn't necessarily require the president-elect to speak or tweet himself. Plenty of others are willing to do it for him.

Since the election, numerous congressional Republicans have refused to publicly weigh in on any Trump proposal at odds with Republican orthodoxy, from his border wall to his massive infrastructure package. The most common reason, stated repeatedly but always privately: They're afraid of being attacked by Breitbart or other big-name Trump supporters.

"Nobody wants to go first," said Rep. Mark Sanford (R-S.C.), who received nasty phone calls, letters and tweets after he penned an August op-ed in The New York Times, calling on Trump to release his tax returns. "People are naturally reticent to be the first out of the block for fear of Sean Hannity, for fear of Breitbart, for fear of local folks."

An editor at Breitbart, formerly run by senior Trump adviser Steve Bannon, said that fear is well-founded.

"If any politician in either party veers from what the voters clearly voted for in a landslide election … we stand at the ready to call them out on it and hold them accountable," the person said.

Republican Hill staffers have wrestled in recent months with how to respond to inquiries from Breitbart or other pro-Trump bloggers. Engage them or ignore them? One GOP aide told POLITICO members are "damned if you do, damned if you don't." Another said it's having a "chilling effect" on GOP lawmakers.

The Republican officeholders see Trump's unabashed use of his Twitter account to shame critics as the most foreboding threat. During campaign season, he regularly took shots at adversaries, including Marco Rubio ("Little Marco"), Ted Cruz ("Lyin' Ted,") and Speaker Paul Ryan (a "very weak and ineffective leader").

Trump hasn't gone after any lawmakers on Twitter since the election, but some worry it's just a matter of time. Eventually, some Republican will feel compelled to challenge his trillion-dollar infrastructure plan, or slap companies that move jobs overseas with massive tariffs. And that's when things will get ugly, insiders predict.

Flores did not respond to a request for comment for this story. But his remarks to a conference at the American Enterprise Institute on Dec. 1 seemed relatively tame and didn't make headlines at first.

Flores admitted that Trump's new brand of populist conservatism wouldn't always mesh with the priorities of Capitol Hill Republicans. But he went on to suggest it wouldn't be a big problem, emphasizing that Republicans had plenty to collaborate on, such as tax reform, repealing Obamacare and passing a border security plan.

"Let's work on the things we know where we're together," Flores said, "and then we'll figure out the rest in the next six months."

Breitbart picked up the remarks several days later. Its post linked Flores to Ryan and argued that the Texan's comments hinted at a GOP leadership ploy to quietly stifle Trump's campaign promises.

Hannity highlighted the Breitbart story on his talk show the next day. The Fox News host told his radio listeners that talk of pursuing areas of agreement was Beltway-speak for telling Trump to "go to hell."
On one level, of course, it's not at all surprising that criticism of Trump from the right has calmed down in the wake of the election. Thanks to his victory, Republicans have control of the two most powerful branches of the Federal Government for the first time in a decade and the thought of what they can do with that is no doubt outweighing whatever concerns they have about Trump as President of the United States. Additionally, it's traditionally been the case that a newly elected President ends up with some sort of  'honeymoon" period during the period after the election. We can see this reflected in the fact that Trump's favorable/unfavorable numbers have become distinctly more positive in the weeks since the election, although a majority of the country still has a negative opinion of him. Additionally, even many Democrats on Capitol Hill have been more cordial toward the incoming President-Elect than they were during the height of the campaign against him. Given that, it's no surprise that Republicans that were critical of Trump during the campaign are getting in line behind him. For better or worse, once he becomes President he will be the leader of their party and able to weild significant power to enforce party discipline. Additionally, there are many Republicans on Capitol Hill who are quite obviously hoping that Trump will essentially cede control of the legislative agenda to the Republican-controlled House and Senate and that this will enable them to pass many of the measures that they were unable to pass after winning control of the House in 2010, such as tax reform, entitlement reform, and other measures. Whether that turns out to be the case or not remains to be seen, of course, but for the time being it's unlikely we'll hear much criticism of Trump from Republicans with the exception of a handful of people such as Senators John McCain and Rand Paul, both of whom have remained critical of Trump and many of his Cabinet choices even as their fellow Republicans seek to curry favor with the new Administration.
The Politico article is particularly concerning, though, because it suggests that it's unlikely we'll see much dissent from Capitol Hill during a Trump Administration even if he starts to show his demagogic side once he's in office, and even if he begins to attempt to enact some of the more controversial of the agenda that he campaigned on, such as his plans for immigration policy, the War on Terror, and the treatment of Muslims who want to come to the United States. Additionally, as we've noted here at OTB several times since the election, Donald Trump is entering office with a whole host of ethical issues tied to his business interests hanging over his head. The fact that Republicans are already being cowered into silence by Trump and his army of supporters does not bode well for any idea that Congress will perform its oversight duties even if it becomes apparent that the President is acting in a way that seems more about enhancing his wealth and power than leading the nation pursuant to the Constitution. It also makes it unlikely that they will be in any way aggressive in investigating any allegations of wrongdoing by the Trump Administration no matter how much evidence there might be to support it.
This isn't entirely surprising, of course. Republicans were loath to criticize George W. Bush until the final years of his Administration when his job approval numbers were at lows unseen since Harry Truman was President.  By then, of course, the damage had been done and the party paid a steep price for it at the polls in 2006 and 2008. With their party now back in full control of the government, though, those days seem to have been completely forgotten and many Republicans are more than happy to hand over power to a man with absolutely no government experience at a time when the nation and the world seems as though they're both teetering on the edge of a turning point that could become a long-term crisis. Those who aren't are both small in number and, for the most part, afraid to say anything for fear of being attacked by Trump, his supporters, and the people at Breitbart, who are sadly becoming more powerful with the ascendancy of Trump to the Presidency. That's hardly a profile in courage, and I'm afraid we're all going to pay the price for it at some point.