Republicans Divided on Foreign Policy
As memory of the Cold War fades, so does support for American primacy.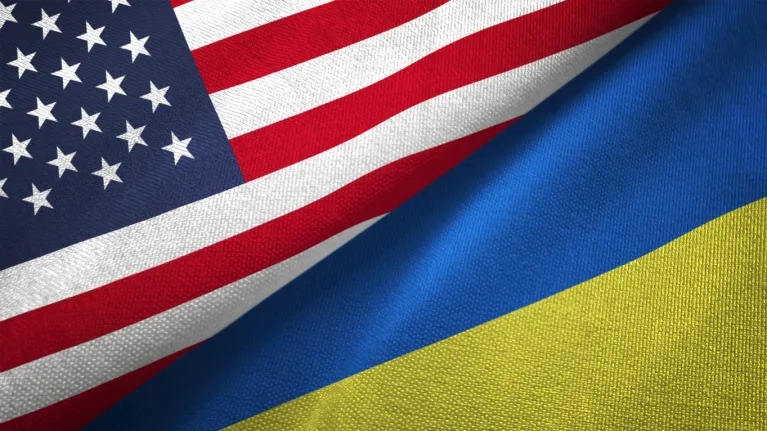 Three WaPo reporters engage in a bit of hyperbole, asserting "A Republican 'civil war' on Ukraine erupts as Reagan's example fades."
When Ronald Reagan addressed a brand new organization of upstart conservatives nearly five decades ago, he cast U.S. entanglements abroad as part of the nation's destiny to take on "leadership of the free world" and to serve as a shining "city on the hill" that inspired other countries, sparking thunderous applause.

At a dinner named after the former president at the annual Conservative Political Action Conference (CPAC) gathering earlier this month, failed Arizona gubernatorial candidate Kari Lake pushed a very different message to the party's activists.

"We are living on planet crazy where we have hundreds of billions of dollars of our hard-earned American money being sent overseas to start World War III," Lake said in her keynote address, inflating the amount of U.S. aid that's been sent to Ukraine since Russia's invasion. "This is not our fight. We are 'America First!'"

Lake's strident aversion to deepening American involvement in Ukraine, echoed by many speakers at CPAC, has been dismissed by some Republicans in Congress as a fringe viewpoint held by a handful of conservatives that does not meaningfully threaten NATO unity against Vladimir Putin's invasion. Congress has appropriated more than $113 billion since the war started in multiple bipartisan votes.
At that inaugural CPAC in 1974, Reagan was near the end of his second term as governor of the largest state in the union. Lake is a former local news figure who has never held political office. I'm not sure their views should be given equal weight.
But, of course, Lake isn't alone.
But Republican voters are increasingly adopting those same skeptical views, with surveys showing them becoming colder to continued U.S. aid as the conflict drags into its second year. Likely and declared GOP presidential candidates, including Florida Gov. Ron DeSantis and former president Donald Trump, as well as a growing faction of Republican lawmakers in the House, are promoting that skepticism as well, with potentially seismic consequences for the conflict and the party itself.

DeSantis recently told Fox News host Tucker Carlson that helping Ukraine fend off Putin's invasion is not a "vital" security interest for the United States, dismissing it as a "territorial dispute" in a written answer to Carlson's Ukraine-related survey for 2024 candidates. (That marks a reversal from DeSantis's earlier support for arming Ukraine in 2015 after Russia annexed Crimea.) Trump agreed, urged President Biden to negotiate a peace deal, and said Europe should pay back the United States for some of the funds they've provided Ukraine.
Trump is a Russian toady who was impeached (the first time) for strongarming Ukraine, so his views aren't surprising. DeSantis, on the other hand, is a former Navy lawyer and member of the House Foreign Affairs Committee. Whatever on thinks of his antics as Florida governor, he's a serious player. I disagree with him on Ukraine, of course, but his position isn't crazy. We'll return to that later.
More than a year after Russia invaded, the war in Ukraine has reached a bloody stalemate, with troops on both sides fighting over mere yards of territory along a 600-mile long front line in the country's south and east. The United States and western partners have donated tens of billions of dollars in ammunition and weapons systems, hoping to break the deadlock on the battlefield. But the prospect of a decisive victory, by either side, seems less likely than a grinding war of attrition with the possibility of a dangerous nuclear confrontation lurking just over the horizon.

Beneath the shift from Reagan to Lake is a story of the Republican Party's own transformation on foreign policy in the past few decades, as a segment of notable conservative figures — most influentially, Trump — began to overtly reject the Cold War-era Reagan posture of leading the "free world" to push a very different view of America's role in the world.

"This is an ongoing civil war, and I think that the realists and those of us who believe in a more restrained foreign policy have momentum," said Dan Caldwell, vice president at the Center for Renewing America, the policy shop led by former Trump White House budget director Russ Vought. "You are seeing more Republicans at the grass-roots level, at the policymaker level, and even at the institutional and donor level embracing a foreign policy of realism and restraint."
I would argue that realism and restraint is the default US foreign policy position, regardless of party, going back to our earliest days. The Cold War made it seem otherwise, making whether a given otherwise insignificant country was "red" or "blue" matter in what amounted to a giant game of Risk.
In recent memory, the Republican Party has often been aligned with a muscular foreign policy summed up by Reagan's "peace through strength." Long before Reagan, however, there had been a tradition on the American right of nationalism and skepticism toward foreign intervention (sometimes called isolationism, though today's conservatives reject that term). The motto of "America First" originated with a group of influential conservatives who opposed aiding the Allies at the outbreak of World War II.
Again, it's not just the right. Hell, Franklin Roosevelt ran for re-election in 1940, for an unprecedented third term, on a platform of keeping us out of what would become World War II. Despite John Kennedy and Lyndon Johnson getting us into the war, the 1968 and 1972 Democratic nominees ran on a platform of getting us out of Vietnam. The humanitarian interventions of the post-Cold War period, and the "Global War on Terror" that followed the 9-11 attacks, had significant opposition from the pacifist left and the paleocon right.
After the war, the threat of the Soviet Union and international communism served to unite Republicans behind a more aggressive foreign policy, temporarily papering over ideological differences over America's role in the world, according to Nicole Hemmer, a historian at Vanderbilt University.

"As soon as the Cold War comes to an end, that kind of nationalistic, noninterventionist strain of the conservative movement comes roaring back," Hemmer said. Most prominently, failed presidential candidate Pat Buchanan revived the "America First" slogan to advocate for withdrawing from overseas military entanglements in the 1990s. Republicans criticized President Bill Clinton's interventions in Somalia and Kosovo, and George W. Bush campaigned for president in 2000 by opposing the concept of nation-building abroad.

The terrorist attacks of Sept. 11, 2001, changed Bush's plans, and his presidency became dominated by a doctrine of preemptive strikes and interventionism premised on promoting democracy. For a time, the anti-interventionist strain of conservative thought appeared extinct, summed up by Wall Street Journal editorial page editor Paul Gigot as "four or five people in a phone booth."

But by the time Bush left office, the costly and drawn-out conflicts in Iraq and Afghanistan became a drain on his approval rating, including among Republicans. A resurgence of antiwar sentiment fueled Rep. Ron Paul's long-shot, but attention-grabbing, presidential bid in 2008 and the tea party wave of 2010. In 2014, the network of conservative groups led by billionaire industrialist Charles Koch expanded investments in foreign policy, setting up think tanks, advocacy groups and activist organizations that built an intellectual case for a more restrained approach to foreign affairs.

"Being more hawkish isn't necessarily a real political winner in 2012, and by the time that Trump comes around in 2016, he sees an opening with key parts of that Republican base that are done with the Bush wars and this idea of remaking large parts of the world in America's image," said Douglas Kriner, a professor of government at Cornell University.
Yes. But, again, that's hardly a Republican-only position. Barack Obama upset favorite Hillary Clinton in the 2008 Democratic primaries precisely because he, alone among the serious contenders, had opposed the Iraq War.
More fundamentally, starting with the 1992 election, domestic issues, not foreign policy, dominated our presidential campaigns. Certainly, the Iraq War was a major issue in 2004 and 2008 but, as stark as the foreign policy views of Obama and John McCain were from each other, the economy was far and away the bigger issue. Certainly, 2016 was almost entirely about domestic issues—with foreign policy factoring in only to the extent that trade and the like impacted the home front.
Writing on her Substack, Republican pollster Kristen Soltis Anderson asks, "Do Republicans really not care about Ukraine?" The answer turns out to be a bit complicated.
She contrasts DeSantis' messaging on Ukraine with that of Nikki Haley:
"America is far better off with a Ukrainian victory than a Russian victory, including avoiding a wider war…If Russia wins, there is no reason to believe it will stop at Ukraine. And if Russia wins, then its closest allies, China and Iran, will become more aggressive."
That's more or less my position, as well as that of Republicans like Lindsey Graham.
She provides this graphic of polling from Echelon Insights: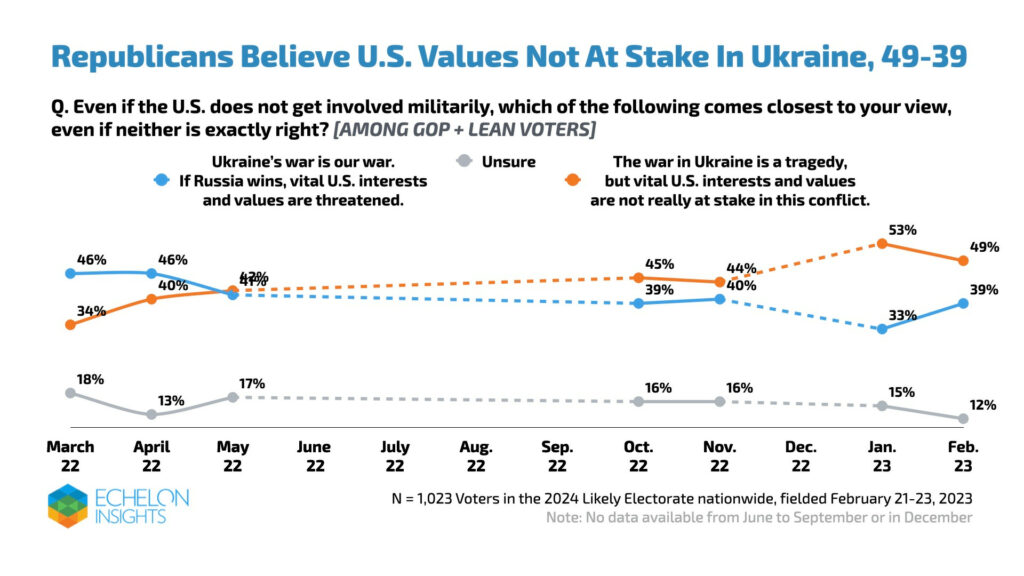 Presuming this polling is accurate, there has been a steady souring on the war effort by those who lean Republican. Indeed, answers to the question have essentially flip-flopped over the course of the year.
But then she looks at the crosstabs and breaks it down demographically:

She observes,
[W]hen you take party out of the equation and you look at which voter groups tend to be more supportive of the view that U.S. interests aren't really at stake, it isn't exactly the demographic groups you think of as "MAGA Republican".

[…]

Men, white voters, seniors…they are the ones most likely to say, you know what, Ukraine's war is our war. (Caveat: In our January survey crosstabs, gender and race divides were more muted.)

The notion that this is just a view held by viewers of Fox News primetime misses that there are many Americans who have probably never watched a minute of conservative cable news in their lives who nevertheless haven't been persuaded by our leaders that "Ukraine's war is our war."
That's not shocking.
Anderson, who was born around the time I was a high school senior (1983-84), offers her own evolution:
My entrypoint into "center-right" thought came about in high school, upon learning about the Cold War and the depravity of Communism. I have joked that I'm the only person who came away from reading The Handmaid's Tale in English class wondering why the rest of the world did not take up arms to liberate the oppressed women of Gilead. (I'm not sure Margaret Atwood intended her novel would have that effect on teenage girls forming their politics.) I often give copies of Vaclav Havel's Summer Meditations to students I have the chance to mentor, and his noble fight against socialism and authoritarianism remain inspirational to me.

Republicans speak of Ronald Reagan with deep reverence. Nearly 9-in-10 approve of the job he did as President, making him the top rated past president in the eyes of GOP voters. Fighting Soviets ought to be in our party's DNA, and it has been clear for years that Vladimir Putin would very much like to revive the Soviet Union in some fashion.

I am an Old Millennial. I don't particularly remember the Cold War; its influence on my thinking came about as a student. It had such an effect on me that, at one point, I (unsuccessfully) studied Russian in hopes of being a Cold War historian.

But what I do remember seeing in my lifetime were September 11th, the wars in Iraq and Afghanistan. And while I still think that an assertive American foreign policy is valuable, if you are my age – or certainly those who are younger – there are fewer clear examples of American expression of power as a positive influence in the world.
Let's, for the sake of argument, assume that DeSantis' positioning is genuine rather than poll-driven posturing. Born in late 1974, he's roughly halfway between Anderson and me agewise. So, while he has some personal memory of the Cold War, it was essentially over by the time he graduated high school. It shouldn't be shocking that he's less concerned about the prospect of an expansionist Russia than I am.
She produces this polling to show the generational divides on foreign policy positions: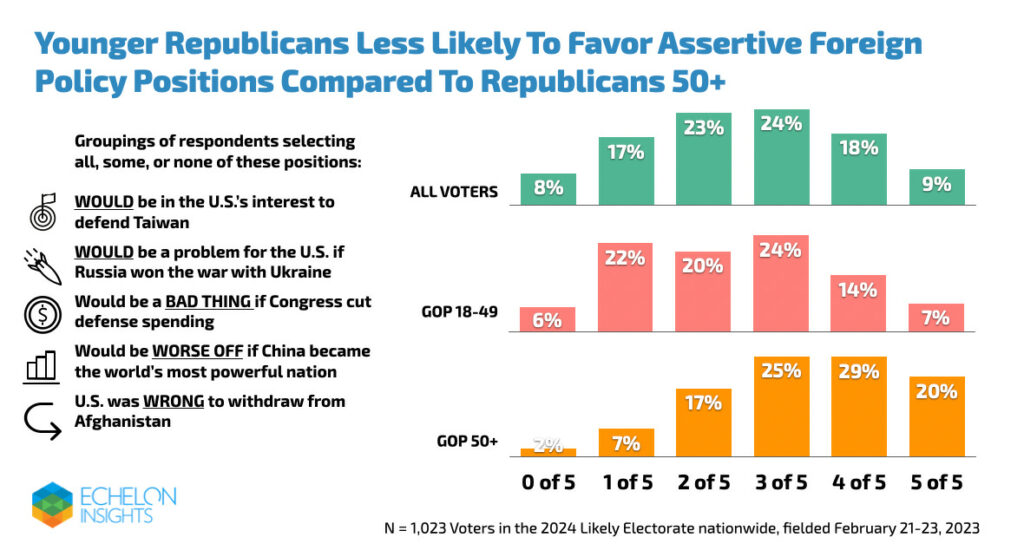 The grouping of these questions strikes me as a little odd. For example, I think we did the right thing in withdrawing from Afghanistan even while l thought the exit itself was a bit of a shit show.
Still, it's rather interesting that under-50 Republicans pretty much track with "all voters" whereas the over-50s are definitely more hawkish. Indeed, while I no longer support the party, I'm in the modal grouping of that group (4 of 5). And I suspect DeSantis is in the 3 of 5 camp, which is the modal answer for his age group.
Anderson finally includes both parties in this question: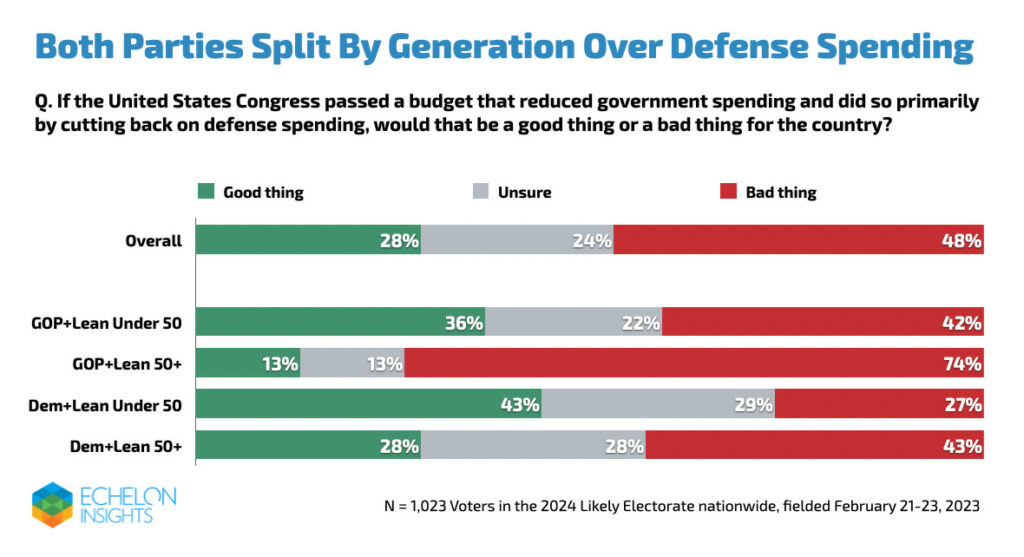 That Democrat-leaners are more enthusiastic than Republican-leaners about defense cuts isn't the least bit surprising. But note that the over-50 Republicans are the only group adamantly opposed. And, indeed, the over-50 Democrats—remember, there were a lot of Democratic hawks during the Cold War—are also leerier than the younger cohort.
As to Ukraine, I wonder how much of the partisan difference is a function of an older Democrat being in charge. Because Biden was very much a Cold War hawk, he sees standing up to Russia as vital in a way that Obama did not. That he's so adamant about aiding Ukraine's fight, Democrats are more likely to line up behind their President whereas Republicans are more likely to reflexively oppose his policies.