Republicans Pick Cleveland To Host 2016 Convention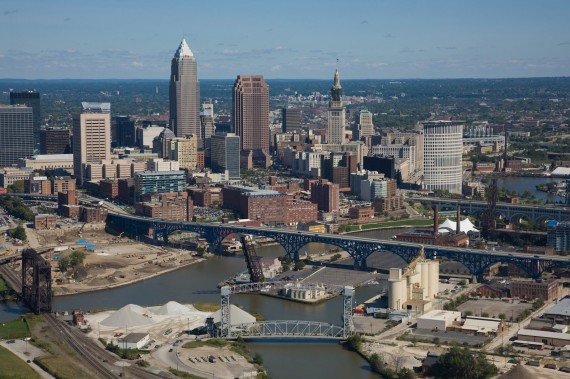 After a process that had ended up narrowing the decision down to two cities, the Republican National Committee has chosen Cleveland as the site of the 2016 Republican National Convention:
WASHINGTON — Seeking to capture the quintessential swing state of Ohio in the next presidential election, Republicans will hold their 2016 national convention in Cleveland, the party announced on Tuesday.

The city was chosen after a lengthy review by the Republican National Committee, which narrowed the field to two finalists; Dallas was the other. The host cities aggressively wooed party officials during site visits, including with a parade of elephants (Dallas) and a Heisman-trophy winning quarterback, Johnny Manziel (Cleveland).

The choice must be ratified at a meeting of the full Republican Committee next month in Chicago.

Committee staff downplayed the political implications of the choice. Instead, they said their pick would reflect a basic business decision: which city could raise the more than $50 million for a convention that the party required and also accommodate an early summer date. But there is a political truth as well: no Republican has won the White House without winning Ohio.

Republicans want to avoid the pitfall of 2012 when the late-August nomination of Mitt Romney delayed his use of general election funds to counter strong Democratic attacks on television over the summer. Cleveland organizers promised a date in June and Dallas in July.

Republicans officials also delved deeply into each host committee's finances, looking to see money in escrow, not just promises of a fund-raising target. The party seeks to avoid shortfalls that will require last-minute fund-raising by the presumed nominee to pay for the convention.

Although Cleveland is a heavily Democratic city, a bipartisan committee of boosters aggressively sought the Republican event, which brings tens of thousands of visitors and a national spotlight, as a way to highlight major downtown redevelopment and rewrite the script of a Cleveland as a Rust Belt has-been.
For all the jokes that continue to get made about it, Cleveland has undergone something of a renaissance in recent decades, especially in the downtown area where the convention will be held. As I've noted before, there are some questions I would have about hotel capacity in the immediate downtown area but there is plenty of hotel room in the immediate suburbs and the commute into the city isn't all that bad, so that shouldn't be too much of an ordeal.  Additionally, as I've noted before, there is some political sense in putting the convention in Ohio notwithstanding whether the RNC officially says that politics didn't play a role. So, sometime in the early summer of 2016, Republicans and the political media will all descend on Cleveland for a week of, well, pretty much just partying really.