RNC Convention City List Down To Final Four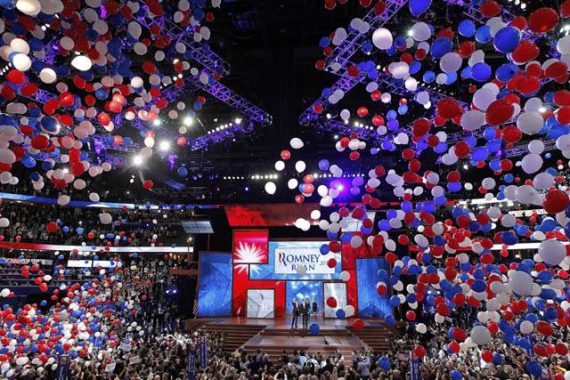 The list of cities on the short list for the 2016 Republican National Convention is getting smaller:
The Republican Party on Thursday announced four finalists to host its 2016 national convention — Cleveland, Dallas, Denver and Kansas City, Mo. — after Las Vegas withdrew its bid in the face of strong opposition from some conservatives in the GOP.

Cincinnati, which was vying as well, also dropped its bid ahead of the official announcement, which followed a conference call by the party's site selection committee.

Members of the committee will visit the four remaining cities over the next several weeks and a final decision is expected in the late summer or fall.

For a time, Las Vegas and Dallas were seen as the two front-runners to host Republicans. The cities boasted amenities that no others offered, including abundant hotel space and a clutch of generous GOP mega-donors prepared to guarantee the event's financial success.

But Las Vegas, which has hosted all manner of conventions but never a national political gathering, was plagued by its libertine image, which is both a major tourist attraction and source of civic cringing.

A group of social conservative leaders recently wrote to Reince Priebus, chairman of the Republican National Committee, objecting to Las Vegas as convention host, calling the city "a metaphor for all things decadent."  Among other things, the letter noted that a review of the local phone book counted 64 pages of escort services.

"At a time when the base needs to be motivated, this is no time to mute or offend them in any way," the letter said.

Some members of the Republican National Committee, the GOP's governing body, also expressed concern about an April decision by libertarian-leaning Nevada Republicans to drop anti-abortion and anti-same-sex marriage language from their party platform.

In an interview earlier this month, Nevada's Republican Gov. Brian Sandoval praised the move as a model for the national party, suggesting it needs to abandon ideological litmus tests if it hopes to win back the White House.

But others viewed the move as a betrayal of the party's fundamental principles.

"I am not surprised Vegas dropped out," Ed Martin, chairman of the Missouri Republican Party and one of the state's two representatives on the RNC, wrote in an email. "When the Nevada GOP recently dropped the pro-life and marriage planks, it made it impossible for the pro-life, traditional marriage Republican Party to choose Vegas for a convention."

In withdrawing its bid on the eve of Thursday's meeting, Las Vegas' host committee alluded to its crowded convention schedule — the city is the nation's top convention destination — and concerns about the time needed for preparations.

"Two primary conditions must be fully met by any competing bid city," wrote Brian Krolicki, Nevada's Republican lieutenant governor and the head of the host committee. "The ability to provide a traditional arena facility to physically accommodate the convention; and an on-site preparatory period deemed sufficient by your technical consultants to comfortably allow for an anticipated convention commencement date in June of 2016.  Las Vegas is currently unable to meet either one of these requirements."
The objections of social conservatives to a convention in Las Vegas have been known for some time, and there have also been those who have said that any political party would probably avoid a convention in a city like Vegas due to the inevitable stories that would come out regarding the city's reputation and the activities of delegates. However, veteran Nevada political reporter John Ralston says that, in the end, it really did come down to logistics:
Many will say that image is everything and that's what killed Vegas. Maybe it played a role, maybe not.

But it's clear that the convention authority could not guarantee the venue during the accelerated timeline from the RNC — they wanted to do in June — and that not enough people wanted to pony up to give the RNC up-front money, as Dallas, for instance, has been willing to do.

"There wasn't any real appetite to buy into it," one insider with intimate knowledge told me. "Unless it's on your piece of dirt on the Strip, nobody cares."

Sheldon Adelson was willing to give his share, but not buy the entire thing, several sources told me.

But even if he had been willing, the venue is occupied in June.

Lt. Gov. Brian Krolicki, who helmed the effort, lauded the convention authority team but said the venue "could not be provided" for the time period needed in June. "It was very clear that June was the preference of the RNC, so they could have anominee earlier, and I can't disagree with that," Krolicki told me.

Krolicki said he believes the money eventually could have been raised — "Las Vegas overperforms," he said. But the venue issue was impossible. And MGM could not guarantee a June opening for its news arena.

Just wait until 2020, he said, and everyone said and yet…..
Cincinnati's decision to withdraw also seems to be based upon logistics, and it leaves Cleveland as the remaining Ohio city on a list of potential list of convention cities that originally included all three of the Buckeye State's major cities.
Of the remaining cities on the list, it's hard to say which one might be the frontrunner. Denver could certainly make a claim given that it successfully hosted the 2008 Democratic Convention, and its status as the capital of a state that is likely to be fought over in 2016 will likely play a factor as well. Cleveland would be an interesting choice mostly because it is the center of the most Democratic part of a state that still has strong Republican leanings and which will also be a battleground in 2016. Kansas City would bring back memories of the 1980 convention that nominated Ronald Reagan, and Missouri is also likely to be a battleground state. Finally, Dallas would certainly be friendly territory for the GOP, but to the extent that a convention site is chosen for political benefit there really isn't much benefit in picking a city in a state that GOP is going to win in 2016 anyway.
As for the Democrats, they seem to be at a much earlier stage of their planning process than the GOP at this point. According to a recent report, there are as many as 15 cities in the running ranging from Atlanta and Pittsburgh to the unlikely location of Salt Lake City, Utah. Bids for the Democratic Convention are due next month, though, so I'm sure we'll see the list narrow itself down soon enough.