Reshoring American Jobs?
After decades of exporting American jobs, corporations are bringing them home.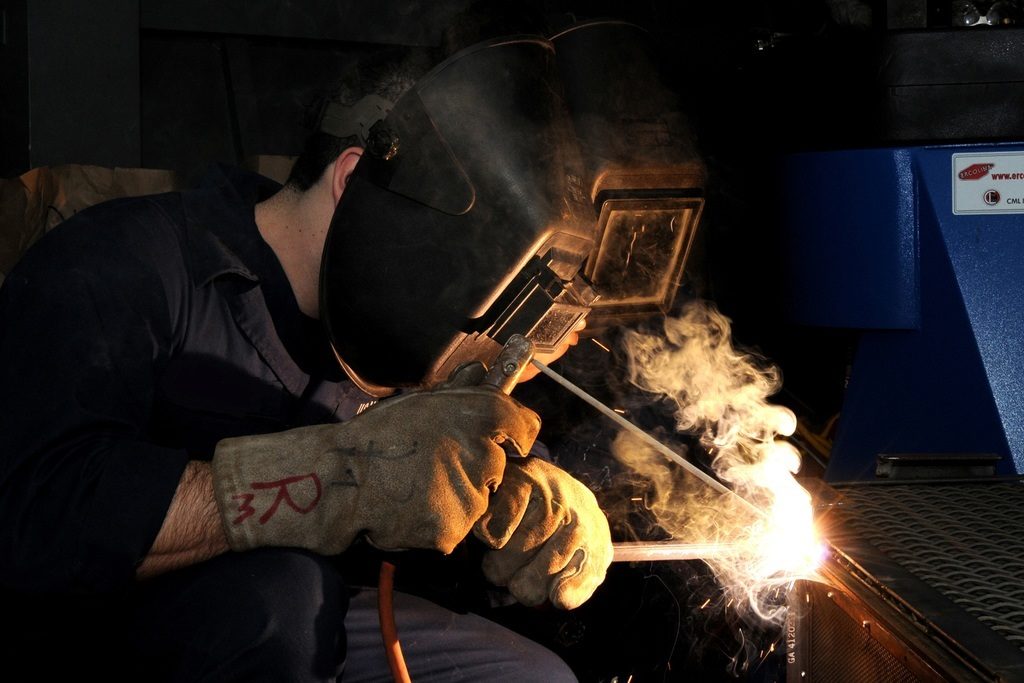 WSJ ("U.S. Companies on Pace to Bring Home Record Number of Overseas Jobs"):
U.S. companies are bringing workforces and supply chains home at a historic pace.

American companies are on pace to reshore, or return to the U.S., nearly 350,000 jobs this year, according to a report expected Friday from the Reshoring Initiative. That would be the highest number on record since the group began tracking the data in 2010. The Reshoring Initiative lobbies for bringing manufacturing jobs back to the U.S.
I'm always leery when news accounts are based on reports from lobbying groups. Perusing the Reshoring Institute's website, I can't quite figure out who they are, even though they've been around for a dozen years. Neither founder Harry Rosen nor the three other board members ring a bell. They have oodles of "sponsors," none of which strike me offhand as nefarious. My cynical guess, though, is that there's an interest in appearing to create American jobs to take off political pressure.
Over the past month, dozens of companies have said they had plans to build new factories or start new manufacturing projects in the U.S. Idaho-based Micron Technology Inc. announced a $40 billion expansion of its current headquarters and investments in memory manufacturing. Ascend Elements said it would build a $1 billion lithium-ion battery materials facility in Kentucky. South Korean conglomerate SK Group said it would invest $22 billion in a new packaging facility, electric vehicle charging systems, and hydrogen production in Kentucky and Tennessee.

"We think it'll be a long-term trend," said Jill Carey Hall, U.S. equity strategist at Bank of America Corp. "Before Covid there was…a little uptick but obviously Covid was one big trend and you've seen a continued big jump up this year."
Emphasizing again that it comes from a lobbying group promoting "reshoring"—or, again, the appearance of it—here's the data: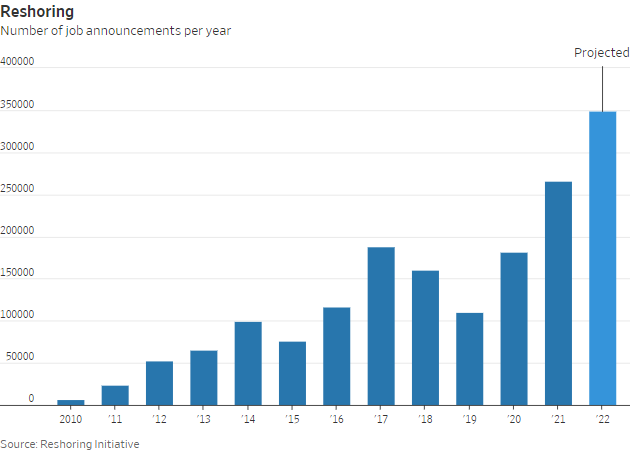 It's also worth noting that, while "announcements" strike me as a reasonable way to track the phenomenon for recent years, it seems that, for most of this period, it would be more useful to track actual jobs moved back home.
To be sure, globalization has been a tailwind for investors and large companies for much of the past 30 years, particularly U.S. firms. Increased trade across borders boosted profits and productivity and allowed countries to focus on the goods and services they were best equipped to produce. Globalization has also provided multinational companies with new customers and new pools of low-cost labor.

But the Covid-19 pandemic, which snarled supply chains worldwide, pushed many executives to think about bringing their business closer to home. Russia's invasion of Ukraine, which upended commodities markets, is another motivator. So is the possibility of a conflict between China and Taiwan, which produces the chips used in smartphones, personal computers and cars.

The U.S. government is also luring companies back. The Chips and Science Act and the Inflation Reduction Act, both passed this month, provide tax breaks and other incentives for building and investing in manufacturing centers for goods such as semiconductors, electric vehicles and pharmaceuticals.

Investors' increased focus on carbon emissions also has bolstered the need for closer-to-home supply chains. Carbon pricing mechanisms and taxes recently implemented in the European Union and elsewhere will further reduce the appeal of extensive cross-border supply chains, Barclays economists wrote in a recent note to clients.
The confluence of so many factors incentivizing having jobs in the US and other reliable democracies is what gives me confidence that it is indeed happening. It occurred to me very early in the pandemic that American companies should be rethinking Chinese investment in particular and the ensuing supply chain crises have brought to light the dangers of the distributed nature of our manufacturing system.
Barclays found that large S&P 500 companies are recruiting more in their home countries and slowing cross-border M&A activity.

"Globalization is in retreat," the firm's U.K.-based economists Christian Keller and Akash Utsav wrote.

The 350,000 reshored jobs expected this year would far exceed the roughly 265,000 jobs added in 2021 and would be more than 50 times the 6,000 jobs reshored to the U.S. in 2010. The Reshoring Initiative tallies company announcements of head-count increases for positions that were previously held in other countries, new positions in industries that had little to no U.S. presence and positions created in the U.S. from direct investment by companies based in other countries.
In other words, they're likely grossly inflating the phenomenon by counting things that clearly aren't "reshoring."
On corporate earnings calls in the second quarter, the term "reshoring" was mentioned nearly 12 times as much as it had been in the second quarter of 2019, according to data from Bank of America.
That's likely as much a function of new jargon taking hold as it is a meaningful measure of the phenomenon in question.
However, the broad shift might not be an outright win for blue-collar American workers. Increased capital spending suggests many companies could be looking to replace overseas workers with technology rather than with U.S.-based workers, according to Bank of America. Capital expenditures are often investments in equipment or technology that automate the tasks of workers.

"There's no question that companies, when they bring jobs back, they know they're going to be paying three to five times as much for labor," said Harry Moser, the founder and president of the Reshoring Initiative. "Therefore they have to automate."

North American companies ordered a record 11,595 robots, worth $646 million, in the first quarter, putting 2022 on pace to surpass last year's record numbers, according to the Association for Advancing Automation.
I mean, we're measuring announced jobs, not announced factory openings. Sure, to the extent it's more efficient to replace people with equipment, companies are going to do that. But that means we need people to design, make, and maintain the robots.