Retirements By Capitol Hill Republicans Starting To Pile Up
A recent uptick in retirements from Congressional Republicans is leading some Republicans to become concerned about the party's prospects in 2018.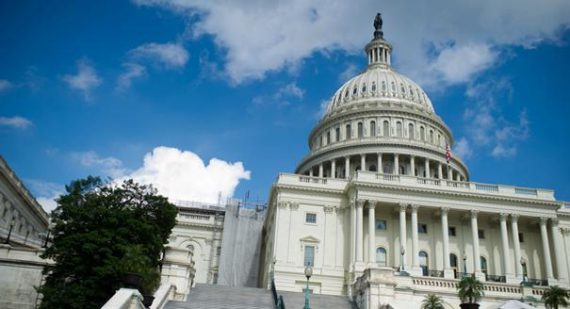 In the past week alone, three Republican members of the House of Representatives have announced that they would not be standing for re-election in 2018. The first such announcement came from Congressman Dave Reichert, a Washington State Republican representing the suburban area around Seattle, who has been in office since winning an election in 2004 and who currently represents a District that Hillary Clinton won last year and where Democrats didn't even both to put up a nominee last year.
Last week, Pennsylvania Congressman Charlie Dent, a long-serving Member who represented a District in a part of eastern Pennsylvania that included locations such as the area around Allentown and Bethlehem, announced that he would not stand for re-election 2018. Among the reasons that Dent, a leader among the moderate wing of the House GOP Caucus, cited in his announcement was the increased polarization in the nation generally and the House GOP Caucus specifically. Yesterday, it was the turn of Michigan Congressman Dave Trout, who has been in Congress for only two terms, who gave the traditional statement that he was standing down in order to spend more time with his family, to announce that he would not be standing for re-election next year. These announcements came on top of the news from Members of Congress such as Florida Congresswoman Ileana Ros-Lehtinen, who announced her retirement back in April in a Miami-Herald Op-Ed that simply stated she had decided it was time to end her career in Congress. On top of this, there have been rumors that Orrin Hatch may decide to retire after forty years representing Utah in the Senate, although in that case the impact of the announcement would be muted by the fact that there seems to be a strong Republican candidate to replace him in the form of Mitt Romney. Additionally, there has also been speculation that Michigan Congressman Fred Upton, who has served Michigan in Congress since 1986, could decide not to stand for re-election next year, although Upton is quoted by local media in his home state that he has "no plans" to retire at this time. 
Now, there are reports that Tennessee Senator Bob Corker, also a Republican, is thinking about retirement:
Sen. Bob Corker (R-Tenn.) is undecided as to whether to seek reelection next year, according to the senator, a development that threatens to reshape the Senate's power structure and Republican attempts to keep the majority.

Corker, who chairs the influential Senate Foreign Relations Committee, is still considering whether to run for a third term next year. His retirement would cause a reshuffling on top Senate committees and potentially tighten the race for control of the Senate, which heavily favors Republicans.

"I think everyone in the Volunteer State knows, as they did in 2012, that running for reelection has never been an automatic for me. While we are in a strong position, I am still contemplating the future and will make a decision at the appropriate time," Corker said Monday.

Republicans close to Corker said he is legitimately on the fence about running again. The 65-year-old former businessman and mayor of Chattanooga is weighing how much of an impact he could make in a third term versus what he could accomplish outside the Capitol.

He's also considering whether to make what is essentially a seven-year commitment to the chamber, including what would be a yearlong battle to keep his seat. While Tennessee is a deep red state, the deal-making Corker is likely to face a primary challenge if he runs for reelection.

"After spending a lifetime in business, I ran for mayor of Chattanooga as a civic endeavor, and I continue to do what I do because I wholeheartedly believe in public service. That approach allows me to truly throw myself into the job and make decisions based on what I believe is best for Tennessee and our country without thinking about the next election or the next potential opportunity," Corker said.

The possibility that Corker will retire was first reported by CNN. But President Donald Trump first brought to light the senator's ambivalence about a third term after considering Corker as both his vice presidential nominee and nominee for secretary of state last year.

In August, the White House was taken aback by Corker's blunt assessment of the president. Corker told reporters in Tennessee that Trump has "not yet been able to demonstrate the stability nor some of the competence that he needs to demonstrate in order to be successful."

Trump responded a week later: "Strange statement by Bob Corker considering that he is constantly asking me whether or not he should run again in '18. Tennessee not happy!"

(…)

Republicans hold 52 Senate seats and, with 10 Democrats up for reelection in states won by Trump, are seeking to pick up more seats next year. But a Corker retirement could create an opportunity for Democrats to go on offense in Tennessee, particularly if a more conservative Republican is the GOP nominee in the state. The GOP is defending just eight seats next year, with just two currently viewed as vulnerable: Nevada and Arizona.

Still, Corker is preparing as if he is running again and most Republicans believe he ultimately will. He had $6.5 million as of the end of June; a source with direct knowledge said that he currently has $7.5 million cash on hand. Ward Baker, the executive director of the Senate GOP's campaign arm last year and a Tennessean, is Corker's consultant.

Corker similarly considered retiring in 2012, frustrated over the chamber's gridlock and inability to pass major legislation. In the years since, Corker has become a major aisle-crossing player, working on the 2013 immigration reform bill, the Senate's 2015 bill to allow a vote on President Barack Obama's nuclear deal with Iran and housing finance reform. Corker is now angling to make an impact on the tax reform effort.
As James Antle noted at the Washington Examiner over the weekend, the recent flood of these announcements and the prospect that more could come is causing some Republicans to get nervous that the recent uptick in resignations could turn into a flood, especially among more moderate Republicans:
"I'm afraid that this trickle is going to turn into a flood of moderate Republicans retiring because they don't want to have to defend Trump and deal with their far right colleagues anymore," said a GOP strategist who requested anonymity to speak candidly. "It's got to be exhausting and civilian life looks pretty good."

(…)

In addition to policy hurdles, Republicans are also considering the ways in which the 2016 election might have affected the midterm electorate.

"We are in the midst of a major tectonic shift within the Republican Party — and, frankly, across both parties — that has created a great deal of uncertainty," said Spain, the GOP consultant.

"I think you're going to see members retire in some districts where maybe they are concerned the president could be a drag on the ticket," he said, noting traditional suburban areas. "But there are also districts where Republicans might be able to outperform previous campaigns simply because the party is changing and Trump reflects that."
Each of the three Members of Congress who have announced their retirement in the last week hail from Districts that at least has the potential to flip in 2018 with someone other than the incumbent running as the Republican nominee. In an open seat election between a challenger and a non-incumbent, the risk that the seat could flip to the other party is increased significantly. As a result, it makes sense that Republicans would be concerned about that the impact that they and future announcements from moderate Republicans could have on 2018 and the extent of the map that Republicans would have to worry about defending next year. Additionally, the loss of these moderate voices in the House and Senate will likely have an impact on the direction the party as a whole takes in the future, both when it comes to the Trump agenda, other issues that may come before Congress in the future, and the GOP's fortunes at the ballot box.