Rex Tillerson Confirmed As Secretary Of State
In a closer than normal vote for the position, Rex Tillerson has been confirmed as Secretary of State.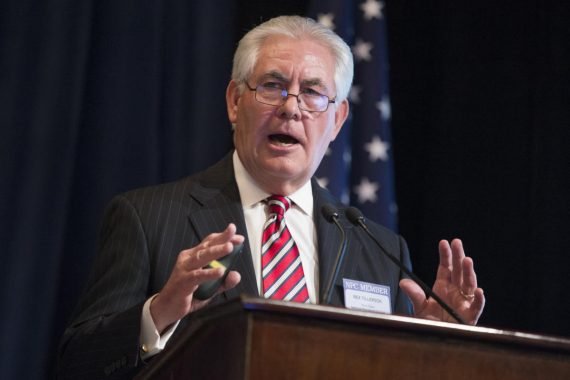 In what turned out to be a largely party-line vote, the Senate has confirmed former ExxonMobil  CEO Rex Tillerson to be the next Secretary of State:
WASHINGTON — Rex W. Tillerson, the former chairman and chief executive of Exxon Mobil, was confirmed by the Senate on Wednesday in a 56 to 43 vote to become the nation's 69th secretary of state just as serious strains have emerged with important international allies.

The many votes against Mr. Tillerson's confirmation made his selection among the most contentious for a secretary of state in recent history, and he takes his post just as many traditional American allies are questioning the policies of President Trump. In the past 50 years, the most contentious confirmations for secretary of state were those of Condoleezza Rice in 2005, who passed by a vote of 85 to 13, and Henry Kissinger in 1973, who was confirmed 78 to 7.

Mr. Trump is the most unapologetically nationalistic president of the modern era who has questioned the value of many of the alliances and multilateral institutions that the United States has nurtured since World War II to keep world order.

How Mr. Tillerson's translates Mr. Trump's vow of "America First" into the kind of polite diplomatic parlance that will maintain vital alliances will be a significant test.

Among his other challenges are dealing with Mr. Trump's promises to recast relations with China and Russia, move the American Embassy in Israel to Jerusalem from Tel Aviv, and re-examine an international nuclear deal with Iran.

A Texan, Mr. Tillerson, 64, earned an engineering degree from the University of Texas at Austin, got a job at Exxon in 1975 and climbed his way to the top, leaving only last year. Neither a diplomat, soldier nor politician, he is an unconventional choice for the job, but has vast international experience.

With operations on six continents, Exxon Mobil is in some ways a state within a state. As its chief executive, Mr. Tillerson struck deals with repressive governments — in at least one case, against the advice of the State Department. Environmentalists largely opposed his nomination

But his views on international affairs are in many ways more conventional than those of Mr. Trump, which is why even Democratic-leaning foreign affairs experts said they welcomed his selection in hopes he would bring ballast to a turbulent administration.

"Rex Tillerson will have the most demanding and complex agenda to face a secretary of state in a very long time," said R. Nicholas Burns, a Harvard professor and career foreign service officer.

Another crucial question will be how much influence Mr. Tillerson has on Mr. Trump. All cabinet secretaries must compete for power with White House aides who have long personal relationships with and frequent access to the president. But Mr. Trump's reliance on a close circle of advisers to write and vet executive orders while keeping departments that must implement them largely in the dark is without precedent.

(…)

"Tillerson faces the most difficult task of any secretary of state in the postwar era in trying to reconcile President Trump's intention to make a radical break from decades of bipartisan consensus U.S. foreign policy leadership with the reality that, if he succeeds, such a break could lead to global chaos," said Ryan C. Crocker, who served as the United States ambassador to five Muslim countries.

Mr. Tillerson may also face difficult internal hurdles. Much of his department's top leadership has departed — many because the Trump administration, like others before it, refused to keep political appointees. But the Trump transition team has been so short-handed and the pickings among Republican foreign policy veterans who had not criticized Mr. Trump so slim that dozens of positions are likely to remain empty for some time.

More worrisome, morale among the department's rank-and-file career officers has plunged, with a dissent memo against the administration's refugee and entry bans being submitted on Tuesday garnering more than 900 signatures, an extraordinary number.

Whether Mr. Tillerson meets these challenges with defiance or moderation will be a telling indication of his leadership.
Tillerson takes over at Foggy Bottom at a particularly challenging time in world affairs. In addition to the ongoing fight against ISIS in Syria and Iraq, the United States continues to maintain a presence in Afghanistan where the Taliban continue to fight the government and American forces remain on the ground there both to aid in that mission and to continue operations against al Qaeda there and in Pakistan. Additionally, the ongoing Saudi war on Yemen is threatening to spin out of control, which could cause that nation to become yet another hotbed for terrorist recruitment and training in the future. Tensions with Iran remain high notwithstanding the nuclear deal thanks in no small part to the fact that the Iranians continue to attempt missile tests that are in clear violations of United Nations Security Council resolutions that have applied sanctions against the Islamic Republic that are separate and apart from the ones imposed due to its nuclear weapons research. In Europe, Russia continues to cause trouble in Ukraine and hold on to Crimea while at the same time subtly probing at the eastern edges of the NATO alliance to see just how willing the United States would be to stand in defense of an alliance that has expanded significantly since the days of the Cold War. Additionally, it has been apparent since September that Russia is once again seeking to stir up trouble in the Balkan region dominated by the nations that used to make up Yugoslavia. As a result, although largely not talked about in the United States, tensions in that region have increased and some have suggested that President Trump's first foreign policy crisis could come from an area that has been relatively quiet since the late 1990s. Finally, in Asia, the North Koreans remain a problem as always and China continues to assert its regional muscle in ways that are concerning to American allies such as South Korea and Japan as well as nations such as far away as the Philippines and Australia.
In addition to the challenges from abroad, Tillerson will also face challenges at home in the implementation of foreign policy. At present, it remains unclear who President Trump will rely upon the most in making foreign policy decisions. Traditionally, Tillerson and Secretary of Defense Mattis would be the primary voices that a President would listen to. In Trump's White House, though, it seems as though National Security Advisor Michael Flynn and Trump Senior Adviser Steve Bannon may end up having more influence than the Secretary of State and Secretary of Defense. How that internal battle for the President's ear pans out could have a significant influence on the direction of American policy around the world, as well as how the rest of the world reacts to the United States. In the end, Tillerson seems like he's well up to the task of serving as Secretary of State, but one wonders just how much he's going to be listened to over the coming years.