Anarchy in France
The rioting never seems to stop.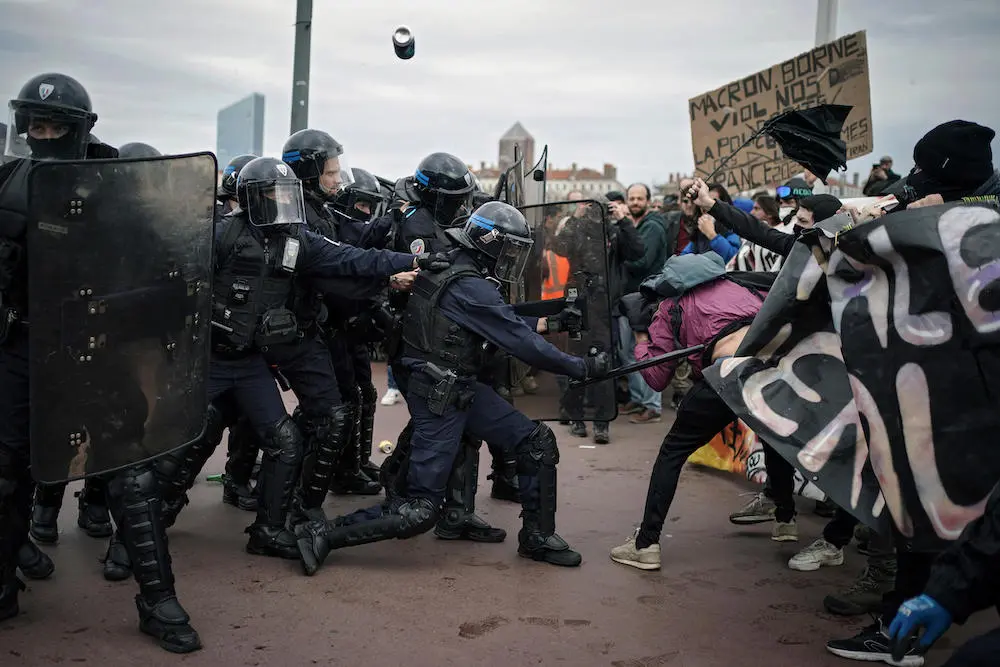 AP ("France has a 5th night of rioting over teen's killing by police amid signs of subsiding violence"):
Young rioters clashed with police into early Sunday and targeted a mayor's home with a burning car, injuring members of his family, as France saw a fifth night of unrest after the police killing of a teenager. Overall violence, however, appeared to lessen from previous nights.

Police made 719 arrests nationwide by early Sunday following a mass security deployment aimed at quelling France's worst social upheaval in years.

The crisis posed a new challenge to President Emmanuel Macron's leadership and exposed deep-seated discontent in low-income neighborhoods over discrimination and lack of opportunity.

A burning car hit the home of the mayor of the Paris suburb of l'Hay-les-Roses. Several schools, police stations, town halls and stores have been targeted by fires or vandalism in recent days but such a personal attack on a mayor's home is unusual.

Mayor Vincent Jeanbrun said his wife and one of his children were injured in the 1:30 a.m. attack while they were sleeping and he was in the town hall monitoring the violence.

Jeanbrun, of the conservative opposition Republicans party, said the attack represented a new stage of "horror and ignominy" in the unrest, and urged the government to impose a state of emergency.

Regional prosecutor Stephane Hardouin opened an investigation into attempted murder in the attack, telling French television that a preliminary investigation suggests the car was meant to ram the house and set it ablaze. He said a flame accelerant was found in a bottle in the car.

Prime Minister Elisabeth Borne went to l'Hay-les-Roses to meet Jeanbrun along with Interior Minister Gerald Darmanin and other officials, and promised that "we're going to do everything to bring order back as soon as possible."

[…]

More than 3,000 people have been detained overall since Nahel's death. The mass police deployment has been welcomed by some frightened residents of targeted neighborhoods and shop owners whose stores have been ransacked — but it has further frustrated those who see police behavior as the core of France's current crisis.
Reuters ("French police, long unreformed, under scrutiny after shooting"):
The killing of a teenager by a police officer this week has revived long-standing questions about the state of the French police and the inability of consecutive governments to reform an institution bound by powerful unions.

In a country beset by regular bouts of unrest that often draw calls for a crackdown on trouble-makers, it can be hard to criticise a force that is under strain and losing staff.

But experts say the authorities can no longer turn a blind eye to accusations by right groups of rampant racism with the force, racial profiling, and questions about recruitment, training and police doctrine.

"What remains constant is a refusal by political powers to act on one of the factors of this explosive cocktail: the police," historian Cedric Mas said on Twitter.

"Riots in the US and Britain in the 60s and 80s have led to deep reforms of the police. In France? Nothing for the past 40 years," he said.

Many western governments, from Britain in 2011 to the United States with the Black Lives Matter movement born in 2013, have had to deal with race riots against police over the past decades. But officially colour-blind France has long refused to acknowledge any racial factor was at play.

Although France has introduced about 30 pieces of legislation on law and order in the past two decades, none have included an overhaul of police forces since a 1995 reform that gave broad co-management powers to unions, said Olivier Cahn, a law professor at Cergy University.

"From that point on, unions were involved in everything that's co-managed, including the managing of human resources," he told Reuters. "The concrete result in following years was unions doing deals with different interior ministers."

These broad powers, which ensure the loyalty of police officers on the ground who owe their career advancement to the union they have joined, have given union leaders outsized influence over government ministers.

"The main fear is to lose control of the police forces," Cahn said.
The Telegraph ("Police 'mutiny', MPs at odds and 'copycat violence' – France nears total anarchy"):
Cheers erupted as a black sports car rammed a branch of Lidl on the outskirts of Nantes, western France. The vehicle reversed and sped forward once more, smashing its way through the glass facade.

As the Lidl logo came crashing to the ground, dozens of hooded youths rushed gleefully in to loot the store of its contents.

"I don't understand why they are attacking people who work. They're taking it out on their own population, people who have done nothing," said one despondent local surveying the damage on Friday morning.

The sports car, no doubt stolen, remained wedged in the entrance where it had been abandoned.

Similar acts of pillaging were repeated all around France as the country teeters on the edge of total anarchy after three nights of spiralling violence and destruction, all in the wake of the police shooting of a teenager in the Paris suburb of Nanterre.

In scenes resembling guerrilla warfare, balaclava-clad elite Raid police in body armour patrolled key spots in black armoured vehicles not just in Nanterre, but also Lille in the north and Marseille down south.

With a domestic intelligence note, seen by Le Monde, warning that riots could become increasingly "widespread" and go on for "the coming nights", Emmanuel Macron was under growing pressure to impose a state of emergency.

On Friday, the French president cut short a European Council meeting in Brussels for crisis talks as he said there were "no taboos" on the measures he would take to stop the rioting.

"All options" to restore order, including imposing a state of emergency, were on the table, confirmed Elisabeth Borne, his prime minister. That would grant authorities more powers to enact localised curfews, ban demonstrations and give police more freedom in restraining suspected rioters and searching homes.

Opposition conservatives and the hard Right are calling for such a measure. Marine Le Pen said that an emergency should be declared in "certain sectors" and be rolled out nationwide if the situation deteriorates.

"France is burning," said Eric Ciotti, the head of the Republicains party. "Our country is on the edge of the precipice… We must wage a merciless war against violence and proclaim a state of emergency in all affected areas."

Some ministers oppose it and Francois Hollande, Mr Macron's Socialist predecessor, said it was the wrong move as it was designed more to manage terror threats than urban unrest.

However, French security forces have been overwhelmed since the death of 17-year-old Nahel M, shot at point-blank range by a police officer after he was pulled over for traffic offences in Nanterre. The shooting was filmed and contradicted initial police claims they acted in self-defence.

After a bruising three months battling huge protests against his pension reforms, Mr Macron had promised "100 days of appeasement, unity, ambition and action in the service of France".

The hope was that public anger would subside in time for July 14 and its famed Bastille Day parade and firework displays.

But with just two weeks before France's revolutionary anniversary, "appeasement" is hardly the first word that springs to mind when summing up the nation's mood.
The Telegraph ("France sends in special forces to combat rioters"):
France dispatched its elite GIGN commandos to reinforce beleaguered police as the country endured a fifth night of violence over the killing of Nahel Merzouk.

Some 45,000 police officers and Gendarmes were mobilised on Saturday evening after hundreds of people gathered to bury the 17-year-old police shooting victim in the Paris suburb of Nanterre.

Arrests during a fifth night of rioting had risen to 719, the interior ministry said on Sunday morning. Hours earlier the ministry had given a provisional figure of 486 arrests, saying violence seemed to be lessening compared with the previous night when about 1300 people were taken into custody.

Rioting first broke out over the death of Merzouk on Tuesday.

"A calmer night thanks to the resolute action of the security forces," Interior Minister Gerald Darmanin tweeted earlier on Sunday.

Mr Darmanin said 200 riot police had been mobilised in the port city of Marseille, where TV showed footage of police using tear gas as night fell.
France has been a democracy almost exactly as long as the United States and, indeed, is in many ways more democratic than we are. They are a considerably less violent country than we are. And yet, for reasons I don't understand, rioting is damned near routine as part of their political culture.
The parallels with the Black Lives Matter protests are considerable. In both cases, rioting over frustrations over long-unaddressed police misconduct were met with calls for, and resorts to, massive and harsh crackdowns by the police, further exacerbating the problem. And, yet, the instinct to use the police power to restore law and order are not only understandable but really the only tool available to political leadership.