French 'Burkini' Ban Provokes Backlash
For largely irrational reasons, French police are arresting women on the beach for wearing swimsuits that are compatible with their faith.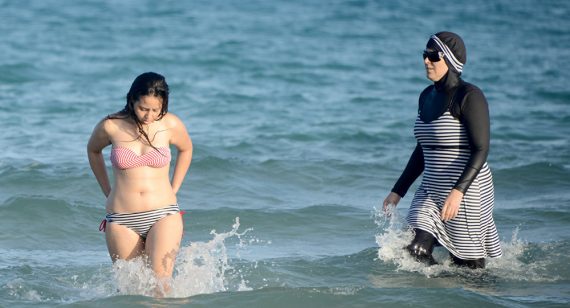 The latest controversy sweeping France involves the effort of several towns located mostly along the Mediterranean coastline to ban women from wearing the so-called 'burkini,' a full-body swimsuit that many French Muslim women have adopted in an effort to enjoy the beach while remaining faithful to their religion's requirements regarding acceptable forms of dress. As the ban has been adopted, there have been reports of police forcing women to essentially disrobe on the beach in full view of others as well as other reports of harrassment of Muslim women and girls who are wearing swim attire far less revealing than what is common on beaches in France. Not surprisingly, this has resulted in something of a backlash:
PARIS — Armed police surrounding Muslim women on beaches and ordering them to remove their modest clothes or leave. Calls from onlookers to "go back to where you came from." Public humiliation and ostracism with echoes of the morals police of theocratic countries like Iran or Saudi Arabia, not a country that sees its values as a paragon of Western freedoms.

Those uncomfortable images have come to dominate the ongoing debate over identity and assimilation as France's coastal municipalities attempt to enforce new bans on the "burkini," the full-body bathing suit designed to accommodate Islamic modesty codes.

On Wednesday, photographs flashed across the globe on social media of French police officers forcing modestly clad Muslim women on beaches to pay fines, leave or disrobe. A storm of criticism erupted, followed by some political backpedaling a week after the nation's prime minister, Manuel Valls, had denounced the little-worn burkini as a tool of "enslavement."

At least 20 municipalities on the Mediterranean, as well as several in northern France, have enacted bans against the garment on the grounds that it is not "appropriate," "respectful of good morals and of secularism" and "respectful of the rules of hygiene and security of bathers on public beaches."

Organizations including the Collective Against Islamophobia in France and the League of Human Rights have challenged the restrictions in local courts, but so far the rules have been upheld.

Now that the bans, which are vaguely worded, have apparently hit not just women wearing burkinis but others in a wide range of modest clothing, some French organizations and politicians that previously had said little have begun to worry that the new rules are discriminatory and unenforceable.

Interior Minister Bernard Cazeneuve, who met with the French Council of the Muslim Faith after an urgent request from the organization, said that the enforcement should not "stigmatize" people or "set one against another."

Mr. Valls's own Socialist Party said in a statement that the enforcement was putting the country in a "particularly dangerous downward spiral," citing "the attitude of the crowd" that gathered around a woman being confronted by three officers in Cannes last week.

The officers surrounded the woman, who was wearing a tunic, leggings and a head scarf, fined her and ordered her to leave the beach. The woman was at the beach with her children, and said she was a third-generation French citizen from Toulouse.

A crowd gathered. "I heard things I had never heard to my face," said the woman, who gave her name only as Siam to the French magazine L'Obs. "Like, 'Go back to where you came from,' 'Madame, the law is the law, we are fed up with this fuss,' and 'We are Catholic here.' "

Tearfully, the woman said that "because people who have nothing to do with my religion have killed I no longer have the right to go to the beach."

(…)

Aheda Zanetti, the Lebanese-Australian designer who first marketed the burkini in 2004, said officials who sought to prevent women from covering up had misconstrued the purpose of the swimsuit, which allowed modest women to swim and participate in sports more comfortably.

"They've misunderstood the burkini swimsuit," Ms. Zanetti, 49, said in a telephone interview from Sydney. "Because the burkini swimsuit is freedom and happiness and lifestyle changes — you can't take that away from a Muslim, or any other woman, that chooses to wear it."

However, former President Nicolas Sarkozy, who is vying to be the center-right candidate in the 2017 French presidential elections, told Le Figaro Magazine that "doing nothing" against the burkini would be "another retreat" for France.

He urged that the ban on religious clothing and symbols in government jobs and at French public elementary and secondary schools be expanded to universities and private companies. The full face veil and burqa are already banned in public places.

Christian Estrosi, deputy mayor of Nice, backed the behavior of the police, saying that they had issued 24 fines for violations of the city's ban on "inappropriate clothing" and that he saw women wearing such clothes as purposely trying to provoke the public.
The Washington Post notes that the bans, and manner in which police are enforcing them, have become the subject of legal action on behalf of the women targeted:
PARIS — Human rights groups challenged the legality of municipal bans on full-body burkini swimsuits before France's highest administrative court Thursday, a practice that one lawyer fiercely denounced as reflecting "a reflex of fear."

The three-judge Council of State heard arguments from both sides and said it would issue its ruling Friday over whether to overturn the locally ordered bans. They have elicited shock and anger worldwide after photos this week appeared to show police instructing one Muslim sunbather to remove her body-concealing tunic in Nice, scene of last month's truck slaughter.

The legal fight over the right of Muslim women to wear burkinis has fired a national debate over the place of Islam in France, a strictly secular country, and fueled concerns at home and abroad that some French mayors are overstepping their powers.

Pleading in a courtroom packed with journalists, legal experts and ordinary citizens, the lawyers for two human rights groups expressed fears that the bans on wearing any religious garments on beaches, if upheld by the court, would be extended to public transportation networks and other public places.

"France has lost any sense of proportion in this matter. The Council of State must be a compass in the tempest and show the right way," said Patrice Spinosi, a lawyer for the Human Rights League. "The bans have been issued by a reflex of fear."

Spinosi argued that, before about 30 coastal towns and cities introduced the ban, there weren't "any riots on the beaches." He said the bans, by contrast, had stirred "disruption to public order," driven by the sight of police issuing fines to Muslim women on some Riviera beaches.

Divisions have emerged in President Francois Hollande's government over the bans, and protests have been held in London and Berlin by those defending women's right to wear what they want on the beach.

Critics of the local decrees have said the orders are too vague, prompting local police officials to fine women wearing the traditional Islamic headscarf and the hijab, not burkinis. The bans do not generally use the word "burkini" but forbid any clothing that is deemed overtly religious.

Thursday's arguments focused on a ban in the Riviera town of Villeneuve-Loubet, but Friday's binding decision will set a legal precedent on whether any municipality can tell Muslim women what to wear on the beach.

Francois Pinatel, the lawyer for the town of Villeneuve-Loubet, acknowledged the mayor's order had infringed basic freedoms but argued this was legal because the decree was intended to safeguard public order following the Bastille Day truck attack in Nice 15 kilometers (9 miles) away.

"There is a climate of absolute tension in the region with an extremely explosive situation," Pinatel told the judges.
The laws have also prompted protests in other parts of Europe against what many Europeans are calling a clear violation of the rights of the women in question, and a step too far in France's effort to force secularization on recent immigrants:
In London, about 30 demonstrators threw a "wear what you want" beach party Thursday outside the French Embassy.

Recent militant attacks on France don't justify "men with weapons standing over a woman telling her what not to wear. That's not a sight that any of us should stand for," said church curate Jenny Dawkins, 40, one of the protesters.

In Berlin, about 60 people — some wearing burkinis, others bikinis — protested outside the French embassy in front of the Brandenburg Gate.

The Human Rights League and the Collective Against Islamophobia in France —the other rights group pursuing Thursday's lawsuit — say the Villeneuve-Loubet mayor's decree violates basic freedoms of dress, religious expression and movement.

(…)

On Monday, a lower court in Nice ruled that the Villeneuve-Loubet ban was "necessary, appropriate and proportionate." The administrative court added that wearing "conspicuous" religious clothing on the beach may be seen as a "provocation" and increase tensions.

The Nice court said that burkinis can be viewed as "erasing" women from the public eye and "a lowering of their place."

Religious clothing is particularly sensitive in France, where an unusually large part of the population has no religious affiliation. The first provision in France's constitution declares it is "a secular republic."
This is hardly a new argument in France, of course. For years now, the government has sought to enforce bans against religious garb in public areas that has included not just the kind of coverings common among Muslim women but also veils and other religious symbols sometimes adopted by Catholics and other orthodox Christians. In recent years, however, the majority of the targeting in the enforcement of these laws appears to have have become focused on the nation's Muslim population, which has grown thanks both to the arrival of refugees from conflict in the Middle East and Northern Africa and the growth in the population of immigrants from nations such as Algeria and Tunisia over the past several decades. To a large degree, women from all of these cultures dress in a far more modest fashion than the typical French woman. This is especially true when it comes to the beaches, where the bikini is commonplace and some areas allow women to go topless, or even nude, on the beach. The result has been years of conflict between the authorities and their effort to enforce 'secularism' even where it infringes on individual liberty and an increasingly vocal Muslim minority that sees the ban on more modest clothing as an attack on their culture and a refusal by France to accept cultural differences on the part of people it has supposedly welcomed into the country.
In his own post about this issue, Dave Schuler makes this argument, seemingly in defense of the French seeking to enforce the ban:
Over the period of the last two centuries the foundations of the modern French state have rested on a single French language, a single French culture, and secularism, laïcité. Rejecting the French language, conventional French dress, and French mores isn't just a statement of preference. It's a political statement and one that, from the point of view of many of the French, challenges the very basis of modern France.

Like it or not it is up to the French to decide what it means to be French. If you don't like it, go elsewhere. Let France be France.
Dave's points are well-taken, and I imagine that the average Frenchman likely doesn't particularly care about my opinion regarding this issue. That being said, though, it strikes me that what we are seeing here is a manifestation of the conflict that exists internally in France that has helped to create the environment that has led to radicalization of its Muslim population to a far greater degree than what we've seen in the United States. At its core, this policy regarding clothing at beaches is about more than just what women in France should wear in the summertime, it goes to the fact that France has done a particularly bad job of assimilating the Muslim immigrants that have come to the country over the past several decades into French culture. In sharp contrast to the United States, the attitude toward immigrants in France seems to be one in which the immigrant is expected to abandon the culture of their country of origin and adopt the French language, French customs, and French styles of dress and deportment as soon as possible. At the same time, these immigrants often end up living in what effectively become ethnic ghettos where they are left to live on their own and essentially treated as a class of people who are not, and never can be, fully French. This attitude toward immigrants, while it may be the "French" way of things, has arguably helped to alienate a significant and growing segment of the population and push some of its more vulnerable members toward radicalization inspired by groups such as ISIS and al Qaeda.
In the United States, of course, a ban on religious garb on the beaches would be almost immediately struck down as unconstitutional, and indeed that's exactly what has happened to various rules against such clothing in public school and elsewhere. Additionally, cases interpreting the ban on religious discrimination in employment contained in laws such as the Civil Rights Act of 1964 have held that private workplace bans on religious garb must be reasonably based on work requirements in order to pass muster. That, of course, is a reflection of the differences between American and French law and the manner in which we have accommodated immigrants practicing different religions that have unfamiliar rules regarding clothing or other issues. At the risk of sounding chauvinistic, I would suggest that the United States has done a better job at handling these issues than France has and that a law banning women who wish to go to the beach, but don't wish to wear revealing clothing, from even appearing in public is hardly in line with protecting individual rights. Indeed, the French seem to have decided that this is a situation where individual rights should take a back seat to mandatory assimilation even when it means publicly shaming women and forcing them to undress in public. In the end, this is not going to make French Muslims more eager to act French. Instead, it's likely to increase the resentment that has caused many of them to become willing to radicalize and strike out against a country that doesn't seem to really want them, except, perhaps, as cheap labor.