Romney Ad Uses Obama "I'm So In Love With You" Performance
Two liberal columnists say a recent Mitt Romney ad proves he's out of touch---and implies that he's running a racist stealth campaign.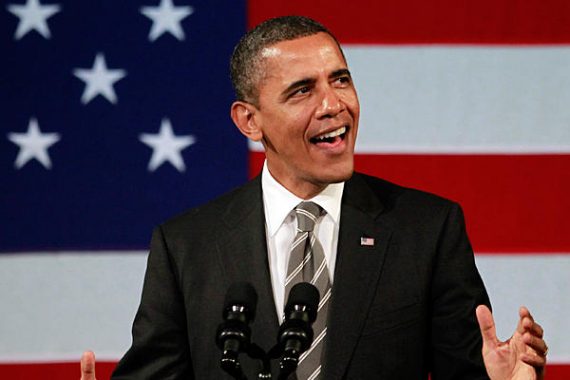 Gary Silverman says a recent Mitt Romney ad proves he's out of touch—and implies that he's running a racist stealth campaign.
Such was the case this week, when the Romney campaign displayed a cultural sensibility that recalled the times in this country when the only way a Little Richard song could get on mainstream radio was to have Pat Boone sing it.

Mr Romney's senior moment came as he responded to a withering television commercial released by President Barack Obama's campaign last weekend. That advertisement features Mr Romney delivering an off-key rendition of "America the Beautiful", while the viewer is treated to scenes of empty offices and factories and headlines alleging that Mr Romney moved jobs from the US to other countries and kept money in offshore accounts.

Mr Romney counter-attacked with a commercial noting the country's dismal economic condition and suggesting that Mr Obama only cares about helping his campaign donors. To drive that point home, it concluded with the president singing "I'm so in love with you", a line from the old Al Green hit "Let's Stay Together" to cheers from supporters at a fundraiser this year that was attended by Mr Green himself.

Viewed from a tactical standpoint, I was surprised that the Romney camp used Mr Obama's performance. I could see why Mr Obama featured Mr Romney in his commercial; the Republican's warbling suggested a lack of harmony between his rhetoric and his record in government and the private equity business. But unlike Mr Romney, Mr Obama sang quite well, raising the question of why the opposition would show him off to his advantage, even in this limited sense.

One of the better answers I have found comes from a well-known supporter of Mr Romney – Suzy Welch, former editor in chief of the Harvard Business Review, and wife of Jack Welch, former CEO of General Electric. In an appearance on CNN with her husband, Mrs Welch suggested that Mr Obama's personal style and choice of musical material define him as a member of a "different America". I would imagine this is why Mr Romney's campaign included the snippet of Mr Obama singing "Let's Stay Together" at the Apollo Theater in Harlem. They hoped it would convey his otherness.

"It's the difference between the songs that they're singing," Mrs Welch said. "Mitt Romney didn't exactly do a beautiful job on that song, but think about what he's singing, OK? I mean it's that patriotic song and he goes all the way through it. Then you've got the very cool Barack Obama singing Al Green. That is the two different Americas. Isn't it?"
Paul Krugman cites the above and adds,
How "other" is Al Green? So other, so alien, that, well, he's included on theMuzak they play in Red Lobster restaurants.

Somebody is alien and out of touch with America here, that's for sure. But I don't think it's the president.
So . . . we've got two columns imputing a vague racism to Mitt Romney because Suzy Welch has a greater appreciation with schmaltzy patriotic songs than '70s R&B? Seriously?
Watch the ad, which the campaign titles "Political Payoffs and Middle Class Layoffs:"
Now, I don't happen to think it's very good. But I'm not the target audience for the ad—or, indeed, any presidential ad. But, rather clearly, the whole point of the spot is to contrast massive middle class unemployment with some (rather old) reports that Obama is helping his donors.
There's a June 2011 NPR report titled "Obama's Big Money Raisers Get Key Posts, Access, Stimulus Dollars," a December 2009 Washington Times headline blaring "Democratic Donors Rewarded with W.H. Perks," and an April 2012 New York Times piece declaring "White House Opens Door to Big Donors, And Lobbyists Slip In."
This is contrasted with Obama singing "I'm So in Love With You" to the cheers and applause of a room full of people at a fundraiser.
The message is clear: Obama is a scary black man.
Or, you know, he's in love with people who give him lots of money.  Take your pick.
As to why the Romney campaign would use a clip that "would show him to his advantage," it's actually a rather standard trick: they're trying to reverse the association. That sound byte has almost universally been used to show how cool and talented Obama is. The Romney campaign is trying to taint it.
Again, I don't think it's a great ad. But it's not trying to paint the president as someone from some other America, much less trying to engender wistfulness for "times in this country when the only way a Little Richard song could get on mainstream radio was to have Pat Boone sing it." They're saying he cares more about getting re-elected than about the middle class.
(As an aside, BMG Rights Management had this clip and others featuring Obama's singing that one bar of Al Green pulled off YouTube on copyright grounds. The Romney team got it back on, citing Fair Use.)