Romney Leads Among Iowa Republicans, Cain And Palin Tied For Second
The battle of Iowa is beginning with Mitt Romney in the lead, but Herman Cain and Sarah Palin aren't far behind.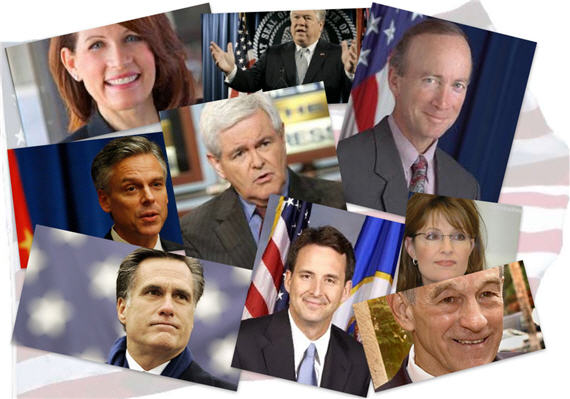 Mitt Romney is at the top in the first poll of Iowa Republicans since Mike Huckabee dropped out, but Herman Cain and Sarah Palin are not far behind:
Mitt Romney has the lead in PPP's first Iowa poll since Mike Huckabee and Donald Trump exited the race, but with six different candidates polling in double digits it's clear this thing is wide open.

Romney polls at 21%. Sarah Palin and Herman Cain are tied for second at 15%. Newt Gingrich is 4th with 12%, Michele Bachmann 5th with 11%, Tim Pawlenty 6th with 10%, Ron Paul 7th with 8%, and Jon Huntsman 8th with 0% (only one respondent to the poll picked him.) 8% said they supported someone else or were undecided.

Cain and Palin have been the biggest beneficiaries in Iowa of Huckabee and Trump's decisions not to run. Cain is at 15% now despite not even having been included on our last poll. Palin's gained 7 points in the six weeks since our last poll compared to 5 point gains for Romney, Pawlenty, and Bachmann, a 3 point gain for Gingrich, and a 2 point bump for Paul.
Not surprisingly, Romney is strongest among centrist Republicans while Iowa's evangelical/social conservative voters are dividing themselves among the remaining candidates:
Romney's leading in Iowa based on his strength with centrist and center right Republican voters. With moderates he's at 34% to 16% for Palin, 13% for Paul, and 11% for Gingrich. With 'somewhat conservative' voters he's at 24% to 15% for Pawlenty, 13% for Palin, and 12% for Gingrich and Cain. His strength with those two groups outweighs his continuing weakness with the furthest right group of voters in the state, which constitute the largest segment of the Republican electorate at 41%. With those 'very conservative' folks Romney can muster only a fourth place finish at 13%. Cain and Palin tie for the lead with that group of voters at 19% followed by Bachmann at 15%.
It's worth keeping in mind that conventional wisdom says that its the socially conservative voters who are more likely to be committed enough to show up and go through the long caucus process on a cold night in February, so Romney's biggest concern may be keeping up enthusiasm among his supporters.
This is only the first snapshot, of course, but it does provide a few things to keep an eye on going forward. For one thing, there's definitely been a Herman Cain surge since the May debate and his formal entry into the race, how long will that last, especially when someone like Michele Bachmann gets into the race? For another, Sarah Palin would be a strong player as soon as she would get into the race if she ran, but she is by no means a prohibitive favorite among Iowa GOPers. Third. Mitt Romney continues to benefit from the presence of so many candidates attractive to the socially conservative voters in Iowa, will that last, or will they start to gravitate toward one candidate? Finally, if Palin doesn't run what happens to her 15%?
The Ames Straw Poll comes up in August, and that will be a major (if not entirely accurate) test of candidate support. Between now and then, I'm sure we'll see several more polls. So, as always, stay tuned, because the race is actually starting to heat up now.