Romney Leads Obama in Poll
President Obama comfortably leads all Republicans but one.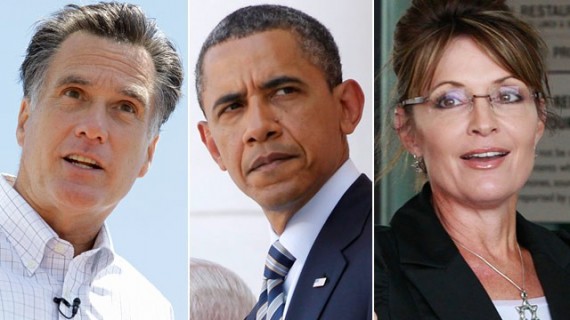 Mitt Romney leads President Obama 49-46 in the latest ABC/Washington Post poll of registered voters.
An announcement bump for Mitt Romney and a bus-tour boost for Sarah Palin put the pair atop the field for the Republican presidential nomination. But while their primary standings are similar, their broader prospects for election look vastly different.

Romney appears formidable: In a general-election trial heat in the latest ABC News/Washington Post poll he runs evenly with Barack Obama among all Americans, and numerically outpoints him, 49-46 percent, among registered voters — not a statistically significant lead, given sampling error, but a clear reflection of Obama's vulnerability to a well-positioned challenger.

Romney, though, is the only Republican to run that well; Obama leads all other potential opponents tested in this poll — Palin, Newt Gingrich, Tim Pawlenty, Michele Bachmann and Jon Huntsman. Palin fares worst, trailing Obama by 17 points among all adults, 15 points among registered voters.

Indeed, despite advancing in GOP primary preference, Palin faces daunting challenges. Sixty-four percent of Americans say they definitely will not vote for her for president, a new high. Sixty-three percent describe her as unqualified for the job, below its peak but still a substantial majority. Even in her own party, among Republicans and Republican-leaning independents, 41 percent rule out voting for her and 39 percent see her as unqualified.
The Palin numbers don't surprise me, of course, since this has been the polling trend for two years or more. Romney's strong showing, though, is interesting. The "announcement bump" explanation seems far-fetched in that I don't think people are paying much attention.
The same poll shows the "Osama bounce" having dissipated: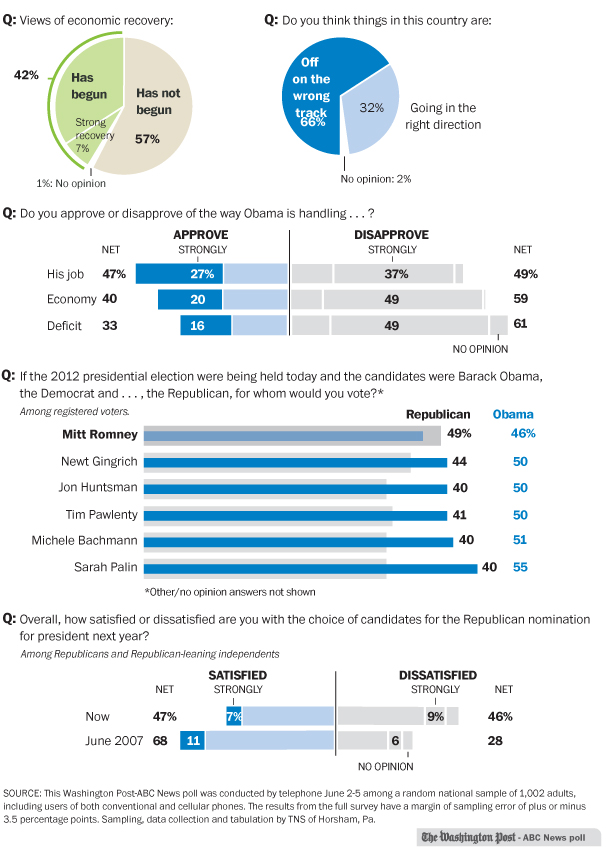 The public opinion boost President Obama received after the killing of Osama bin Laden has dissipated, and Americans' disapproval of how he is handling the nation's economy and the deficit has reached new highs, according to a new Washington Post-ABC News poll.

The survey portrays a broadly pessimistic mood in the country this spring as higher gasoline prices, sliding home values and a disappointing employment picture have raised fresh concerns about the pace of the economic recovery.

By 2 to 1, Americans say the country is pretty seriously on the wrong track, and nine in 10 continue to rate the economy in negative terms. Nearly six in 10 say the economy has not started to recover, regardless of what official statistics may say, and most of those who say it has improved rate the recovery as weak.

[…]

Overall, about six in 10 of those surveyed give Obama negative marks on the economy and the deficit. Significantly, nearly half strongly disapprove of his performance in these two crucial areas. Nearly two-thirds of political independents disapprove of the president's handling of the economy, including — for the first time — a slim majority who do so strongly.

In another indicator of rapidly shifting views on economic issues, 45 percent trust congressional Republicans over the president when it comes to dealing with the economy, an 11-point improvement for the GOP since March. Still, nearly as many, 42 percent, side with Obama on this issue.
Again, not terribly shocking. The economy is in terrible shape and presidents are expected to fix it. We assign them far too much credit for good economies and too much blame for bad ones; but that's the job.
Looking at RealClearPolitics' poll of polls, something jumps out at me: The wide disparity among the individual polls on the president's job performance, which averages +5.3 but ranges from +13 to -3.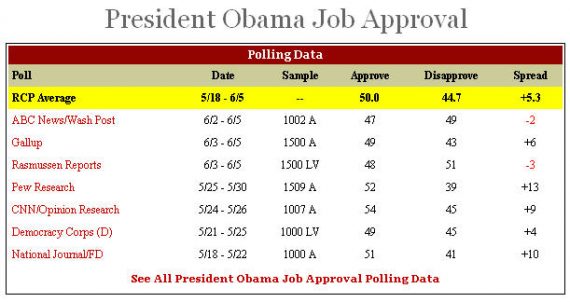 The polls are all taken since May 18, so it's unlikely to be a function of events. And, yes, Rasmussen, which tends to lean Republican, is one of the outliers. But its numbers are almost identical to the aforementioned ABC/WaPo survey. Nor is it the sampling screen. There are only two likely voter polls–the rest are "adults"–and they're the two extremes of the range. I honestly have no idea what to make of this.