Romney Pulling Ahead In Florida?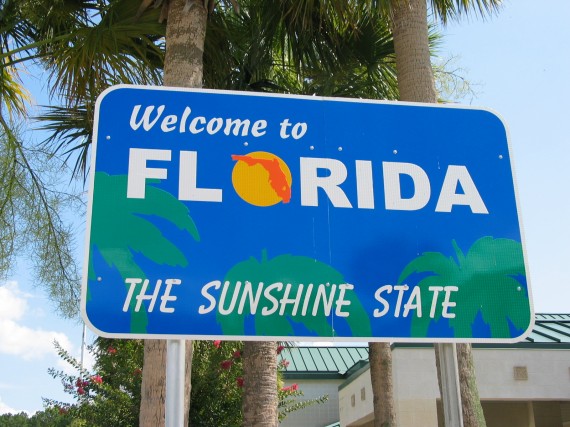 A new poll from the Tampa Bay Times and Miami Herald has Mitt Romney up seven points in the Sunshine State:
What a difference a debate makes.

Republican Mitt Romney has opened a large, 7 percentage-point lead over President Barack Obama in must-win Florida, according to a new poll of likely voters conducted for The Miami Herald/El Nuevo Herald and the Tampa Bay Times.

Romney's 51-44 percent advantage is just on the cusp of the poll's error margin — and it marks a dramatic 8-point shift since last month.

"Obama's now swimming upstream," said Brad Coker, pollster with Mason Dixon Polling & Research, which conducted the survey of 800 likely Florida voters this month and last for The Herald and its news partners, including Bay News 9 and Central Florida News 13.

The previous poll, which showed Obama with an inside-the-error-margin lead, was before last Wednesday's debate when Obama gave a lackluster performance while Romney appeared to excel.

This latest poll showed that 5 percent of those who said they were undecided before the debate say they'll vote for Romney. And 4 percent of those who said they favored Obama pre-debate moved away from the president — 2 percent toward Romney and 2 percent undecided.

"Obama didn't flip one voter," Coker said. "He didn't gain 1 percent from the debate."

(…)

Independents moved 24 points away from Obama and toward Romney, who's now favored by 13 points, or 52-39, over the president.

Another huge gain came with women, who once favored Obama by double digits, and are now virtually split between the top two contenders. They moved a total of 13 points in Romney's favor in a month.
This is quite a massive move in Romney's favor in a short period of time, so there's reason to be skeptical that he is actually this far ahead in a state that has been particularly close for most of this election cycle. Nonetheless, it is worth noting that we've also got new polls from Rasmussen and ARG that show Romney ahead by four and three points respectively, so it does seem like there have been some movement in Romney's direction in the state. Indeed, that's exactly what the chart at RealClearPolitics shows us: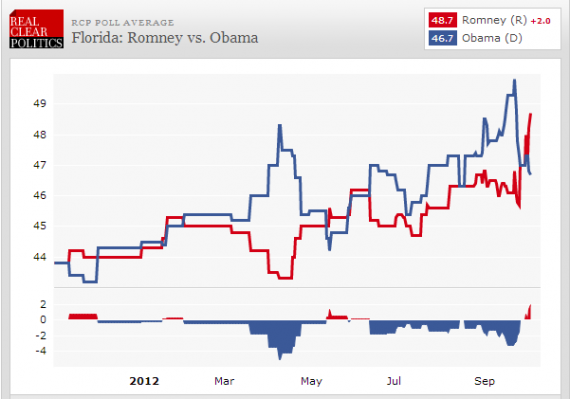 This gives Romney a +2.0 lead in the RealClearPolitics Average, the highest he's ever had in the state. If numbers like this are reflected in future polling, then Romney may well be able to get Florida's 29 Electoral Votes on Election Night.