Romney Holds A Strong Lead As Florida Heads To Final Days
Mitt Romney seems poised for victory in Florida.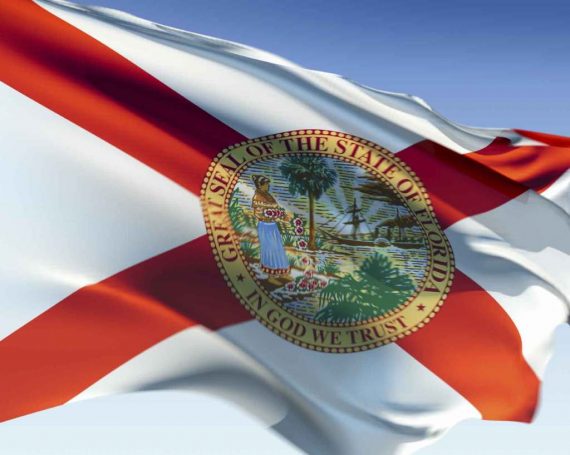 With 48 hours to go before Primary Day voting starts, things seem to be breaking Mitt Romney's way. He's had two good debates in which his strength was enhanced by obvious mis-steps by Newt Gingrich, he's had two of Florida's most popular Republicans, Jeb Bush and Marco Rubio, come to his defense over allegations in Gingrich ads, and he's leading in the polls. Unless something truly groundbreaking happens between now and Tuesday (and, no, I don't mean the Herman Cain endorsement of Newt Gingrich) or the polls are wildly in accurate, it's looking like Romney is going to win Florida and position himself very nicely headed in to February.
In the latest Public Policy Polling poll, Romney finds himself eight points ahead of Gingrich:
PPP finds the same thing in its newest Florida poll that all surveys of the state have found in the last few days: strong movement away from Newt Gingrich and toward Mitt Romney.  Romney now leads with 40% to 32% for Gingrich, 15% for Rick Santorum, and 9% for Ron Paul. Romney has gained 7 points and Gingrich has dropped by 6 since our last poll, which was conducted Sunday and Monday.

It's clear that the negative attacks on Gingrich have been the major difference maker over the last week. His net favorability has declined 13 points from +23 (57/34) to only +10 (50/40) in just five days. Romney has pretty much stayed in place. At the beginning of the week he was at +31 (61/30) and now he's at +33 (64/31).

Santorum is actually the most well liked candidate among Florida voters with 65% seeing him favorably to 24% with a negative opinion.  In Iowa Santorum's persistently high favorability ratings were a precursor to his late surge.  But as popular as he is, he's only gone from 13% to 15% support in the last week.  It seems unlikely that he'll be able to break into the top two.

The backbone of Romney's support in Florida is senior citizens.  He's getting 50% of their voters with Gingrich at only 28%. Romney also appears to have a pretty good sized lead in the bank. Among those who have already voted he's at 45% to 35% for Gingrich.
The poll [PDF] also shows Gingrich with a  9-point gender gap among women, with Romney getting 41% of women to Gingrich's 32%. Perhaps most importantly, though, are the results for those who say that they have already voted either by absentee or through Florida's early voting. Among that group, Romney leads Gingrich 45% to 35%. According to some estimates, more people have already voted early in Florida than vote in South Carolina, New Hampshire, and Iowa combined. Even if you don't take into account what seems to be the late surge toward Romney, it's pretty clear that Gingrich would have a big problem overcoming Romney's early voting advantage, which could end up proving decisive.
A second poll from The Miami Herald has Gingrich trailing Romney by 11 points:
Newt Gingrich swaggered into Florida as a Republican front-runner, but now he's close to slipping out as an also-ran against a resurgent Mitt Romney.

Gingrich is badly trailing Romney by 11 percentage points, garnering just 31 percent of likely Republican voters heading into Tuesday's presidential primary, according to a Miami Herald/El Nuevo Herald/Tampa Bay Times poll released late Saturday night.

President Barack Obama should be wary as well. Romney beats Obama by a 48-44 percent spread — a lead inside the error-margin, however — in a theoretical general-election matchup, the poll shows.

In the Republican primary, Romney's lead looks insurmountable. It cuts across geographic, ethnic and gender lines. And the poll indicates Romney's attack on Gingrich as a Freddie Mac insider is a hit with GOP voters.

(…)

Gingrich also has a gender problem. Women back Romney by a lopsided 19 percentage points over Gingrich, which could be a sign that questions about his three marriages could be haunting him.

Romney's campaign is more organized and better funded. For weeks, he has been advertising, calling and mailing Republicans in an effort to bank early and absentee votes. But for the few days after South Carolina's primary that Gingrich won, there's a good chance Romney won the early-ballot battle.

The poll shows about 47 percent of early voters sided with Romney and 35 percent with Gingrich. About 500,000 GOP ballots have been cast early out of a turnout that could reach roughly two million.
The poll also shows that Romney has a huge advantage in Southeast Florida, thanks in large part to strong support from the Cuban community in the Miami area, which would seem to indicate that Gingrich's efforts to appeal to Hispanic voters over the past week or so have been for naught. There's also indications that Gingrich's campaign in Florida isn't nearly well-organized enough to compete in a state like Florida, such as the news that they had sent campaign mail to voters who had voted three weeks ago by absentee, something that could have easily been checked by a campaign with sufficient infrastructure.
Just out this morning, though, are two new polls that suggest that the surge toward Romney may be overwhelming, and that the former Massachusetts Governor could be headed to a decisive victory. The new Rassmussen poll has Romney ahead of Gingrich by sixteen points, the largest lead that Romney has had in the Sunshine State for quite some time. Even more impressive, though, is the new NBC News/Marist Poll that has Romney leading Gingrich 44% to 27%, a difference of 15 points. If Romney comes close to this kind of win over Gingrich, a lot of people are going to forget that South Carolina even happened.
Finally a fifth, less well-known, poll also has Gingrich trailing Romney by 11 points. This poll also shows the same demographic and geographic advantages for Romney as the other polls, including the much-discussed gender gap.
So, here's where RealClearPolitics puts the race as of today: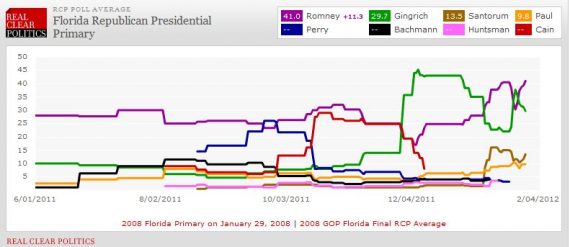 Nate Silver's latest projection gives Romney an 88% chance of winning Florida, and that sounds about right at this point. Absent some major change in the race that moves voter sentiment significantly between now and Tuesday it seems fairly clear that things are set for a fairly sizable Romney victory Tuesday night, which should set him up nicely as we head into February. When it comes to those February contests, Romney is fairly well-situated as well. Of course, Newt Gingrich has a billionaire casino magnate funding his SuperPAC and has vowed to stay in the race until the convention, so it's possible he will keep chasing Romney for several months just as Ron Paul is likely to. What Florida seems to be revealing, though, is that when it comes down to competing in big states and running the kind of multi-state campaign that will be taking place over the next few months, there's only one person in the race and his name his Mitt Romney. Before long, Gingrich may end up being reduced to being little more than the puppy nipping at Romney's heels as he keeps collecting delegates on his way to victory.