Romney Reacts To SCOTUS Ruling: I'll Do What The Justices Didn't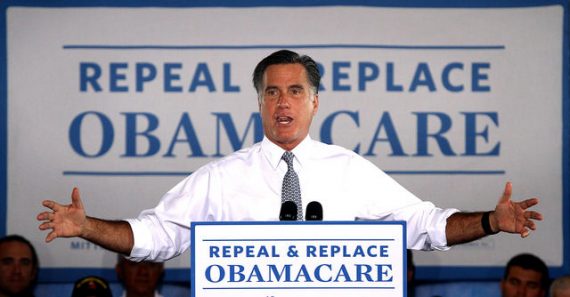 Mitt Romney didn't directly criticize the Supreme Court's decision upholding the Constitutionality of the Affordable Care Act in his statement reacting to the decision, instead he used it as opportunity to renew his pledge to repeal the law when he becomes President:
Washington (CNN)- Mitt Romney, the Republican presidential candidate who has long pledged to repeal President Barack Obama's sweeping health care law if elected president, said Thursday the Supreme Court ruling that upheld the law did not signal the measure was good for the American people.

"Let's make clear that we understand what the court did and did not do," Romney said. "What the court did do today is say that Obamacare does not violate the Constitution. What they did not do is to say that Obamacare is good law or that it is good policy. Obamacare was bad policy yesterday. It's bad policy today. Obamacare was a bad law yesterday. It is bad law today."

Romney stressed the Supreme Court ruling, which said the individual mandate requiring people to have health insurance is valid as a tax, even though it is impermissible under the Constitution's commerce clause, did not change his basic feelings toward the law.

"What the Court did not do on the last day in session, I will do on my first day if elected president of the United States, and that is that I will act to repeal Obamacare," Romney said in a statement approximately two hours after the ruling was handed down.

Explaining his opposition to Obama's health law, Romney cited figures showing the Affordable Care Act reduced funding to other government-sponsored programs.

(…)

Romney, who learned of the Court ruling in his hotel room at the Washington Hilton, made his statement ahead of a campaign event in Washington with the U.S. Capitol as his backdrop. He used his public remarks on the court's landmark decision to assail his Democratic opponent and present himself as an alternative.

"Our mission is clear: If we want to get rid of Obamacare, we have to replace President Obama," Romney said.
It was inevitable that the Court's ruling would become an issue in the election regardless of which way it went, and what the Romney campaign clearly hopes to do here is reignite the passion that surrounded this issue during the run-up to the 2010 elections and, given the polls, there's a good possibility that they might be able to do it. Nonetheless, you cannot deny the fact that this is a huge political victory for the President that could very well start shifting public opinion on the law going forward and that the Romney campaign is going to have to hope that the same passion that ignited the Tea Party movement is still there, and that this starts pushing independents who may have been on the fence into the Romney camp.
Photo via Bloomberg