Romney Relying On Teleprompters During Final Campaign Swing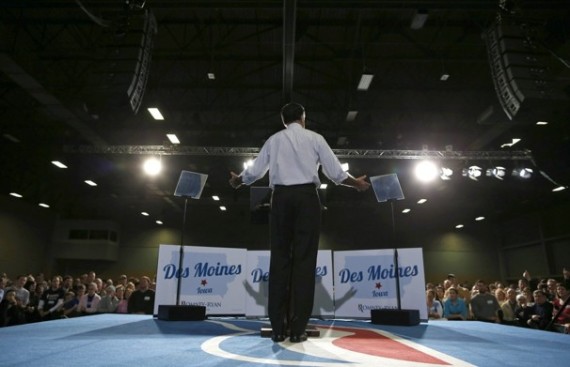 Given the ridiculous obsession that many on the right have had with the fact that President Obama — like both Presidents Bush, President Clinton, and President Reagan before him — utilizes teleprompters for many public speeches, one has to wonder how they'll feel about this:
DES MOINES — Warming up the crowd at Mitt Romney's morning rally here Sunday morning, Iowa congressional candidate John Archer strode on stage and took what in Republican circles has become a tried-and-true dig at President Obama.

"Wow," he said, "I don't need these teleprompters!"

What Archer may not have realized is that the twin teleprompters erected at both sides of the podium had been set up for his own party's nominee. Like the president, Romney has been relying more and more on teleprompters in recent days as he swoops in and out of the battleground states delivering a scripted closing argument.

Romney's heavy use of teleprompters symbolizes the evolution of his stump speech. Throughout this campaign, Romney usually spoke extemporaneously and with only a few written notes. For formal policy addresses, he read his prepared remarks from teleprompters. But for his standard rallies, he stitched together his speeches, seemingly off the cuff, from an assortment of well-practiced and familiar riffs. He regularly took jabs at Obama's eloquence, often noting to loud applause that sterling rhetoric does not make a sterling record.

But with his closing argument speech — which he debuted Friday morning in West Allis, Wis., (using teleprompters) — Romney is reaching for sterling rhetoric of his own. The speech is loftier than those he has given before, as he talks in big, sweeping terms about his promise for American renewal. And he is relying on a written script to deliver the words just right; at five of his seven rallies since the Wisconsin speech, Romney has read from teleprompters.

Romney's aides said the candidate would keep using teleprompters on the home stretch because his closing argument speech is new and he wants to achieve precision and accuracy as he lays out his fresh message. "We don't have a problem with teleprompters," one aide said.
Precisely. Because, as I've said so many times before when this topic has come up, a teleprompter is nothing more than a tool just as a microphone is a tool. There used to be a time when politicians like William Jennings Bryan would speak for hours on end without the need for any amplification. Indeed, all of the Lincoln-Douglass debates were conducted before large crowds in Illinois with no amplification whatsoever while the two candidates spoke for 60 and 90 minute stretches with barely an interruption. Does that mean that a politician who uses a microphone today is using it as a "crutch," something that conservatives have frequently said about Obama and teleprompters? Of course it doesn't. It's not the means of delivery of the speech that matters, it's the content and how the crowd reacts to it. The fact that it was read, in whole or in part, off a teleprompter, is irrelevant. This closing speech is perhaps the most important part of the campaign for Romney, so of course the campaign would want to make sure it's as polished as possible. If a teleprompter helps with that, then they're just utilizing a tool.
Now, can we finally quit talking about teleprompters?