Romney Says He's "Fine" With Gay Adoptions, Then Flip-Flops
Mitt Romney wimped out. Again.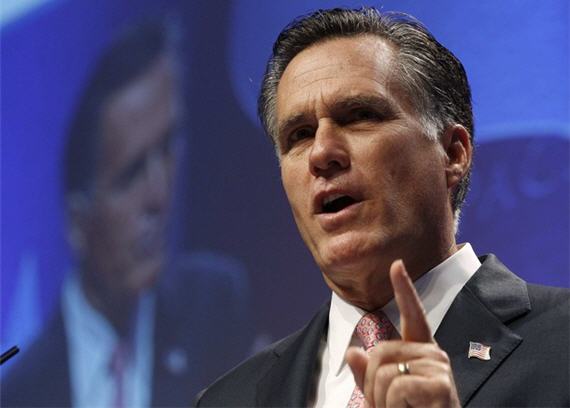 On Thursday, Mitt Romney made some news by taking a position on adoption by same-sex couples that was radically different from the one that most social conservatives would support:
Republican presidential candidate Mitt Romney said on Thursday that while he opposes same-sex marriage, he is "fine" with gay couples adopting children. The presumptive nominee also declined to criticize President Obama's reversal on the issue, saying he would "respect the right of the president to reach the conclusion he has."

In his most detailed comments to date on the issue of civil rights for gay people, Romney told Fox News host Neil Cavuto, "I know many gay couples that are able to adopt children. That's fine. But my preference is that we … continue to define marriage as the relationship between a man and a woman."

The statement seemed to put Romney in the position of condoning same-sex families with children as long as the parents do not marry.

Later in the interview, he said, "I believe that my record as a person who has supported civil rights is strong and powerful. At the same time, I believe that marriage has been defined the same way for literally thousands of years by virtually every civilization in history, and that marriage is literally, by its definition, a relationship between a man and a woman. And if two people of the same gender want to live together, want to have a loving relationship, or even to adopt a child — in my state individuals of the same sex were able to adopt children. In my view, that's something that people have a right to do. But to call that marriage is something that in my view is a departure from the real meaning of that word."
Leaving aside for the moment that Romney was essentially saying here that he believed that gay couples should be allowed to adopt children, but that they shouldn't be allowed to marry, his statement on Thursday was somewhat of a pleasant surprise.
The legal status of gay adoption in the United States is murky at best; right now, full adoption rights are only granted to same-sex couples in 11 states, the District of Columbia, and Guam. Other states would seem to allow adoption by a single person who happens to be gay (although Pennsylvania law states that the gay couples in a civil union can adopt the natural child of the other partner). Florida had a law barring gay adopting on its books due to a 1977 campaign led by Anita Bryant, but that law was overturned by a Federal appeals court in 2010 and gay adoption in now legal in Florida. In 2008, Arkansas voters had approved a referendum that would have banned adoption by gay couples but that law was overturned by the Arkansas Supreme Court. Despite these legal setbacks, though, it is generally the case that social conservatives remain opposed to adoption by same-sex couples, which is why it was refreshing to see Romney actually take a stand against them for once.
Well, to be more accurate, it was refreshing for about twenty four hours:
Republican presidential candidate Mitt Romney on Friday backed away from his support of adoptions by gay couples, saying that he simply "acknowledges" the legality of such adoptions in many states.

(…)

On Friday,he was asked, in an interview with CBS affiliate WBTV in Charlotte, N.C., how his opposition to gay marriage "squared" with his support for gay adoptions. Romney told anchor Paul Cameron, "Well, actually I think all states but one allow gay adoption, so that's a position which has been decided by most of the state legislatures, including the one in my state some time ago. So I simply acknowledge the fact that gay adoption is legal in all states but one."
So just when we had thought that Romney had stood up an made a statement of what he thought was the right thing to do, he backs off and says he was merely making a statement about what the law is. Furthermore, it's worth noting that Romney's statement on Friday isn't entirely accurate. There's a significant difference between saying that gay adoption is legal in all states but one and saying that adoption by gay couples is legal. (Source) As I noted above, that is currently only explicitly legal in 13 jurisdictions in the United States. Indeed it is true that most states permit single-parent adoption when the parent is homosexual, but the majority of those states also bar joint adoption by a gay couple (with some states having an exception if the child in question is the natural child of one of the partners) Since it was adoptions by gay couples that Romney was originally referring to on Thursday, his comment on Friday essentially involved moving the goal posts, in addition to wimping out on standing up for something for once.
That, I think, is the root of the problem that some people seem to have with Mitt Romney. He seems to come across as a guy who really doesn't have much of a core, and who's willing to bend in whatever direction the political winds might blow. Perhaps that's not a bad thing if the public buys into the idea that this election is about picking the guy who would be the best manager for the economy, but American voters aren't usually that cold-blooded in choosing their political leaders. If the Romney campaign is going to "reinvent" the candidate between now and the convention, one of the things they'd be advised to do is to show the public that Mitt Romney is something more than an emotionless automaton. As Michael Dukakis, Al Gore, and John Kerry could tell you, that's not usually an image that leads to victory.