Romney Voters Would Support Obama If Santorum Is the Nominee?
Rick Santorum has bigger General Election problems than Mitt Romney it seems.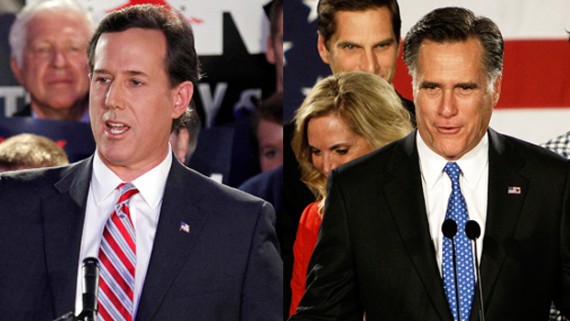 We've heard many, many times during the course of the race for the Republican nomination about Mitt Romney's supposed problems to attract support from Tea Party voters, evangelicals, and the conservative wing of the Republican base. More than once, the suggestion has been made that some portion of these voters — who have drifted from Bachmann to Perry to Cain to Gingrich to Santorum over the course of a year — might stay home on Election Day rather than support Romney. The standard counter-argument to this fear is that this group of voters hates Barack Obama more than they dislike Mitt Romney and, if he's the nominee, they aren't going to pass up the opportunity to vote Barack Obama out of office.
Whether or not that's true, Politico's Alexander Burns points to recent poll data that suggests another possibility, that some portion of Mitt Romney's supporters might actually pick Barack Obama over Rick Santorum in a General Election:
There's at least one nugget in the poll, however, that points to a potentially deeper division in the party — not between conservatives and Romney, but between Romney supporters and the harder-right candidates in the Republican field. Consider:

For example, 75% of Romney's primary supporters say they would back him strongly in the fall – equal to the share of Democrats who strongly back Obama. But just 55% of Santorum's primary supporters say they would be strong Romney supporters in the fall.

Again, this gap within the GOP is even wider if Santorum is the nominee. Fully 83% of Santorum's primary supporters would back him strongly in the fall – comparable to the 80% of Democrats who would back Obama strongly over Santorum. But just 47% of Romney's primary supporters would back Santorum as enthusiastically. In fact, one-in-five (20%) Romney supporters say that, if Santorum is the nominee, they will likely switch sides and support Obama.
Considering that at least some portion of Romney's support is coming from Republican-leaning Independents, many of whom may have voted for the President, or stayed home, in 2008 this may not be entirely surprising. In fact, digging deeper into the poll, that's pretty much the case:
The difference between Romney and Santorum at the head of the GOP ticket mainly affects independents. While independent voters are divided in a race between Obama and Romney (47% vs. 43%), they would favor Obama by a 53% to 39% margin if Santorum is his opponent.

Some moderate and liberal Republican voters would also balk if Santorum becomes the nominee; 23% say they would vote for Obama, compared with 12% who would favor Obama over Romney.
While many on the right seem to be fearing what might happen to the Republican coalition in the fall if Romney is the nominee, it seems pretty clear that they have more to fear if Santorum is the nominee.
Jamelle Bouie compares this situation to four years ago, when Hillary Clinton and Barack Obama were involved in a similar fight:
There is always some division during a presidential primary, but this is more than usual; in the 2008 Democratic primary, for example, only 12 percent of Obama supporters said they wouldn't back Clinton, and only 17 percent of Clinton supporters said they wouldn't back Obama. Of course, when the general election actually came, 89 percent of Democrats voted for Barack Obama.
And perhaps that's what would happen if Rick Santorum were the Republican nominee in November, although I tend to doubt it. The PUMAs notwithstanding, there really weren't many significant differences between Barack Obama and Hillary Clinton during the 2008 race, and even fewer differences between their supporters. That can't necessarily be said about Republican in 2012, where the moderate conservatism of Mitt Romney stands in rather stark contrast to the fire and brimstone social conservatism of Rick Santorum. While it's conceivable that independents and libertarian-minded voters might be willing to hold their nose and vote for Romney in November, there's no way that such voters are going to vote for Rick Santorum, and when you start looking at the swing states that the GOP will have to win this year, those are the voters who likely decide this election.
That, quite frankly, is why nominating Rick Santorum would be political suicide.