Ron Paul Says He Would Have Voted Against The 1964 Civil Rights Act
Thanks to an appearance on Hardball we've got another story about a 47 year old law.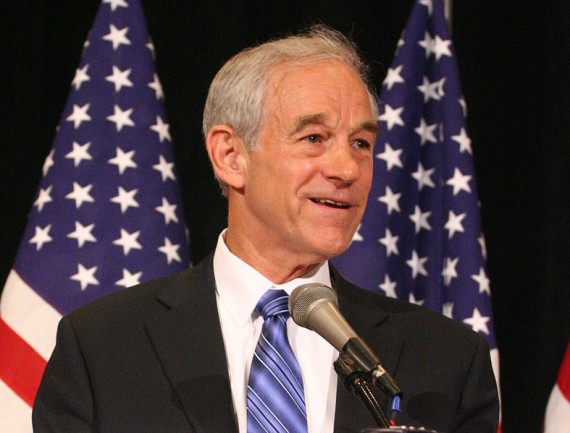 Almost exactly one year after Rand Paul made headlines for saying that he did not approve of  the provision of the 1964 Civil Rights Act outlawing segregation by private business, his father has made the same comments only one day after officially launching his Presidential campaign:
Rep. Ron Paul (R-Texas) suggested Friday that he wouldn't have voted in favor of the 1964 Civil Rights Act if he were a member of Congress at the time.

Paul, the libertarian Texas Republican who formally announced Friday that he would seek the presidency for a third time, said he thought Jim Crow laws were illegal, and warned against turning strict libertarians into demagogues.

MSNBC anchor Chris Matthews pressed Paul during a TV appearance on whether he would have voted against the '64 law, a landmark piece of legislation that took strides toward ending segregation.

"Yeah, but I wouldn't vote against getting rid of the Jim Crow laws," Paul said. He explained that he would have opposed the Civil Rights Act "because of the property rights element, not because they got rid of the Jim Crow laws."

Paul's son, Sen. Rand Paul (R-Ky.), faced criticism during his campaign for Senate last fall because of similar remarks he made, also during an appearance on MSNBC. Rand Paul had advanced a similar argument about property rights, and, under political pressure, issued a follow-up statement in which he voiced support for the 1964 Civil Rights Act, and would not support any efforts to repeal it.
Video:
Visit msnbc.com for breaking news, world news, and news about the economy
The first thing I've got to say here is that I find questions like this to be rather silly and somewhat annoying. A candidates position on the Civil Rights Act of 1964 is about as relevant to current American politics as their position on Bimetalism would be. The only reason that Chris Matthews (who may have been a good journalist at some point in the past but is now pretty much just a parody of himself) would ask such a question is to get someone like Paul to say something that might be controversial, and it seems like he succeeded.
I think we can all see where the reaction on this is headed, although it probably won't be as big of a story as it was last year simply because Rand Paul was the newly minted Republican nominee in a state that the Democrats desperately wanted to pick up in the midterms while Ron Paul is running what is quite frankly a quixotic campaign for President. That doesn't mean we won't hear something, though. In the interview above, for example, Chris Matthews was already implying that there was a racial motive for Paul's statement, and The New Republic's Jonathan Chait has already called the Congressman a racist.
The racism charge, however, is as much a canard as it was when it got directed at Rand Paul a year ago, for reasons that David Weigel aptly explained back then:
So is Rand Paul a racist? No, and it's irritating to watch his out-of-context quotes — this and a comment about how golf was no longer for elitists because Tiger Woods plays golf — splashed on the Web to make that point. Paul believes, as many conservatives believe, that the government should ban bias in all of its institutions but cannot intervene in the policies of private businesses. Those businesses, as Paul argues, take a risk by maintaining, in this example, racist policies. Patrons can decide whether or not to give them their money, or whether or not to make a fuss about their policies. That, not government regulation and intervention, is how bias should be eliminated in private industry. And in this belief Paul is joined by some conservatives who resent that liberals seek government intervention for every unequal outcome.
Barry Goldwater took when he voted against the 1964 Civil Rights Act due solely to his belief that two of it's sections — Title II and Title VII — because he did not believe that the Constitution authorized Congress to regulate purely private behavior, a vote he explained in this Firing Line interview:
As I've been thinking about this issue since yesterday, I think this is about where I stand on this issue. I stand by what I said when the Rand Paul controversy first broke in that I believe, at least in the abstract, that people should be free to do business or not do business with whoever they want, for whatever reason they want. Additionally, I'm entirely uncomfortable with the tortured reasoning in Heart of Atlanta Motel v. United States and Katzenbach v. McClung, where the Commerce Clause was twisted beyond all rational meaning to justify Title II of the Act.
Instead of engaging in intellectual jujitsu, and doing several harm to concepts such as Federalism and limited government in the process, however, the Supreme Court did have another option; they could have revisited the horribly mistaken decision in The Slaughterhouse Cases:
When it was ratified in 1868, the 14th Amendment added several revolutionary new provisions to the Constitution, barring states from violating the "privileges or immunities" of citizens, or taking anyone's life, liberty or property without "due process of law," or depriving people of the "equal protection of the laws." But the first time it heard a case under that amendment — in the 1873 Slaughterhouse Cases — the Supreme Court basically erased the privileges or immunities clause, dramatically limiting the way the federal government would protect people against wrongful acts by state officials.

That case began when Louisiana passed a law forbidding butchers from slaughtering cattle anywhere in New Orleans except a single, privately owned facility. The beef industry was big business in New Orleans, and the new law put hundreds of butchers out of business overnight. The butchers sued, arguing that the law violated their right to earn a living without unreasonable government interference. Judges had recognized that right as far back as 1602, when England's highest court declared government-created monopolies illegal under the Magna Carta. The right to earn an honest living came to be recognized as one of the fundamental rights — or "privileges and immunities" — in the common law.

Yet in Slaughterhouse, the Court ruled against the butchers, holding, 5-4, that despite the new amendment's language, federal courts would not guarantee traditional rights against interference by states. With only minor exceptions, the Court declared, those rights were "left to the State governments for security and protection."

The decision's ramifications were profound. In the years after the Civil War, Americans — particularly in the South — needed protection against abusive state legislatures. That was the protection the privileges or immunities clause promised, and that the Slaughterhouse decision eliminated. During the next decade, federal authorities abandoned Reconstruction efforts to protect former slaves, and black Americans were condemned to another century of segregation and oppression.
Ten years later in The Civil Rights Cases, the Supreme Court invalidated the Civil Rights Act of 1875 which would have essentially accomplished the same thing that Title II of the 1964 Act did eighty-nine years later and in the process essentially gutted another part of the 14th Amendment, the Equal Protection Clause. At that time, the sole dissenter, John Marshall Harlan made a prescient observation:
Today it is the colored race which is denied, by corporations and individuals wielding public authority, rights fundamental in their freedom and citizenship. At some future time, it may be that some other race will fall under the ban of race discrimination. If the constitutional amendments be enforced according to the intent with which, as I conceive, they were adopted, there cannot be, in this republic, any class of human beings in practical subjection to another class with power in the latter to dole out to the former just such privileges as they may choose to grant. The supreme law of the land has decreed that no authority shall be exercised in this country upon the basis of discrimination, in respect of civil rights, against freemen and citizens because of their race, color, or previous condition of servitude. To that decree — for the due enforcement of which, by appropriate legislation, Congress has been invested with express power — everyone must bow, whatever may have been, or whatever now are, his individual views as to the wisdom or policy either of the recent changes in the fundamental law or of the legislation which has been enacted to give them effect.
But for a different outcome in The Slaughterhouse Cases and The Civil Rights Cases, the entire system of mandated racial segregation known as Jim Crow would have been under direct legal assault at the time of it's birth.
It's also worth noting that Plessy v. Ferguson involved a Louisiana law that was designed to prevent the Pullman Company from offering equal seating options to blacks. That, in fact, was the entire purpose of Jim Crow laws. Even if, for example, the Woolworth's in Greensboro, North Carolina had wanted to serve the four black college students who sat down at their lunch counter on February 1, 1960, the laws in place at the time told them that they couldn't. Racial segregation in the South wasn't a product of the free market, it was the product of a state imposing racial prejudices under the threat of criminal prosecution. For that reason alone, it was a violation of the 14th Amendment and the Federal Government was entirely justified in trying to bring it down.
Now, none of this means that racism didn't exist in the South. Obviously it did, otherwise Jim Crow never would have been imposed in the first place. However, by passing these laws it's fairly clear what that the intent of the Southern legislatures was to prevent the newly freed blacks from participating in the economic life of the South by denying them access to jobs, business opportunities, and trade while at the same time denying them access to the polls so that they wouldn't be able to have their voice heard at the state capital. At the same time, it prevented other whites, as well as businesses from other parts of the country, from any efforts to break down the walls of segregation.
So, as a philosophical matter, the Pauls are both correct that the state should not have the authority to tell businesses who they can choose as customers. However, by the time the 1964 Civil Rights Act came into being the distinction between private and public behavior under Jim Crow was a hard line to draw, especially when social pressure by Southern whites made it virtually impossible for any business owner who didn't want to discriminate against blacks from doing so. The only way to bring down the  whole system, a system that arguably might not have existed if the 14th Amendment hadn't been virtually gutted in the latter years of the 19th Century, was to use the authority of the Federal Government to do so.