George Will's Less Than Lapidary Column
The 1976 Pulitizer prize winner is phoning it in.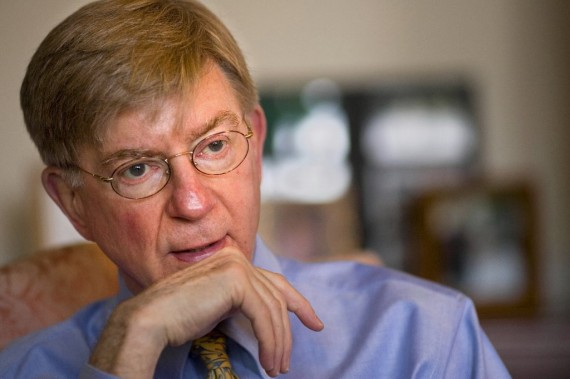 While I still enjoy his appearances on the "This Week" roundtable, George Will's weekly column has gone downhill in recent years. Not all that long ago, he was writing biting columns such as a 1999 classic about frivolous lawsuits that included this gem:
If toothbrushes are, as charged, "unreasonably dangerous" because of the absence of warnings and instructions, try to imagine the words which, if printed on toothbrush packages, would immunize manufacturers against such a complaint. "Warning: In brushing, too much is too much." "Instructions: Hold brush in hand. Insert the end with the bristles into your mouth. Move brush up and down. Stop before you wear out your teeth." Or perhaps: "Look, this toothbrush is not normally a dangerous implement, but neither is it intended for ninnies who can't figure out how to brush their teeth without doing them irreparable harm."
Now, most of his columns seem to be precis of recent books with some half-baked political philosophy thrown in.
In eight years, Ronald Reagan appointed 49 percent of the federal judiciary; Bill Clinton appointed 43 percent. Clint Bolick says that the power to nominate federal judges has become "the grand prize in presidential elections," because presidents now choose appointees with special attention to judicial philosophy and because human longevity has increased.

In his lapidary new book, "Two-Fer: Electing a President and a Supreme Court," Bolick, of the Hoover Institution at Stanford and the Goldwater Institute in Phoenix, notes that Reagan was especially systematic and successful in appointing judges who would not surprise him, and his successors have emulated him. Since Barack Obama appointed Elena Kagan to replace John Paul Stevens, whose liberalism surely surprised his appointer, Gerald Ford, the court's liberals are all Democratic appointees, the conservatives all Republican appointees, and both cohorts frequently are cohesive in important cases.
For one thing, is there anyone to whom it isn't completely obvious that appointing justices to the Supreme Court is a key way in which presidents cement their legacy? Aside from the sort of ninnies who can't figure out how to brush their teeth?
For another: lapidary? Now, I'm just a simple country boy from Alabama, so I had to look that up. Apparently, a lapidary is someone who cuts, polishes, or engraves gemstones. Used as an adjective, it can mean any number of things: "engraved in stone," "marked by conciseness, precision, or refinement of expression," or "suitable for engraving on stone." Given that the book is only 126 pages, I'm guessing Will means "short." Certainly, even at that length, it would be a major undertaking to carve it in stone. And, judging from Will's summary, I don't think it's going to stand the test of time in the way of, say, the 10 Commandments.
Regardless, the point of both the book and the column is that, since Justices now stay on the court a very long time, conservatives ought to give up on the idea of judicial restraint and instead embrace Justices who strike down laws that undercut the liberties they imagine to be enshrined in the Constitution.
"When courts fail to enforce the Constitution," Bolick writes, "typically they say that the proper recourse is through democratic processes — which offers hollow comfort given that presumably it was democratic processes that created the constitutional violation in the first place." As Madison warned: "Wherever the real power in a government lies, there is the danger of oppression," and in this nation "the real power lies in the majority of the community."

Although Hamilton called the judiciary the "least dangerous" branch because it has "neither force nor will, but merely judgment," it is dangerous to liberty when it is unreasonably restrained. One hopes Romney recognizes that judicial deference to elected representatives can be dereliction of judicial duty.
This argument is not novel; nor does Will add anything to the discussion. Indeed, he ends the column there.
Most conservative jurists, from Robert Bork to Antonin Scalia, agree that fealty to the text of the Constitution trumps deference to the elected representatives of the people. The latter is only due when they're operating within the scope of their Constitutional power. It gets complicated, however, because of another principle that goes back to the earliest days of the Common Law: stare decisis. Precisely because courts have "mere judgment" as the basis of their power, judges strive for consistency in their rulings. Otherwise, the public will perceive them as arbitrary and capricious rather than neutral arbiters of The Law.
So, for example, Bolick and Will wish to
rectify the court's still-reverberating mistake in the 1873 Slaughterhouse cases. It then took a cramped view of the 14th Amendment's protection of Americans' "privileges or immunities," saying these did not include private property rights, freedom of contract and freedom from arbitrary government interference with the right to engage in enterprise. This led in the 1930s to the court formally declaring economic rights to be inferior to "fundamental" rights. This begot pernicious judicial restraint — tolerance of capricious government abridgements of economic liberty.
Whatever the merits of the Slaughterhouse decisions–and they're indeed debatable–we have nearly a century and a half worth of precedents built on top of them. Our entire modern state, such as it is, exists in that environment. To hit a reset and go back to 1872 on the basis of a single judicial appointment–say, Clint Bolick replacing Ruth Bader Ginsburg–would be a shock to the system.
Further, to endorse that sort of judicial activism on the part of a conservative court is of course to do the same in the case of a liberal court. It's entirely possible that Obama will win a second term, after all. And, if the economy finally rebounds, that he'll be followed by yet another Democrat. Say, Hillary Clinton. Can Scalia and Anthony Kennedy, both born in 1936 and appointed in 1986, hang on that long? Note that David Souter, born three years later, retired three years ago.
Now, Will may have terrific arguments on all these issues. But the fact that his column doesn't even contemplate that there may be problems with a Supreme Court that seeks to undercut our entire system of government on the basis of a vision of how government ought to operate–indeed, treating it as obvious that readers will embrace the wisdom of so doing without any argument whatsoever–is bizarre and baffling.