Ron Paul: The Feds Should Have No Role In Disaster Relief
As Hurricane Irene makes its way up the East Coast, Ron Paul says disaster relief isn't a job for the Federal Government.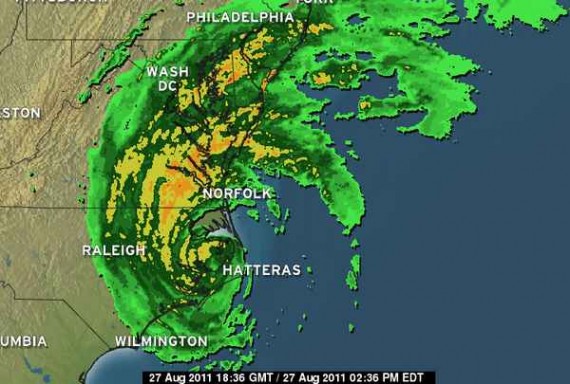 Ron Paul, whose home district has seen its share of hurricane-related disasters over the years, said after a campaign appearance today that he didn't believe that there should be a role for the Federal Government in disaster relief at all:
"We should be like 1900; we should be like 1940, 1950, 1960," Paul said. "I live on the Gulf Coast; we deal with hurricanes all the time. Galveston is in my district.

"There's no magic about FEMA. They're a great contribution to deficit financing and quite frankly they don't have a penny in the bank. We should be coordinated but coordinated voluntarily with the states," Paul told NBC News. "A state can decide. We don't need somebody in Washington."
Here's the full interview:
Visit msnbc.com for breaking news, world news, and news about the economy
Not surprisingly, Paul's comments have drawn criticism, especially given that he made them as a Category 1 hurricane bares down on the Northeast and threatens New York City with one of its most serious natural disasters in recent memory. Lawrence Rafferty accuses Paul of being un-Christian, which is unfair largely because there's nothing about being a Christian that mandates being in favor of compelled charity. Joe Gandelman argues that disaster relief is one of the things that Americans expect from the Federal Government, as does Steve Benen:
On the list of things Americans can and should expect from the federal government, "disaster relief" should be one of the few responsibilities that the left and right can endorse enthusiastically. It's something people can't do for themselves; it's something states can't afford to do; and struggling communities can't wait for the invisible hand of the free market to lift them up, especially since it's a market private enterprise isn't eager to enter.
That last part isn't necessarily true, of course. Private insurance covers rebuilding costs in most cases, the exceptions typically being homes constructed in areas like flood plains where the cost of insurance would be prohibitive. In that case, Congress established a government-provided flood insurance program that has the perverse result of subsidizing construction in high-risk flood locations. If homeowners had to pay the true cost to insure their homes in those areas, those areas would likely become far less attractive locations to construct homes. Logically, that would seem to me to be the result that we would want to see occur, rather than encouraging people to live in areas where their properties, and their lives, are at risk from floods.
Paul's other complaint about FEMA is one that is well-founded by experience. More often than not, FEMA presence in a disaster area tends to hinder relief and reconstruction rather than help it. Additionally, Katrina showed us how organizations like the Red Cross were able to respond quickly to the disaster, while FEMA languished on the sidelines thanks to bureaucracy and, of course, the incompetence typical of government agencies. Moreover, we've seen examples in the past of how private action being able to respond faster, and more efficiently. After a 2005 tornado nearly leveled an Amish community in Indiana, other Amish and Mennonites came to help rebuild the town, a task they had largely accomplished within a month.  The same thing happened in Pennsylvania in 1985 when two neighboring towns were destroyed by tornadoes. One town had its aid administered by FEMA, the other was an Amish community. Guess which town was up and running first?
That's not to say that there shouldn't be a role for the Federal Government in disaster relief. Clearly, when something like Hurricane Irene threatens multiple states, there is a role for Washington to play. Rather than taking the top-down approach that FEMA does, though, it strikes me that a better alternative would be to make disaster relief  block grants available to local communities to use as they find necessary without having to comply with the endless regulations of the Federal Government. After all, what does some bureaucrat in Washington know about what the residents of Joplin, Missouri need?
Congressman Paul is wrong to say that there's no proper role for the Federal Government when a major disaster strikes, but he's right to point out that the Federal Government hasn't really done a good job in that area lately.