Russia Bombing Civilian Sites Across Ukraine
Putin is committing war crimes in retaliation for an attack on a legitimate military target.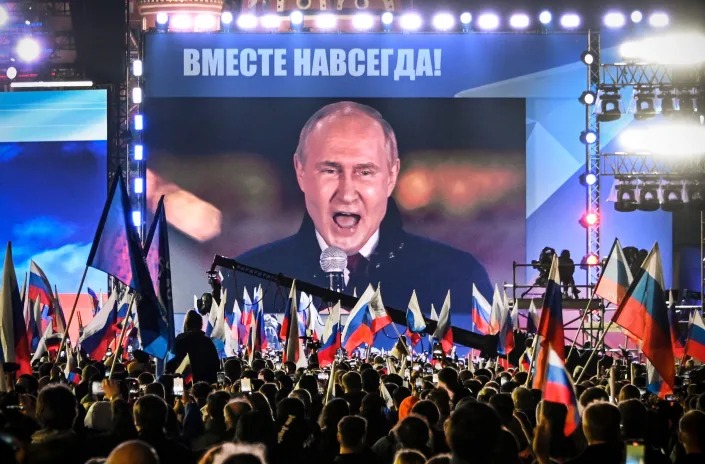 NBC News ("Russia unleashes deadly strikes on cities across Ukraine after Crimea bridge attack"):
Russia unleashed a barrage of deadly attacks on cities across Ukraine on Monday, hitting the heart of the country's capital as part of a wave of strikes against civilians and infrastructure not seen since the very earliest days of the war.

From Lviv in the west to Kharkiv in the northeast, missiles tore through rush hour traffic and into energy facilities, in apparent retaliation for a blast that damaged a key bridge to the annexed Crimean Peninsula over the weekend.

Russian President Vladimir Putin announced in a televised address that his military had launched a "massive strike" on Ukraine's "energy, military command and communications facilities," telling his security council it was revenge for what he called Kyiv's long track record of "terrorist" actions, including the bridge blast.

The Russian leader also issued a threat.

"If attempts to carry out terrorist attacks on our territory continue, Russia's responses will be tough and will correspond in scale to the level of threats posed to Russia," he said. "No one should have any doubts about this."
This is simply delusional. Russia is committing war crimes by intentionally targeting civilians; the attack on a bridge used to ferry military equipment in support of an illegal invasion is a legitimate military act.
NPR ("Deadly missile strikes hit Kyiv as explosions reported in other cities across Ukraine") adds:
Ukrainian emergency services report that several people are dead across the country, including at least five people in the the capital Kyiv, which hasn't been hit since June. It's also the closest strike to the center of the city since the war began, hitting slightly more than 1,000 yards from Ukrainian President Volodymyr Zelenskyy's office.

[…]

In Kyiv, Ukraine Culture Minister Oleksandr Tkachenko said at least two museums and the National Philharmonic sustained heavy damage. Meanwhile, a nearby strike damaged the country's main passenger terminal in the capital, delaying trains during this morning's rush hour, according to Ukraine's National Railway.

[…]

Ukraine's top brass released a statement that said that the country's air defenses took down at least 40 incoming air attacks, but several dozen more got through. Ukrainian officials blame Iranian-made suicide drones launched from Belarus and the Black sea for many of the attacks. Belarusian President Alexander Lukashenko has allowed Russia to use his country as a staging ground for attacks on Ukraine and after today's attacks requested further assistance from the Russian government in anticipation of Ukrainian retaliation.
If verified that strikes came from Belarus, massive retaliation on their military installations would be justified.
WaPo ("Russia strikes Kyiv and cities across Ukraine after Crimea bridge attack") adds:
Russia's strikes in the heart of the capital raised questions about the strength of Ukraine's air defenses, which officials have been pushing Western countries to bolster through additional security assistance. Ukraine's military reported that its air defenses knocked down 43 of the 83 missiles launched at the country on Monday.
NYT ("Russian missiles violated Moldova's airspace, officials say.") adds:
Three Russian cruise missiles fired from vessels in the Black Sea targeting locations in Ukraine crossed through Moldova's airspace, the country's foreign minister said Monday, calling it a "violation."

Moldova, a small nation that borders Ukraine from three sides and has a pro-Russian breakaway republic of its own, has supported Kyiv against Russia's invasion and has been under increased pressure from Moscow since the beginning of the war.
Moldova is officially neutral but has been a member of the North Atlantic Cooperation Council for three decades. Retaliation on the Black Sea locations may well be justified here.