Russia Expels 150 Diplomats, Closes American Consulate, In Latest Tit-For-Tat Move
As expected, Russia has retaliated for the retaliation against it in connection with the attempted murder of a former Russian spy and his daughter in the United Kingdom.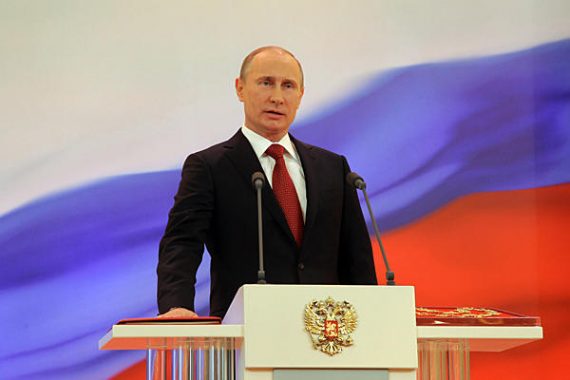 In an entirely expected move, Russia has announced that it will expel some 150 diplomats from over a dozen nations and close the American consulate in St. Petersburg in retaliation for similar action taken by those nations, action which of course was rooted in the apparent attempted murder of a former Russian spy on British soil earlier this month:
LONDON — Intensifying Russia's clash with Europe and the United States, the Kremlin on Thursday announced that it would expel 150 Western diplomats and close the American consulate in St. Petersburg.

The action was in retaliation for the expulsion of more than 150 Russian officials from other countries — which was itself a reaction to a nerve-agent attack on British soil that Britain and its allies have blamed on Moscow.

The United States ambassador to Russia, Jon M. Huntsman Jr., was summoned to the Foreign Ministry, the foreign minister, Sergey V. Lavrov, announced. Sixty American diplomats will be expelled from Russia — the same as the number of Russian diplomats whom Washington has expelled. The Americans were given until April 5 to leave the country.

The crisis over the poisoning of a former Russian double agent and his daughter has driven tensions between the Kremlin and the West to their highest pitch in decades. The tit-for-tat responses raise the prospect of further, more serious escalations, either public or clandestine.

Relations were already rocky, over Moscow's roles in the wars in Syria and Ukraine, its forcible annexation of Crimea, its meddling in elections in the United States and elsewhere, the assassination of Kremlin foes in Russia and abroad, cyberattacks and disinformation campaigns against other countries and what Western officials have described as a broad, largely covert effort to destabilize and discredit liberal democracies.

Russia as a whole, and many powerful Russians individually, are already under economic sanctions by the West, and London has vowed to tighten its scrutiny and control of the vast Russian wealth — much of it held by allies of President Vladimir V. Putin — that has flowed into Britain in recent years. Britain has also said it will re-examine several suspicious deaths of Kremlin opponents.

Mr. Putin and his government have denied any involvement in the March 4 attack on Sergei V. Skripal and his daughter, Yulia, and have tried to cast blame on Britain, the United States, Ukraine, the Czech Republic and others.

(…)

More than 20 other countries, primarily European, also announced expulsions on Monday, and a few more joined in on Tuesday, as did NATO headquarters in Brussels. The expulsions were a remarkable show of international unity and coordination, in solidarity with Britain, which had already forced 23 Russian officials to leave the country; Moscow responded by expelling 23 Britons.

In all, 27 countries have ejected more than 150 Russians, including people listed by their embassies and consulates as diplomats, and military and cultural attaches. Western officials say that many of the Russians are actually spies, and that the expulsions will hinder Russian espionage efforts.
All of this grows, of course, out of the attempted murder of Skripal and his daughter earlier this month via what British authorities quickly determined to be a deadly nerve agent known to have originated from Russia itself, which lead to the inevitable and seemingly inescapable conclusion that Russia was behind the attack. Soon after Skripal's poisoning, British Prime Minister Theresa May accused Russia of being behind the attack and denounced them for staging an attempted assassination on British soil. Soon after, British Foreign Secretary Boris Johnson also stated openly that it was "likely" that the attack was directly ordered by Russian President Vladimir Putin himself. Within days after that, May announced retaliatory measures by kicking 23 Russians living in the United Kingdom under diplomatic passports out of the country, hinting that this may not be the only step that the United Kingdom takes. Several days later, Russia announced the expulsion of an equal number of British diplomats, repeating a tit-for-tat pattern that we've seen in situations such as this in the past. More recently, the Trump Administration announced that it was expelling 60 Russian diplomats and closing the Russian consulate in Seattle in solidarity with the British. That action was joined by many other nations who also announced the expulsion of Russian diplomats from their own country.
As I said in previous posts since the Skripal attack, this tit-for-tat expulsion of diplomats is something that has been a standard part of diplomacy in general and was quite common during the course of the Cold War between the United States and the Soviet Union. In the end, though, while these moves do end up having some impact on diplomatic operations and intelligence gathering, it really doesn't seem as though it accomplishes anything definitive. As several observers this week, if the United States really wanted to send a message it would impose sanctions that Russia can't really retaliate for in exchange. The most effective means, of course, would be to hit the oligarchs and banks tied to Vladimir Putin and the Russian government with direct sanctions. These would arguably be more painful than the sanctions that have been imposed to date and they would be difficult for Russia to respond to in kind since there are few financial ties with the United States that it has control over in any real respect. Perhaps that will come in the future, but for now it's clear that we're stuck in this tit-for-tat phase that doesn't really seem to accomplish anything.