Russian Forces Massing On Ukrainian Border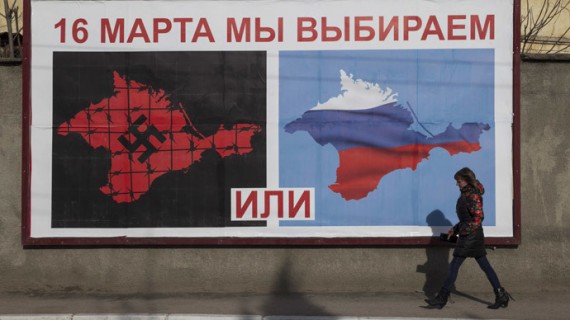 With the Crimean referendum just days away, it appears the Russian military is warning the Ukrainians that they'd better accept the results:
MOSCOW — Russia's Defense Ministry announced new military operations in several regions near the Ukrainian border on Thursday, even as Chancellor Angela Merkel of Germany warned the Kremlin to abandon the politics of the 19th and 20th centuries or face diplomatic and economic retaliation from a united Europe.

In Moscow, the military acknowledged significant operations involving armored and airborne troops in the Belgorod, Kursk and Rostov regions abutting eastern Ukraine, where many ethnic Russians have protested against the new interim government in Ukraine's capital, Kiev, and appealed to Moscow for protection.

A day after a deputy minister denied any military buildup on the border, the Defense Ministry released a series of statements beginning early Thursday that appeared to contradict that. They outlined what was described as intensive training of units involving artillery batteries, assault helicopters and at least 10,000 soldiers.

The operations confirmed, at least in part, assertions by Ukrainian leaders on Wednesday that Russia was massing forces, as well as amateur photographs that appeared to show columns of armored vehicles and trucks in a border village called Lopan, only 30 miles from the Ukrainian city Kharkiv. One statement announced that another 1,500 paratroopers from Ivanovo, east of Moscow, had parachuted onto a military base in Rostov, not far from the Ukrainian cities Donetsk and Lugansk.

With NATO announcing its own deployments of fighter jets and exercises to countries on Ukraine's western border, the crisis appeared to be worsening despite 11th-hour diplomatic efforts to halt a secession referendum scheduled for Sunday in Crimea. The ouster of the government of Viktor F. Yanukovych and Russia's subsequent intervention in Crimea has deeply divided Russia and the West, and in Berlin, Ms. Merkel underscored the potential risks of what is being called the worst crisis in relations since the end of the Soviet Union.

Appearing before Parliament on Thursday, Ms. Merkel criticized Russia's actions in some of her toughest language to date, declaring that "the territorial integrity of Ukraine cannot be called into question."

"Ladies and gentlemen, if Russia continues on its course of the past weeks, it will not only be a catastrophe for Ukraine," she said. "We, also as neighbors of Russia, would not only see it as a threat. And it would not only change the European Union's relationship with Russia. No, this would also cause massive damage to Russia, economically and politically."
With neither side appearing ready t0 back down, the only thing we can do at this point is wait to see what happens after the referendum on Sunday. Actual military conflict between the West and Russia seems incredibly unlikely given that it wouldn't be in anyone's interest, but a trade war with Russia would be quite disruptive to the region, as would an era of increased tensions across an East-West border that has been quite calm for decades now.