Russian Spies Like Us Plead Guilty, Prepare For Old-Fashioned Spy Swap
The members of the Russian spy ring broken up last week by the FBI are headed back to Mother Russia.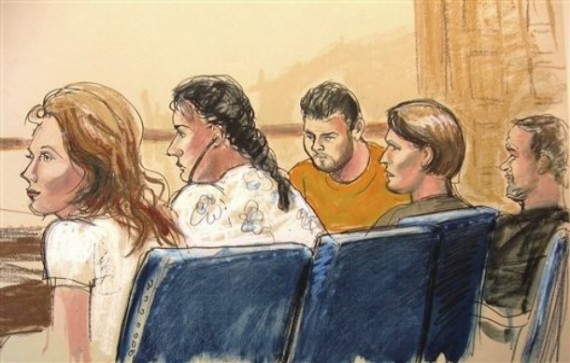 Their methods may have resembled a Chevy Chase movie, but the case of the Russian "spy ring" is being resolved by methods straight out of the height of the Cold War:
Ten men and women suspected of being Russian secret agents pleaded guilty before a judge in Manhattan on Thursday, the latest step in an expected prisoner exchange between the United States and Russia.

The defendants — after each saying, "I plead guilty, your honor" — were sentenced to time served and were expected to be quickly removed from the country.

The pleas — to a single charge of conspiring to act as an unregistered foreign agent — brought to an abrupt end the prosecution of the 10 defendants, who were accused of being part of a Russian espionage ring and whose members had lived for years in the United States under false identities and sought to penetrate American policy making and political circles.

They agreed to never return to the United States without permission from the attorney general, and to turn over any proceeds generated from the publication of information about their tenure as Russian spies. Several of the suspects also agreed to forfeit assets, including real property, to the United States.

As the defendants stood before the judge, Kimba M. Wood of United States District Court in Manhattan, each said he had had enough time to discuss the charges with lawyers, was satisfied with his legal representation and had discussed the implications of pleading guilty in the highly unusual case.

The defendants also revealed their true names; all but three — Mikhail Semenko, Vicky Pelaez and Anna Chapman — had assumed false identities while in the United States.

(…)

The intrigue followed reports from Washington on Wednesday that just days after the F.B.I.'s sensational dismantling of a Russian spy ring, the American and Russian authorities were negotiating an exchange of some or all of the 10 suspects for prisoners held in Russia, including Igor Sutyagin.
This comes after Russian officials originally denied that the Defendants had any ties to their government, but of course those types of statements are de rigueur in these types of situations.
It's still unclear what, if anything, this "spy ring" actually accomplished during the ten years they were in the United States, or even what their goals were. Something tells me we'll be hearing from at least one of them at some point in the future, though.