Russian Troops In Syria?
Russia may be getting more involved in the Syrian conflict.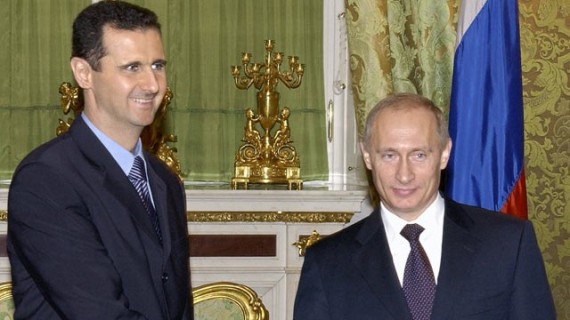 A troubling and potentially game-changing development in the year long crackdown on dissidents in Syria:
A Russian military unit has arrived in Syria, according to Russian news reports, a development that a United Nations Security Council source told ABC News was "a bomb" certain to have serious repercussions.

Russia, one of President Bashar al-Assad's strongest allies despite international condemnation of the government's violent crackdown on the country's uprising, has repeatedly blocked the United Nations Security Council's attempts to halt the violence, accusing the U.S. and its allies of trying to start another war.

Now the Russian Black Sea fleet's Iman tanker has arrived in the Syrian port of Tartus on the Mediterranean Sea with an anti-terror squad from the Russian Marines aboard according to the Interfax news agency. The Assad government has insisted it is fighting a terrorist insurgency.
At the same time we're getting this report, though, there's other news that would seem to be designed to make Russia appear more conciliatory regarding the ongoing conflict in Syria:
Russia has joined the International Committee of the Red Cross (ICRC) in calling for a daily two-hour humanitarian ceasefire in Syria.

In a statement, the foreign ministry called on the government "and all armed groups who oppose it" to agree to ceasefires "without delay".

Russia has twice vetoed Western-backed draft resolutions on Syria at the UN Security Council.

Its call came hours after clashes erupted in part of the Syrian capital.

The head of the ICRC, Jakob Kellenberger, had travelled to Moscow to discuss a ceasefire arrangement with Foreign Minister Sergei Lavrov.

The organisation says a daily pause in fighting is needed to evacuate the wounded and to allow in food and medicine from the worst-affected areas.

Russia is a key ally of Syria and, along with China, has thwarted attempts to agree to a UN resolution condemning President Bashar al-Assad's actions.

The BBC's Moscow correspondent says today's announcement could be interpreted as a hardening of Russia's public position on Syria, though Moscow has been calling for a permanent ceasefire on both sides for months.
It's been clear for a long time now that the Russians are protecting, and arming, the Assad government. But it strikes me that there's a profound difference between exercising a Security Council veto or sending arms and sending actual military advisers into the country while Bashar Assad continues to mow down his own people. It is, perhaps, an attempt by the Russians to send a message to the rest of the world about intervening, and the costs that could result therefrom. After all, is anyone really going to want to risk finding out what would happen if members of the Russian Army ended up getting killed in an attack on Assad's forces? Perhaps what we're seeing here is an effort by the Russians to carve out a role for themselves as a negotiator in this conflict, although it's hard to see how they would be able to carry that role out with any credibility given the fact that they have clearly taken sides in this conflict.
I'm not sure where this is headed now, but it strikes me that this could be a dangerous and provocative move.
Photo via ABC News