Russians Are Getting A Very Different Version Of The Malaysia Airlines Flight 17 Story
If you live in Russia, you're getting a different version of the story of Malaysia Airlines Flight 17.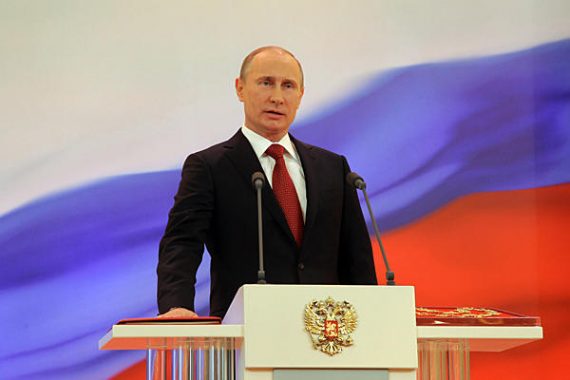 Over at The New Republic, Julia Ioffe notes that the Russian public is getting a far different view of the downing of Malaysia Airlines Flight 17 than the rest of the world:
Did you know Malaysia Air Flight 17 was full of corpses when it took off from Amsterdam? Did you know that, for some darkly inexplicable reason, on July 17, MH17 moved off the standard flight path that it had taken every time before, and moved north, toward rebel-held areas outside Donetsk? Or that the dispatchers summoned the plane lower just before the crash? Or that the plane had been recently reinsured? Or that the Ukrainian army has air defense systems in the area? Or that it was the result of the Ukrainian military mistaking MH17 for Putin's presidential plane, which looks strangely similar?

Did you know that the crash of MH17 was all part of an American conspiracy to provoke a big war with Russia?

Well, it's all true—at least if you live in Russia, because this is the Malaysia Airlines crash story that you'd be seeing.

As the crisis surrounding the plane crash deepens and as calls for Vladimir Putin to act grow louder, it's worth noting that they're not really getting through to Putin's subjects. The picture of the catastrophe that the Russian people are seeing on their television screens is very different from that on screens in much of the rest of the world, and the discrepancy does not bode well for a sane resolution to this stand-off.

Western media has been vacillating for days between calling Putin a murderer and peppering their coverage with allegedlys, telling the heart-rending tales of the victims, scrounging for anonymous leaks to link the Russians to the downed jet, and punditizing about exit ramps.

But in Russia, television—most of it owned or controlled by the Kremlin—is trying to muddy the water with various experts who insist that there is no way that an SA-11 missile system could possibly have downed a plane flying that high. And, mind you, this is not part of a larger debate of could they, or couldn't they; this is all of Russian television and state-friendly papers pushing one line: The pro-Russian separatists we've been supporting all these months couldn't have done this. Watching some of these Russian newscasts, one comes away with the impression of a desperate defense attorney scrounging for experts and angles, or a bad kid caught red-handed by the principal, trying to twist his way out of a situation in which he has no chance.
The propaganda war continued this morning with the a senior Russian military official claiming that they had evidence that there was a Ukrainian jet near the Boeing 777 just before it was shot down, the implication obviously being that this plane may have shot the plane out of the sky for some reason either accidental or international. On some level, of course, it is not at all surprising that an authoritarian regime like the one led by Vladimir Putin would be bending the news to suit their agenda. This is after all something that has been true of such regimes since time immemorial. Additionally, given the fact that Putin and those around him are all products of the Soviet era, when propaganda like this was common and the government in Moscow had a much tighter grip on their citizens' access to information about the world, it isn't all that surprising that they would resort to similar tactics now. As Ioffe notes, though, the fact that behavior like this by the Putin regime is both unsurprising and not shocking does not mean that it isn't concerning:
This isn't an innocent you-say-tomato moment; this is a very problematic development. The result of all this Russian coverage is that Russians' understanding of what happened is as follows. At best, the crash is an unfortunate accident on the part of the Ukrainian military that the West is trying to pin on Russia, which had nothing to do with it; at worst, it is all part of a nefarious conspiracy to drag Russia into an apocalyptic war with the West. So whereas the West sees the crash as a game-changer, the Russians do not see why a black swan event has to change anything or they want to resist what they see is a provocation. To them, after a few days of watching Russian television, it's not at all clear what happened nor that their government is somehow responsible for this tragedy. And the more we insist on it, the less likely the Russians are to agree.

Floriana Fossato, a longtime scholar of Russian media, says that this, coupled with the media's conscious use of the Soviet language of crisis—"traitors," "fascists," "fifth columns"—quickly brings to the surface the psychological demons of a society massively traumatized by the twentieth century, traumas that society has never adequately addressed. The result, she says, is a kind of collective PTSD-meets-Stockholm Syndrome.

In Russians' view, "Americans have recreated the situation where they have excuse for intervention," Fossato says. "No one admits that they are afraid, but they are. They are panicked. And they are right in being afraid because they know what happened, and they know there must be an answer to what is going on. And so they lock onto Putin for protection. This is why they don't turn to Putin and ask him to do something."
No doubt, this is part of the reason that Putin's popularity inside Russia has skyrocketed in the months since the Ukraine crisis began.  His actions have been appealing to Russian nationalism and a sense that things have gone significantly downhill since the Soviet Union collapsed . The fact that the late 1980s USSR was hardly a paradise in any sense of the word and objectively worse than modern Russia in every quantifiable sense isn't really relevant, because as is always the case in politics perception trumps reality. In addition to that, though, the Russian media, much of which is at the very least heavily influenced if not directly controlled by the Kremlin, seems to have created a sense of fear in the public that causes them to look to someone like Putin as a strong leader. Of course, that's likely at least part of the intent of the propaganda machine itself, so in the end it all becomes a huge self-perpetuating machine.
What's unclear about all of this is how much the propaganda actually works, notwithstanding Putin's exceedingly high poll numbers. Putin's Russia, after all, is not the Soviet Union of Stalin, Khrushchev, or Brezhnev. In that era, the government in Moscow controlled virtually all of the information that citizens had access to and all of the means of communication. Even in that era, of course, information from the outside world would still leak in and dissidents were able to spread their word via samizdat, but for the most part the Soviet Communist Party had near total control over what its citizens knew about what was going on in the outside world and, perhaps even more importantly, elsewhere in their own country. That's no longer the case today. Russian citizens have access to the Internet and to western news sources such as CNN, for example, and the fact that Russia is connected to the world economy in a way the Soviet Union never was, it would be next to impossible for the central government to cut off the public's access to outside sources of information. So, to that extent, one has to wonder how much of this propaganda the average Russian actually believes. Based on the polls, though, it seems rather clear that they believe at least a good part of it.
Interestingly, and perhaps more importantly, some observers believe that Putin himself has to some extent become trapped by the very media that has helped bring him to power:
After Putin's ascent, media became the flexible element that could be readjusted for any twist or turn of the political rudder. "Today, it's the opposite," says Gleb Pavlovsky, a political consultant who helped Putin win his first election and was a Kremlin advisor for years afterwards. "It's almost impossible to turn the rudder of the picture that's formed on television because it would mean losing the audience they formed in this year" of sword-brandishing and imperialistic conquest.

This audience is now fired up and brandishing its own swords, and the propaganda apparatus, much like the rebels in eastern Ukraine, has rolled on and on, fed by inertia and paranoia, reproducing and magnifying itself with each newscast. The sensationalized newscasts are now neck-and-neck, ratings-wise, with the sitcoms. "It keeps people in a traumatized state," Pavlovsky says. "It's notable in media metrics, and in conversations with people. They lose their sanity, they become paranoid and aggressive."

This has had a noticeable impact on the ruling class, Pavlovsky says, which has to watch this stuff in order to stay au courant. And they become less sane as a result, too, which limits their ability to adequately assess a situation such as this and devise a good way out of it.

"It's noticeable that the Kremlin is much more tempered than Russian TV but can't change it," Pavlovsky says. "It's fallen into a trap, so it's now trying to function within the strictures of this picture."
That's the thing about propaganda. Once you turn it on and ignite people's passions, it becomes difficult to change course. Whether that populist anger really matters to Putin in the end, of course, is unclear. If he believes that it is in his or Russia's interest — and on some level it appears that he thinks of those as being the same things — to back down in Ukraine, then I find it kind of hard to believe that he would find himself constrained by public opinion the same way a politician in a more democratic nation would. If nothing else, he could probably find a way to spin such a move into a win domestically by making himself and the Russian minority in eastern Ukraine out to be the victims of a rapacious and interventionist West. However this turns out, though, the fact that the Russian people are basically living in a completely different reality when it comes to the basic facts of this story specifically and the conflict in eastern Ukraine in general likely means a harder line coming out of Moscow for the foreseeable future.