Russians Really, Really Like Vladimir Putin, And That Makes Ending The Ukraine Crisis Harder
Vladimir Putin has become immensely popular in Russia again, and its not hard to figure out why.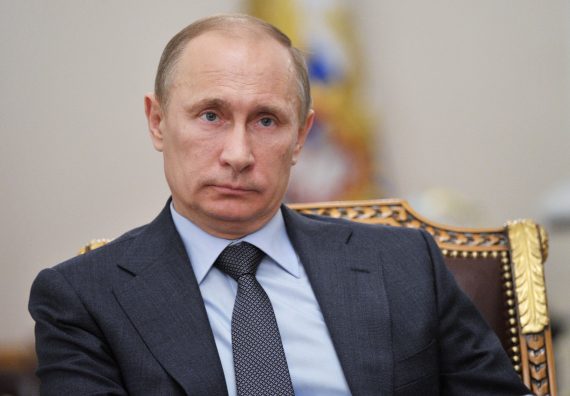 Vladimir Putin may be becoming something of an international pariah in the wake of the downing of Malaysia Air Flight 17, but a new Gallup poll seems to indicate that he has reached new levels of popularity in Russia:
WASHINGTON, D.C. — President Vladimir Putin's popularity in Russia is now at its highest level in years, likely propelled by a groundswell of national pride with the annexation of Crimea in March on the heels of the Sochi Olympic Games in February. The 83% of Russians saying they approve of Putin's leadership in late April/early June ties his previous high rating in 2008 when he left office the first time.

The 29-percentage-point increase in Putin's job approval between 2013 and 2014 suggests he has solidified his previously shaky support base. For the first time since 2008, a majority of Russians (73%) believe their country's leadership is leading them in the right direction. This renewed faith is apparent in their record-level confidence in the country's military (78%), their national government (64%), and honesty of elections (39%).

Russians' positivity also colors other aspects of their lives. While Americans have become less satisfied with their freedom to choose what they do with their lives, Russians became more satisfied in 2014. A record-high 65% of Russians are satisfied with their freedom. Some of this may be attributable to improving economic perceptions. Despite U.S. and European sanctions earlier this year over Moscow's intervention in Ukraine, more Russians see their economy getting better now than has been the case since 2008. However, the economic outlook still remains relatively weak, with 35% of Russians saying conditions are getting better and 19% saying they are getting worse, and the jobs outlook has not improved.
As this chart shows, Putin's popularity has returned to the level it was at six years ago, after a period in which it dipped significantly: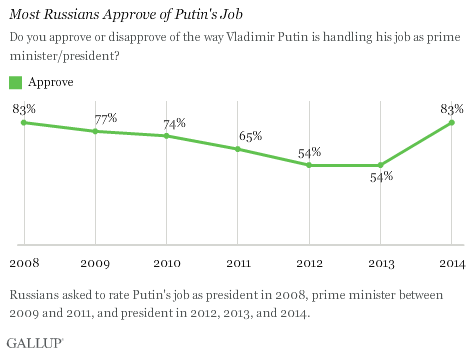 There's a similar phenomenon when it comes to other Russian government institutions, with the exception of the military where public confidence seems to have always been high: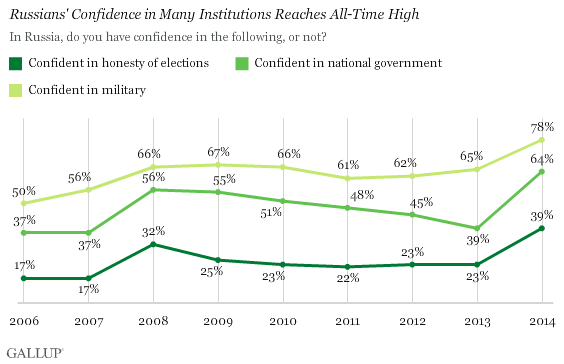 Several thoughts come to mind when looking at these numbers.
First of all, there's a real question about how honest the responses to these poll questions can be expected to be. At the end of its post, Gallup states that the poll was conducted via face-to-face interviews some some 2,000 randomly selected Russian adults over a roughly six week period. Given the political environment in Russia, one has to wonder how many people are telling the person conducting the interview what they actually thing, and how many are telling them what they think the pollster wants to hear, or what's safe to say given the political environment in Russia. That's always a risk here in the United States, of course, but it strikes me that it is likely an even bigger issue in a nation like Russia which has seen a serious clamp down on dissent and opposition in recent years.
Notwithstanding that caveat, it seems fairly apparent that Vladimir Putin is far more popular among the Russian people than it has been in recent years. In no small part, that is likely because he has successfully used appeals to Russian nationalism in places like Crimea and eastern Ukraine, as well as appeals to feelings of Russian nationalism that pre-date the Soviet Union, to divert public attention from a domestic situation that is less than ideal to say the very least.  The Russian economy has long been fairly weak compared to the rest of the world, and indeed would be pretty much a basket case were it not for the nation's oil and gas reserves. While there are certainly plenty of people who have done very well in the years since the collapse of the Soviet Union, most of that success is limited to people with ties to the regime and other centers of power; the average Russian doesn't have access to those things. Putin, however, obviously has learned the lesson of every authoritarian ruler; that the best way to distract a restless populace is with nationalism and foreign military adventures. And it seems to be working.
Finally, a survey like this suggests strongly that moving Vladimir Putin off his current course of action is not going to be easy. His actions in Crimea and the eastern Ukraine have proven to be immensely popular among the Russian people, and are serving to enhance his own power inside the country and among pro-Russian sympathizers outside of Russia. As long as that's the case, and Putin thinks he can get away with his continued belligerance, then the current state of affairs in Ukraine is likely to continue. We are already seeing this in the aftermath of the MH 17 crash, in which the Ukrainian separatists are clearly taking steps to control the on-the-ground investigation, and most likely, purge the scene of any evidence that might serve to implicate them in the attack that brought the plane down. Putin, meanwhile, still remains silent, likely as he waits to see how this all begins to play out. In the end, though, it's unlikely that he will be cooperative unless he sees it as being in his interest, and even then it will be some minimal level of cooperation that will serve to shield Russia from any direct involvement in the murder of 300 innocent people. Given the fact that the Russian media is cooperating in the Kremlin's efforts in this regard and feeding the Russian people a version of events that, in some cases, has little to do with reality, it's unlikely that this event is going to do much to harm Putin's standing among the Russian people.
The logic behind the sanctions that the West has imposed on Russia ever since the annexation of Crimea earlier this year has been the idea that economic pain in Russia will influence public opinion in Russia and thus force Putin to back down from his current course of action. While this does make sense on some level, this poll suggests that the strategy might not work. For one thing, so far there seems to be very little evidence that the sanctions that have been imposed to date have had much of an impact on the Russian economy as a whole, and the fact that the price of oil is currently on an up-tick may help to offset any negative consequences from sanctions to at least some degree. Even if there is an negative impact, though, Putin will likely try to spin that into evidence of anti-Russian animus from the west. This poll suggests that strategy will work. If that's the case, I'm not sure what we can, or should, do next.