Ryan Departure Leaves Yet Another House Seat Up for Democrats
In addition to opening up the Speakership, there's a legitimate possibility that Wisconsin-11 flips to the other party.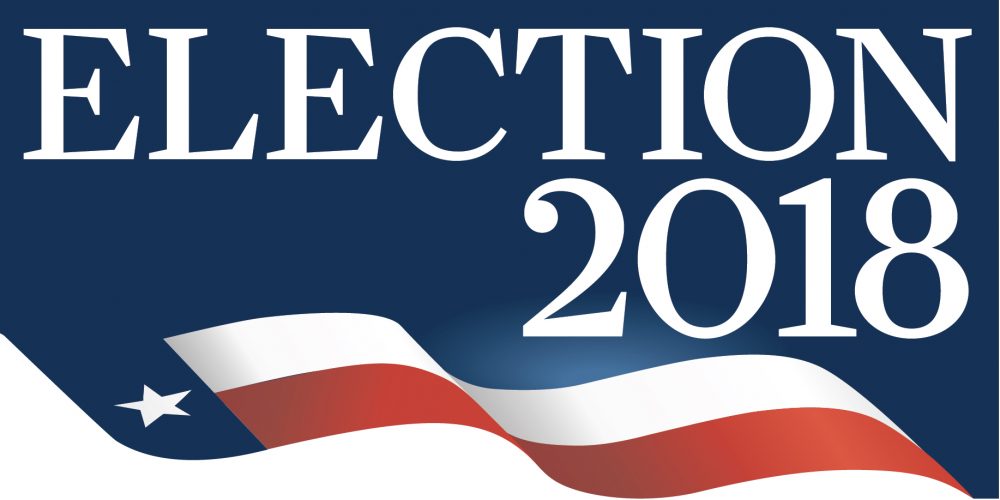 As Doug Mataconis noted earlier today, Speaker of the House Paul Ryan is retiring from Congress, setting up a leadership fight. It also puts his seat very much in play.
CNN ("House Key Race alerts: Paul Ryan's and six other seats move toward Democrats"):
House Speaker Paul Ryan's bombshell announcement that he will not seek re-election brings with it immediate and long-term political ramifications for his southeast Wisconsin district and the House landscape overall, where Democrats need to pick up 23 seats to gain the majority in 2019.

The most acute effect will be felt in Wisconsin's 1st Congressional District, which Ryan has represented since 1999. He already was facing a potential challenge from Democrat Randy Bryce, who had raised nearly $5 million for his campaign, including $2 million in the first quarter of 2018. The district, which includes Kenosha and Ryan's hometown of Janesville, is more favorable terrain for Democrats than the southwest Pennsylvania district Conor Lamb won in the March special election.

[…]

More broadly, Republicans are also losing the party's best fundraiser for House candidates. Just this Monday, Ryan's campaign announced hauling in more than $11 million in the first quarter of the year, bringing its total raised to $54 million — and transferring more than $40 million to the National Republican Congressional Committee to help other GOP candidates this cycle.
Then there are the optics of the decision. By announcing his retirement now, it sends a dire signal to Republicans that an already tough environment could get even more challenging.

Ryan's open seat moves from Likely Republican to Lean Republican, with the potential to become more competitive depending on who the GOP nominates to run in this district.
While it strikes me as unlikely that Ryan's seat will flip, it's certainly possible. This is very much shaping up to be a wave election and those tend to come with major surprises. In 1994, when Newt Gingrich-led Republicans took back the House for the first time in decades, among the casualties was Tom Foley, the sitting Speaker of the House.
The seldom-discussed corollary to that oft-noted fact that Congressmen are seldom defeated for re-election is that Congressmen who face reasonable likelihood of defeat tend to retire instead. And we have a shocking number of retirements this year. This graphic is from the above-cited CNN report: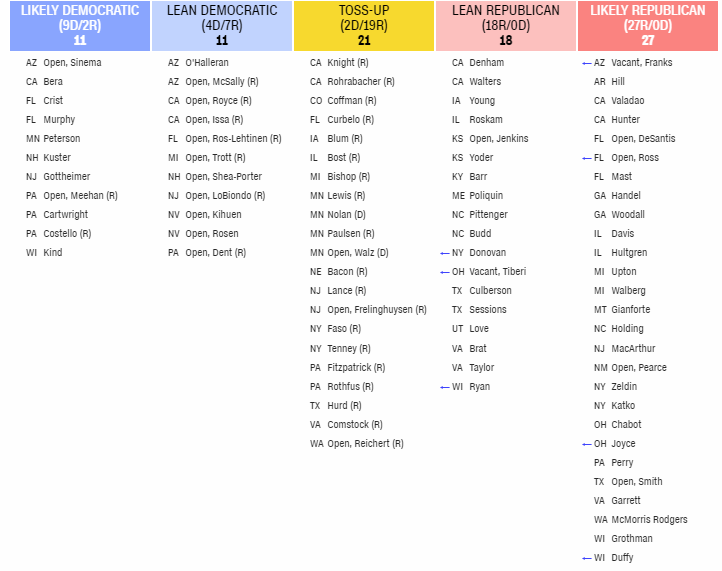 Not only is this a staggering number of vacancies but they're overwhelmingly Republican. All 27 of the "Likely Republican" seats were already Republican; ditto all 18 of the "Lean Republican" seats. Of the 21 "Toss-Up" seats, 19 are currently held by Republicans. More shockingly, of the 11 "Lean Democratic" and 11 "Likely Democratic" seats, a total of 9 are currently held by Republicans. [UPDATE: As regular Stormy Dragon notes in the comments, there is some skew here because the PA Supreme Court rulings tossing out the extant districting plan has massively affected four seats in that state.]
If these seats all go as CNN predicts right now—and they won't—the Democrats would pick up 18 seats (the 9 likely/lean Democratic and half the toss-ups). That's still shy of the needed 23. But the nature of a wave is that the toss-ups tend to go all one way. If they got 9 + 19, they'd be at 28, well above the threshold.
Suffice it to say, the battle to replace Ryan as Republican leader might not be where the next Speaker comes from.