Same-Sex Marriage Advances In Two States, But All Eyes Are On SCOTUS Now
Same-sex marriage advanced in Kansas and South Carolina yesterday, and will soon be law in Montana, but the Supreme Court is what matters now,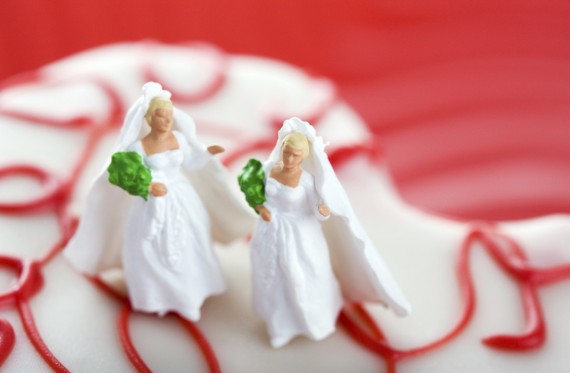 The fallout from the Supreme Court's decision in early October to decline review of the Circuit Court rulings of same-sex marriage bans in four states continued yesterday with largely inevitable decisions from the Supreme Court itself and from a Federal District Court in South Carolina, Now, the number of states in which same-sex marriage is legal is up to thirty-four, with Montana standing as the last domino to fall among the states where the outcome is inevitable before the rest of the nation awaits expected Supreme Court action on cases from the Sixth Circuit Court of Appeals.
First up, the Supreme Court denied a request from Kansas state officials to impose a stay on same-sex marriages in that state in the wake of a District Court opinion that essentially recognized the reality of the Tenth Circuit's ruling on the issue:
WASHINGTON — The Supreme Court on Wednesday allowed same-sex marriages to proceed in Kansas, lifting a temporary stay issued Monday by Justice Sonia Sotomayor.

The two-sentence order was similar to recent ones from the court, which has repeatedly declined to intercede in the legal battles over same-sex marriage. But there was one difference: The earlier orders had apparently been unanimous, while this one noted that Justices Antonin Scalia and Clarence Thomas would have granted the stay.

In urging the justices to step in, Kansas officials relied heavily on Thursday's ruling from the federal appeals court in Cincinnati upholding several state bans on same-sex marriage. That ruling, they said, made it likely that the Supreme Court would soon decide whether there is a constitutional right to gay marriage.

"Unless and until this court provides an answer to that important constitutional question," Derek Schmidt, the state's attorney general told the justices in an emergency application, "applicants respectfully request that lower federal courts in this case not be allowed by preliminary injunction to disable a democratically enacted provision of the Kansas Constitution."
This is the first time we've seen any public dissents on a stay request from the Supreme Court, but its impact is of only passing interest really. Most likely, though, it was prompted to no small degree by last week's opinion out of the Sixth Circuit Court of Appeals upholding the bans on same-sex marriage in four states, a case that is headed to the Justices for probable resolution by the end of this term. Now that the Justices know that it is largely inevitable that they will have to deal with this issue sooner rather than later, there may be some turf being plotted. It is interesting, though, that the dissent in this case came only from Thomas and Scalia and that neither Alito nor Roberts nor, most importantly Justice Kennedy, joined in. That doesn't necessarily mean that all three of those Justices are on the other side of this issue from Scalia and Thomas, that would seem to certainly not to be the case with Alito, but the fact that at least he didn't join in the dissent may indicate he's less eager to take the issue on than his other two fellow conservatives.
Meanwhile, down south, a Federal District Court Judge in South Carolina struck down that state's marriage ban based largely on the Fourth Circuit's ruling on the issue:
COLUMBIA, SC — Gay couples in South Carolina could get married as soon as one minute after noon on Nov. 20 under a landmark federal court decision Wednesday that overturned the state's bans on same-sex marriage.

In a historic decision, U.S. Judge Richard Gergel of Charleston ruled that same-sex marriages are legal in South Carolina. At noon on Nov. 20 is when a stay he issued in his decision expires. He issued the stay to allow Attorney General Alan Wilson time to appeal, should he choose to do so, his written decision said.

Wilson said Wednesday afternoon he will appeal, meaning Gergel's stay could be extended, although observers say Wilson has virtually no chance of prevailing.

Gergel overturned a 1996 state law and a 2006 state constitutional amendment and ruled that couples of the same sex have a right under the U.S. Constitution to wed in the Palmetto State.

Specifically, Gergel ordered Charleston County Probate Judge Irvin Condon to issue a marriage license to Colleen Condon (a distant relative of Irvin Condon) and Ann Bleckley when the noon Nov. 20 stay expires.

Within hours of Gergel's decision, Wilson – who has fought for more than a year to deny gay couples the same legal rights that opposite-sex married couples have – announced he will appeal the judge's order to the 4th Circuit Court of Appeals.

However, the 4th Circuit has already ruled clearly in a similar case, Bostic v. Virginia, that Virginia's bans on gay marriage are a denial of equal rights and unconstitutional. More than 40 other courts as well as four Circuit Courts of Appeals have ruled such bans are unconstitutional. Circuit Courts of Appeals are one level below the U.S. Supreme Court.

Legal experts say that because of the numerous decisions overturning gay marriage bans, and the U.S. Supreme Court's refusal to hear any appeals from losers, Wilson will lose.

"The attorney general is going to lose all around," said Carl Tobias, a University of Richmond law professor who is a 4th Circuit expert.

Derek Black, a constitutional law professor at the University of South Carolina School of Law, said Wilson's position is analogous to that of a football team that is "10 touchdowns behind with 10 seconds to go in the game.

"You can't score 10 touchdowns in 10 seconds," said Black. Wilson is simply playing a loser's endgame, he said.

Gergel's decision is the first ruling in a federal court in South Carolina that clearly states that S.C. state officials have no compelling interest – nor a right – to dictate to residents who they can and cannot marry.

"State laws that run contrary to constitutionally protected rights of individuals cannot be allowed to stand …," wrote Gergel, striking down a 2006 amendment to the state constitution that said that only marriages between a man and a woman are legal and valid as well a 1996 state law that outlawed gay marriages.

Gergel's ruling could unleash a flood of gay people seeking to become legally married in the Palmetto State, long a bastion of anti-gay and anti-gay marriage sentiment. Some 7,214 same-sex couples live in South Carolina, according to the Williams Institute at the University of California-Los Angeles. The institute based its figures on the 2010 U.S. Census.

In a 2006 referendum, 78 percent of S.C. voters voted against allowing gay couples to have the same legal rights as traditional couples.

In his 26-page ruling, filed shortly after 9 a.m. Wednesday, Gergel quoted from the 4th Circuit Court of Appeals' Bostic decision, saying it clearly refuted arguments made by S.C. Gov. Nikki Haley and Wilson. In that July decision, the 4th Circuit overturned a Virginia state ban on gay marriage that was similar to South Carolina's.

In parts of his ruling Gergel appeared to scold Wilson and Haley. For example, Gergel pointed out that the 4th Circuit ruling in Bostic was the "controlling authority" and said it is a well-known fact that states that are part of a particular Appeals Court circuit are bound by that circuit's ruling.
There's no real surprise here, of course, As Judge Gergel makes clear he is bound by the Fourth Circuit's opinion just as the State of South Carolina is and if he had ruled differently from the binding precedent he would have been slapped back quite quickly. This leaves only Montana as the last hold out state in one of the four Federal Circuits where same-sex marriage bans have been struck down. There is presently a hearing scheduled for November 20th in Federal District Court in the lawsuit challenging that state's ban, so the outcome seems inevitable and may only take a matter of weeks depending on how quickly the Federal Judge hearing the matter moves on a decision. At this point, though, the attention in the legal battles over marriage equality are all focused on the Supreme Court, With last week's Sixth Circuit Ruling giving us the Circuit split that had been missing up until now, it is widely expected that the Supreme Court will accept the appeal in those cases, which would likely lead to a hearing in the spring and a final ruling on the issue by the spring. Given that, it's possible that the Court proceeding in Montana may be the last legal development we see before then. There is currently a hearing scheduled for late November in the Fifth Circuit dealing with the marriage bans in Louisiana and Texas, however if the Justices accept the appeals in the Sixth Circuit cases then it seems likely that the Judges in the Fifth Circuit will hold off on issuing any opinion in those matters until the nation's highest court has issued its ruling in late June. Indeed, the Fifth Court could decide to postpone the late November hearing altogether until its clear what the Justices will do with the Sixth Circuit cases. The same is likely to happen with the cases pending in the 11th and 8th Circuits, as well as a ruling out of Puerto Rico upholding the territory's ban on same-sex marriage, which would be headed to the First Circuit Court of Appeals, a court that has not ruled on this issue to date because all of the states under its jurisdiction have legalized same-sex marriage without Federal Court intervention.
In any case, the legal battles in the same-sex marriage war appear headed for an end some time in 2015.
Here's the opinion in the South Carolina case: