The Supreme Court Sends More Signals That It's Ready To Strike Down Same-Sex Marriage Bans
By refusing to stay the legalization of same-sex marriage in Alabama, the Supreme Court has sent the strongest signal yet that it is ready to legalize same-sex marriage nationwide.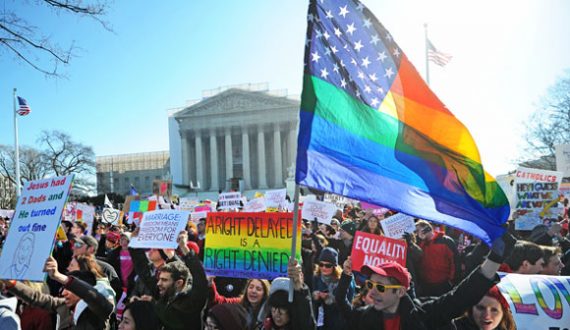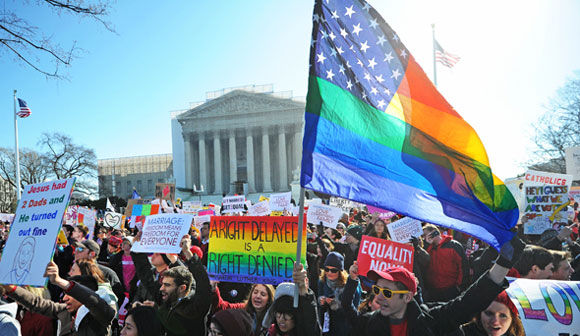 As I noted yesterday, the Supreme Court refused to impose a stay on a Federal District Court Order declaring Alabama's laws against same-sex marriage unconstitutional, a move that came over the strong objections of Justices Thomas and Scalia and which many observers on both sides of the marriage debate are taking as a sign of how the Court is likely to rule in the four same-sex marriage cases it accepted for appeal last year:
The Supreme Court's decision on Monday not to delay same-sex marriage in Alabama offered the strongest signal yet that gay rights advocates are likely to prevail in coming months in their decades-long quest to establish a nationwide constitutional right to same-sex marriage.

The court's decision came with a blistering dissent from JusticeClarence Thomas, who criticized his fellow justices for looking "the other way" as another federal court pushes aside state laws, rather than taking the customary course of leaving the laws in place until the court addresses larger constitutional issues.

Since October, when the Supreme Court refused to hear appeals from rulings allowing same-sex marriages in five states, it has denied requests to stay orders requiring other states to let gay and lesbian couples marry. Largely as a consequence of the court's inaction, the number of states with same-sex marriage expanded to 37 from 19, along with the District of Columbia, in just four months.

Last month, the court agreed to hear four same-sex marriage cases. They will be argued in April and probably decided in late June.

In dissenting from the unsigned order in the Alabama case on Monday, Justice Thomas, joined by Justice Antonin Scalia, suggested that the court was poised to establish a constitutional right to same-sex marriage, a question the court ducked in a pair of decisions in 2013.

Justice Thomas accused the majority of an "indecorous" and "cavalier" attitude in refusing to maintain the status quo in Alabama at least until the Supreme Court issues its decision in the four pending cases.

"The court looks the other way as yet another federal district judge casts aside state laws without making any effort to preserve the status quo pending the court's resolution of a constitutional question it left open in United States v. Windsor," he wrote, referring to the 2013 decision striking down part of the federal Defense of Marriage Act.

"This acquiescence," Justice Thomas added in a telling passage, "may well be seen as a signal of the court's intended resolution of that question."
Buzzfeed's Chris Geidner is among those contending that Thomas is likely correct in his observation that the Court's action in the Alabama case is likely a strong indication of how it is likely to rule on the cases pending before it:
WASHINGTON — The United States Supreme Court will end discrimination against same-sex couples this June — and even justices who oppose the coming decision appear to know it's going to happen.

On Monday morning, Justice Clarence Thomas made explicit what had been growing apparent to observers for months: The court — at least a majority of the justices — has made up its mind on the issue of whether the U.S. Constitution bars states from treating same-sex couples differently than opposite-sex couples in marriage laws.

In denying the Alabama attorney general's request to keep a U.S. district court order that strikes down Alabama's ban on same-sex couples' marriages on hold while the state appeals, the Supreme Court — even as it considers marriage cases out of four other states — made it clear that the justices will not stop same-sex couples from marrying in the meantime when a judge strikes down a ban.

(…)

Given Thomas' dissent today, the only real question left outstanding is where Chief Justice John Roberts and Justice Samuel Alito will end up on the ultimate question. Although both dissented in the Windsor DOMA decision, neither has joined Thomas and Scalia in saying publicly that they would have granted any of the recent stay requests.
Ian Millhiser at Think Progress agrees with this assessment, as does Orin Kerr at The Volokh Conspiracy, and even National Review's Ed Whelan, who has been critical of the decisions striking down state-law bans on same-sex marriage, agrees that the signs are all there:
There's little doubt that the Supreme Court's order today irresponsibly declining to stay the federal-district court order against Alabama's marriage laws signals that at least five justices have already made up their mind to concoct a constitutional right to marry a person of the same sex. Who needs briefing or oral argument anyway, when you're just making it up? And why give careful thought before redefining the central social institution of American society in a way that denies the fundamental connection between marriage and responsible procreation and childrearing? Gee, what could go wrong?
This isn't the first sign we've gotten from the Supreme Court on this issue, of course. When the Justices struck down the Defense of Marriage Act in 2012 and allowed the ruling against California's Proposition 8 to stand, they were simply following a line of decisions that goes back to Roemer v. Evans, a 1996 case in which the Supreme Court struck down a state referendum that had purported to bar municipalities from providing protected status based on sexual orientation in their civil rights laws. Seven years later, in Lawrence v. Texas, the Court struck down laws criminalizing sodomy, reversing its own 1986 decision in Bowers v. Hardwick. Along with the Windsor case, all of these opinions were written by Justice Anthony Kennedy, who clearly has been moving in an increasingly libertarian direction on the issue of gay rights over the past two decades. More recently, of course, the Court has seen its ruling in Windsor set in motion a tidal wave of litigation that has resulted in nearly complete unanimity among the Federal District Court and Circuit Court of Appeals Judges who have heard the issue on the issue of the constitutionality of bans against same-sex marriage. The only exceptions to that have come from a Federal District Court Judges in Louisiana and Puerto Rico, and tbe Sixth Circuit Court of Appeals.
The Justices, meanwhile, have reacted to this phenomenon in a way that seems to clearly indicate that there is likely a majority on the Court ready to rule that state law bans on same-sex marriage are unconstitutional. In October, of course, the Court surprised many by declining to accept the appeals of same-sex marriage cases from the Fourth, Seventh, and Tenth Circuits, each of which had declared marriage bans unconstitutional in a series of cases affecting Utah, Oklahoma, Virginia, Wisconsin, and Indiana. This made same-sex marriage the law of the land in those five states as well as six other states within their jurisdiction. Days later, the Ninth Circuit also struck down marriage bans in Utah and Idaho, which essentially also made same-sex marriage inevitable in Arizona, Alaska, and Montana. Not surprisingly, the Justices denied requests for stays from the states impact by these Circuit Court rulings, eventually expanding the number of states in which same-sex marriage was legal to thirty-five. In late December, the Justices took another surprising step when they declined to authorize a stay of the Federal District Court Order legalizing same-sex marriage in Florida, the first time they had declined to impose a stay on a District Court ruling on the issue when there was not already a pre-existing Court of Appeals decision from the same Circuit. The Justice's actions in the Alabama case is thus just the latest development from the Court on this issue, but certainly seems to be provocative evidence of just what might be going on in the Justices minds.
As always, it is perilous to try to read Supreme Court tea leaves, and this is especially true given the fact that the Justices have not even heard oral argument on the Sixth Circuit same-sex marriage cases yet and that a decision is still some four months away. Nonetheless, we are now at the point where a decision upholding state law bans on same-sex marriage would most certainly be inconsistent with the manner in which the Court has approached gay rights issues for the past two decades and how it has approached the same-sex marriage issue for the past two years. As I said in October after the Court declined to hear the appeals from three separate Circuit Courts of Appeal, it would be fairly shocking if the Court were to eventually rule that state laws against same-sex marriage are constitutional after having taken actions that thousands of couples will rely upon. Now that they've taken further action that has extended legal same-sex marriage to 37 states, it is even harder to believe that they would do this. Anything is possible, of course, but if I were a betting man right now, I'd be putting my money on the Supreme Court striking down same-sex marriage bans nationwide in June in a decision that will be either 5-4, with Justice Kennedy providing the deciding vote, or 6-3 if Chief Justice Roberts ends up joining Kennedy in the majority as many observers anticipate. In either case, Justice Thomas appears to be right. The writing is on the wall, and it's only a matter of time.