The Supreme Court Has Made Nationwide Recognition Of Same-Sex Marriage Inevitable
The die is cast.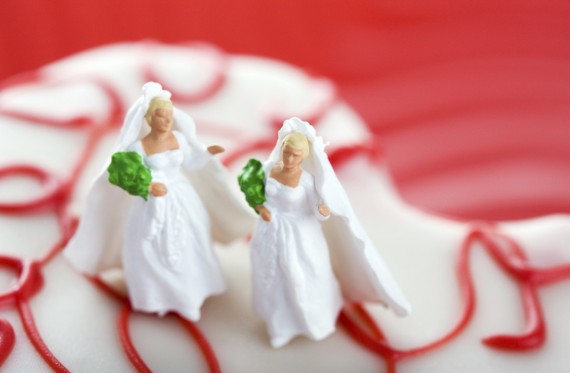 Yesterday's decision by the Supreme Court to decline review in all of the pending same-sex marriage cases had a quick and immediate effect. Within hours after the decision was made public, the Fourth Circuit had lifted the stay on its ruling and legal same-sex marriages were moving forward in Virginia. The Tenth Circuit followed quickly thereafter and marriages in Oklahoma and Utah are also moving forward. Both Governor Scott Walker in Wisconsin and Governor Mike Pence in Indiana said that they would accept the ruling and that marriages would go forward in their state, although Walker's remarks were far more conciliatory than Pence's, which is interesting given that both of them are potential candidates for the 2016 Republican nomination. The reaction is a bit different in states that were not directly impacted but which are nonetheless covered by the respective Circuit Court rulings — marriages are already going forward in Colorado, for example, while officials in Wyoming and South Carolina seem to be saying they will still defend their state's laws in the courts — but the results there are inevitable for the reasons I mentioned yesterday. Perhaps more importantly, a majority of Americans now live in states where same-sex marriage is legal, and that number will become even larger once the Circuit Court rulings are extended to all of the states they apply to. To put that in perspective, it was just two years ago that same-sex marriage was legal only in Connecticut, Iowa, Massachusetts, New Hampshire, New York, Vermont and the District of Columbia. Since then, it has been legalized in eighteen states and will soon be legal in six more.
All of this has led to discussions of what yesterday's decision not to decide means for the fight for same-sex marriage going forward. As I said yesterday, speculating on why the Justices didn't take a case is often fraught with danger and guess work, but when you're talking about cases and issues that are this high profile, it is perhaps inevitable. Garett Epps, for example, argues that the Court's action by inaction yesterday essentially makes the nationwide legalization of same-sex marriage inevitable:
So two things have changed as of 9:30 this morning, when the orders issued. First, there will soon be thousands of same-sex couples married by order of the courts. And second, the lower-court opinions, which said the Constitution provides a right for same-sex couples to marry, are now the law.

That sounds redundant, but it's not. As long as cert. was pending, the lower-court opinions were in limbo. Meanwhile the issue is pending in the Fifth, Sixth, Ninth, and 11th Circuits. Any panel in one of those circuits must now confront a huge weight of federal authority affirming same-sex marriage. True, other circuits' decisions are not "binding"; true, the Supreme Court did not give any hint of its position. But that's still a lot of contrary authority to move against. Any judge writing an opinion that bars same-sex marriage must explain why he or she is ignoring all the previous decisions.

That still could happen. The press has speculated that the Sixth Circuit may soon issue an opinion allowing state bans to stand. The Fifth and 11th are among the most conservative of the circuits. If one of them breaks step, then the Court will have to take that case. And it would seem to most observers that it would be granting to reverse.

(…)

No one really knows what is happening on the upper floors of One First St. N.E. This Court is an enigma in many ways. Thus anything is possible.

One thing, however, I will not believe is that this Court will allow thousands of couples nationwide to celebrate marriages, change names, jointly adopt children, become legally one family—and then, in an opinion later in the term, baldly announce that their marriages are in jeopardy or even void.

If the justices were later to decide against same-sex marriages, a number of the states where, in a few days, it will be legal, would be back at the Court asking for reconsideration. That would be, as Lyle Deniston of SCOTUSblog wisely wrote,"an invitation to legal chaos." Beyond that, it would be an act of cruelty that I hope is beyond any five of the nine human beings who sit on this Court.
Other legal commentators have made similar comments about what yesterday's decision may tells us about what the court is thinking on this issue, and while it is admittedly mostly guesswork it strikes me as likely being fairly close to correct. The Justices, after all, are not unaware of the world around them and they have seen the impact of their ruling in United States v. Windsor over the past sixteen months in a string of nearly unbroken, and in any case overwhelming Federal and State court decisions striking down bans against same-sex marriage. They are also well aware that the immediate impact of their decision to deny the appeals here would be the legalization in same-sex marriage in the four states that were parties to the lawsuits and, eventually, to the remaining states in the 4th, 7th, and 10th Circuits. That means that tens of thousands of same-sex couples are going to be getting married, establishing families, and planning their lives in reliance on those decisions. Even assuming that there is a same-sex marriage case that makes its way back to the the Supreme Court that it is inclined to accept for appeal, the impact of this decision will be felt far and wide and a subsequent decision later this year that essentially reverses what the Court did yesterday would throw all of those people into legal and political limbo that would be, as Deniston describes it, legal chaos of a very personal nature.
Like Epps, it is inconceivable to me that the Justices would allow all of this to happen only to pull the rug out from under Americans at some point down the road. Instead, I think that it's likely that what happened goes something like this. The conservative Justices most likely to vote to uphold a ban — Scalia, Thomas, and Alito — now realize that they do not have the votes to uphold state bans on same-sex marriage, so there was no reason for them to accept the cases for appeal at this time. The liberals, on the other hand, may know that they have the votes but, in the light of previous comments that Justice Ginsburg has made on this issue and on Roe v. Wade, have decided that it is more prudent to let the issue continue to develop in the Circuit Courts. After all, it is entirely possible that the Judges in the Fifth and Sixth Circuits, which would seem to be the most likely source for a ruling upholding a state law marriage ban, will see the Court's action yesterday as a signal of where they want the issue to go and, rather than being the Judges who issue the ruling that ultimately gets overturned at the Supreme Court, join their brethren in striking down the laws.  If they don't then it seems likely that the inevitable result will be a Supreme Court ruling legalizing same-sex marriage nationwide.
Paul Waldman points out another scenario, though:
But there is one scenario by which what today seems like an inevitable forward movement for marriage equality could be undone, and it may be the only hope conservatives have left. It involves a Republican winning the White House in 2016 and a liberal justice retiring, to be replaced by a conservative.

This isn't some remote possibility. We have no idea what the election of 2016 will be like, and while as a liberal you probably think that the current crop of Republican contenders are a bunch of bozos, people thought that about any number of people who ended up winning the White House (see Bush, George W.). As of now, Ruth Bader Ginsburg is 81, Stephen Breyer is 76, Sonia Sotomayor is 60, and Elena Kagan is 54. Any one of them could retire for any number of reasons. And once President Rand Paul appoints Ted Cruz to take that retiree's place, things look very different.
John Hinderaker at Power Line posits a similar scenario, and suggests that yesterday's denials may be the result of conservative Justices hoping to punt the issue to beyond 2016 in the hope that a Republican will be elected President. The problem with these scenarios, though, is that it seems unlikely that it will take another three or four years for this issue to play itself out. The Sixth Circuit heard oral argument on its cases two months ago and could issue a ruling any day. The Fifth Circuit isn't far behind, although oral argument has not been scheduled at this time. Additionally, there are cases making their way through the Eighth and Eleventh Circuits that very likely would be resolved sometime within the next six months. To the extent any of these courts are going to uphold a state ban on same-sex marriage, it is most likely to come sooner rather than later, and far before the 2016 election to say nothing of when a Republican President would be able to appoint a new Justice, which would likely not be until the summer of 2017. If the Supreme Court does take up this issue in the future it is likely to happen well before a Republican President would be able to influence the make up of the Court. If it doesn't then that will mean that every Circuit Court that has heard the issue will have struck the laws down, that millions of people will be getting married, and in that kind of legal environment the Court is going to find it very difficult to turn back the clock. Is it possible that things could unfold that way? Yes, I suppose it is but it seems exceedingly unlikely.
For those who support marriage equality, it would have obviously been preferable for the Court to take up these cases and issue a ruling that would become the Loving v. Virginia of the 21st Century. That didn't happen, but it seems fairly apparent that the Court is sending a signal that, if it is forced to deal with this issue in the future, that's going to be exactly what will happen. Whether we get it depends largely on what the Judges in the Fifth, Sixth, Ninth, and Eleventh Circuits think the Court tried to tell them yesterday and how they act upon that.