Sammy Davis Jr., Tokenism, and Moving Targets
Was one of the pioneering African-American entertainers a "house Negro"?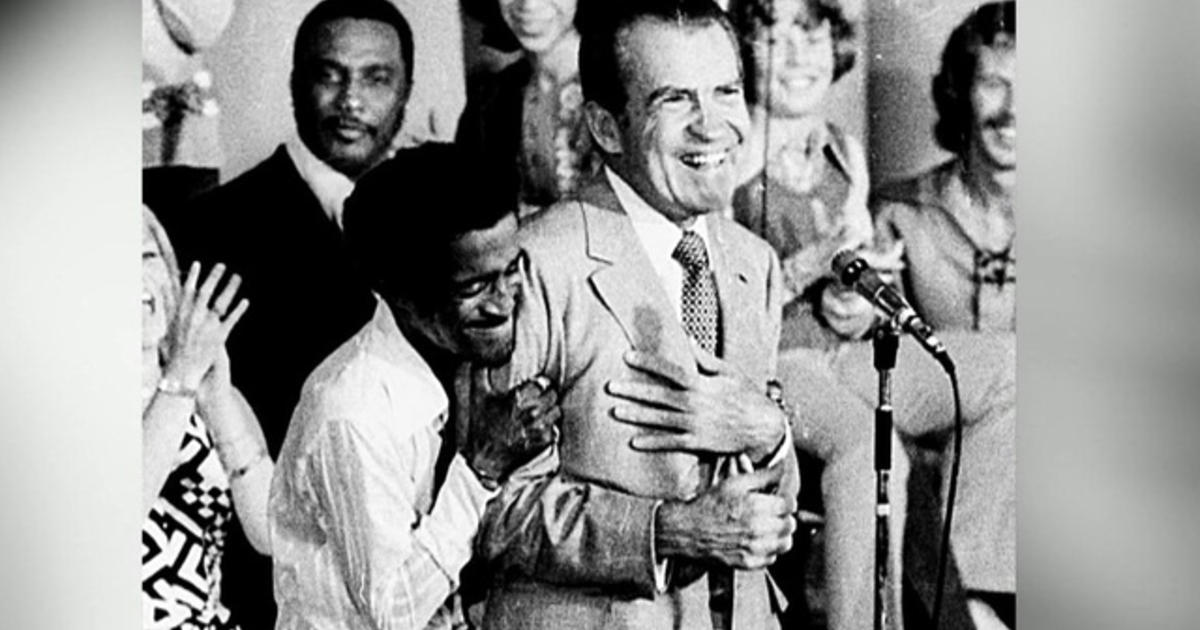 I just listened to the latest episode of Malcolm Gladwell's superb Revisionist History podcast, "The Hug Heard Round the World." It was very powerful, especially in light of recent discussions we've been having about taking down Confederate moments, including roads named after Jefferson Davis, and stripping the names of renowned figures like Laura Ingalls Wilder off of awards because books written a century ago about things that happened a century and a half ago are racially insensitive by today's standards.
The rundown of the show was something like this:
1. Sammy Davis, Jr. hugs Richard Nixon at the 1972 Republican National Convention—a moment that will redefine him forever. (Of that, I'm skeptical, but perhaps it's true for a generation of African-Americans.) [For more on the controversy, see biographer Will Haygood's 2003 WaPo account, "The Hug."]
2. Malcolm X's speech on the "house Negro" versus the "field Negro."
3. Quite a bit of detail of Davis as the house Negro who sold out his own people to get the approval of the white man and the success and comfort that came along with it. (By which point I'm furious with the insinuation.)
4. Gladwell pivots: Is this fair?
5. A discussion of the literature from the 1970s on tokenism, focusing on what the first women entering the business world alongside men had to do to become accepted as part of the group.
6. A reconsideration of Davis and the pressures he had to endure in light of that literature.
7. Davis as the subject of a 1975 "Dean Martin Roast" television special in which almost all of the jokes are extremely racially offensive by today's standards. The insinuation being that, despite his enormous talents and attempts to conform to the white man's world, he was still just a token—an outsider.
8. Closing with the graciousness with which Davis accepted the roast, contrasted with how we would imagine a Dave Chappelle or Chris Rock reacting today. Because the first-generation token doesn't have the power that the second and later generations have to fight back.
It was a very powerful episode and I commend it to you.
Aside from my own emotional and intellectual reactions to the twists and turns involving Davis himself, what really struck me was how absolutely awful that 1975 roast was. The sort of thing you'd expect at a Klan meeting. The thing is, though, that I'm almost sure I watched it in real time (we were regular viewers of the show and there were only three networks in those days) and had no such reaction.
Granting that I was just 9-1/2 when the episode aired, but I'd never known a segregated America—even though I just missed it. I was just finishing up 3rd grade in Houston at the time, so hadn't had much in the way of social studies. My first recollection of studying the civil rights movement, Martin Luther King, and all the rest is from 5th or 6th grade when I was attending base schools in Germany. So, maybe I was just blissfully unaware.
But this was 1975! "Sanford and Son," "Good Times," "The Jeffersons," and other shows featuring black stars were regular viewing. While there were certainly some racial stereotypes on those shows, it wasn't of the watermelon joke variety on display in the roast.
Yet, clearly, all of those entertainers thought it would be uproariously funny to go on network television and lampoon a legend who had been in the business for some 45 years by that point in that manner. And I can't imagine that they did it because they privately despised him as a subhuman.
I've had similar, if less jarring, experiences going back and reading interviews or even listening to music from the 1970s and 1980s. Most notably, in terms of the sheer misogyny. And, yet, I'd guess most of the people engaging in it did so casually, with no idea that they were being insensitive, much less with the intent to hurt people.
Part of this is that we, thankfully, evolve over time as we learn. But, rather clearly, we also retroactively whitewash our recollections of what was normal at various points of our lives, thinking ourselves and our society much more evolved at a given moment in time that we actually were. Which ought to give us pause when judging people who lived long before us.