Sanders Wins Indiana Primary, But Hillary Clinton Continues To Advance In Delegate Fight
Bernie Sanders won the Indiana Primary last night, but Hillary Clinton continues to accrue the delegates she needs to become the Democratic nominee.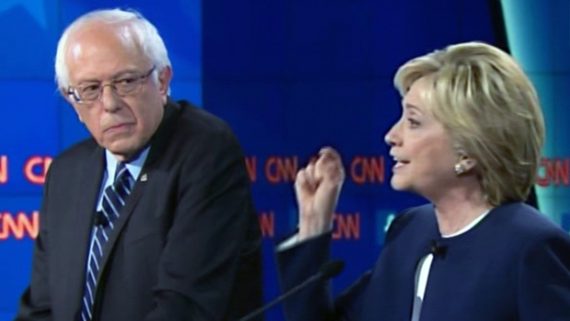 Vermont Senator Bernie Sanders scored something of a surprise victory in last night's Indiana Primary, but as we've seen so many times in the past, his actual victory in the race for delegates was negligable at best and unlikely to slow Hillary Clinton's momentum toward a majority at the Democratic National Convention in Philadelphia:
In the Democratic contest, Senator Bernie Sanders rebounded from a string of defeats to prevail in Indiana over Hillary Clinton, who largely abandoned the state after polls showed her faring poorly with the predominantly white electorate. But the outcome was not expected to significantly change Mrs. Clinton's sizable lead in delegates needed to win the Democratic nomination.

(…)

Only slightly more than half of Democrats voting Tuesday called Mrs. Clinton honest and trustworthy, according to early exit polls, a remarkably shaky assessment for the party's likely nominee. After closing the gap with blue-collar white voters in parts of the Northeast last week, Mrs. Clinton lost them by 30 points in Indiana. She also again suffered with self-identified independents casting ballots in the Democratic contest: 73 percent backed Mr. Sanders.

Mr. Sanders, speaking to reporters after winning Indiana, had some tough words for Mrs. Clinton after a week when he toned down criticisms of her and shifted his focus to their policy differences.

"I understand that Secretary Clinton thinks that this campaign is over," Mr. Sanders said. "I've got some bad news for her. Tonight we won a great victory in Indiana. Next week we are going to be in West Virginia. We think we have a real shot to win in that great state. And then we're going to Kentucky, and we're going to Oregon. And we think we have a pretty good chance to win there as well."

"We feel great about tonight not only in winning here in Indiana and accumulating some more delegates but also gaining the momentum we need to take us to the finish line," he said, adding the he realized he faced an "uphill battle."

While Mr. Sanders devoted three days to campaigning in Indiana and spent more than $1 million on television advertisements, Mrs. Clinton did not run any ads and spent only a day campaigning in the state, visiting the Indianapolis area.

Clinton advisers said they saw no point in spending a couple of million dollars on television advertising and campaign travel when Mrs. Clinton was likely to lose the state anyway: Its Democratic primary electorate includes a healthy share of independents and newly registered voters, demographics that have repeatedly favored Mr. Sanders. And the two Democrats are expected to divide the state's 83 delegates given the close outcome.

Tad Devine, a senior adviser on the Sanders campaign, said that the Indiana results would not reshape the Democratic race markedly, given Mrs. Clinton's sizable delegate lead.
Hillary Clinton was leading in the recent polls coming out of Indiana prior to yesterday's primary, but there were also indications that this was a state where Sanders had a chance of pulling off a win even though it was likely to be a narrow one that didn't have much of an impact on the race for delegates. Of the 83 Democratic delegates at stake last night, Sanders is estimated to have won 43 while Clinton has won 37. That advantage of six delegates is hardly the advantage that Sanders would need to make this race competitive, of course, and even getting the minority of delegates out of the Hoosier State is just making Hillary Clinton's nomination even more inevitable. As the delegate count stands today, Clinton stands at 2,202 delegates, which puts her just 180 delegates short of the 2,382 she needs to clinch the nomination. Sanders, on the other hand, stands at 1, 400 delegates, putting him 982 delegates short of the nomination, meaning that Sanders would need to win more than 92%  of the outstanding delegates to get to a majority while Clinton only needs to win just under 18% of the remaining delegates. Even if Sanders manages to pull of wins in some of the forthcoming states, such as West Virginia and Nebraska, it's likely that Clinton will easily be able to pick up the remaining delegates she needs to go over the top. Sanders will point out, inevitably, that part of this total includes the party insiders known as "Superdelegates," but these delegates have been part of Democratic Party politics for more than a generation now so Sanders can hardly claim to be surprised at the role they are playing here.
Despite Clinton's seeming inevitability, a victory like this is likely to keep Sanders in the race right to the convention. This would seem to be especially true given the fact that Sanders also seems likely to score wins in states such as West Virginia, Oregon, and Nebraska, At this point, though, Sanders seems to be more interested in talking about using his delegate power to have a powerful voice in how the convention plays out and the issues that have been at the center of his campaign. In his recent speeches, for example, his rheotic has shifted away from the idea of a contested convention and toward the idea of demanding that there be floor votes on including certain issues in the platform. Given what the ideological makeup of the delegates to the Democratic Convention is likely to be, it shouldn't be that hard for Sanders to get what he wants in this regard, and Clinton has already hinted at a willingness to work with him on the party platform. It's in this respect that Sanders is likely to have the biggest impact in 2016, but the obvious concern for Democrats will be to ensure that he doesn't pull the party too far to the left in advance of what is shaping up to be a very favorable election cycle.