Sanders Wins West Virginia, Continues To Fall Behind In Delegate Race
Bernie Sanders won another primary last night, but he continues to fall behind in the race for delegates nonetheless.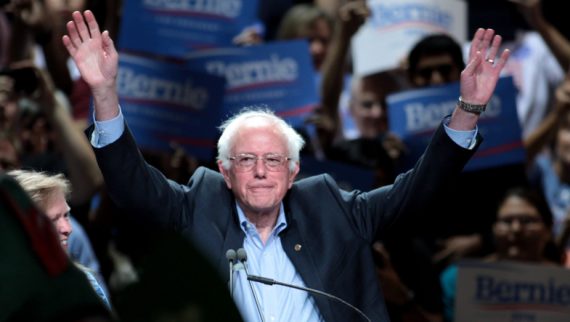 As the limited polling had been predicting, Bernie Sanders ended up pulling off another win over Hillary Clinton in Tuesday's West Virginia primary, but in an echo of a recurring theme throughout this race, his victory puts him no closer to the Democratic nomination and does little to impede Hillary Clinton's progress toward that goal:
Senator Bernie Sanders of Vermont captured the West Virginia primary on Tuesday, forcing Hillary Clinton to continue a costly and distracting two-front battle: to lock down the Democratic nomination and to take on Donald J. Trump in the general election.

Mrs. Clinton has a nearly insurmountable lead in delegates, which Mr. Sanders's victory, one week after he won Indiana, did little to narrow. But by staying in the race, as he has vowed to do until the Democratic convention in Philadelphia in July, Mr. Sanders continues to tug Mrs. Clinton to the left.

This week, after long resisting Mr. Sanders's call for a single-payer health care system, Mrs. Clinton embraced allowing people as young as 50 to buy into Medicare.

In Oregon, which votes next week, Mr. Sanders appealed to unpledged superdelegates, who can cast votes as they please at the convention, to rally behind him as the stronger opponent to Mr. Trump.

"If you look over the last month or six weeks, at every national poll, Bernie Sanders defeats Donald Trump by big numbers," he said.

With Mr. Trump aggressively attacking Mrs. Clinton as he focuses on the general election, Mrs. Clinton's potential vulnerability was exposed in her defeats in West Virginia and Indiana, states with many white, working-class voters.

(…)

Mrs. Clinton was haunted throughout her visits to West Virginia and Kentucky last week by a comment she made in March that her climate change policies would "put a lot of coal miners and coal companies out of business." She made the remark in the context of pledging money to coal communities, but the sound bite trailed her, and she found herself repeatedly on the defensive.

Mr. Sanders's victory was less about policy differences with Mrs. Clinton (his environmental plans would phase out coal more rapidly) than about the state's demographics. He beat Mrs. Clinton in a largely white, rural state, as he has throughout the primaries.

Eight years ago, when Mrs. Clinton defeated Mr. Obama in West Virginia's primary, one in five voters said in exit polls that race had been a factor.
In the end, Sanders victory over Clinton was much bigger than polling had been indicating, which is something that we've seen on both sides of the aisle this primary season with regard to both the Sanders and Trump campaigns. In both campaigns, it appears that pollsters missed the surge in new voters that these insurgent campaigns were bringing to the campaign, but in West Virginia's case there was also the added factor of very limited polling to begin with and the fact that the last poll conducted there ended on May 2nd, a full week before the primary. In any case, while the size of Sanders' victory was unanticipated, the fact of it was not. As I noted on Monday, Clinton was already quite vulnerable in the state notwithstanding her victory there in 2008 due in no small part to her recent comments regarding the fate of the coal industry under existing and anticipated regulations aimed at combating carbon emissions and global climate change. The fact that she lost the primary really isn't surprising to anyone, including the campaign itself which apparently conceded the state to Sanders several weeks ago in favor of a strategy aimed at the end of the primary season in June and refocusing the campaign on the General Election campaign against Donald Trump.
As Sanders noted in his speech last night, this is the nineteenth state primary or caucus that Sanders has won, and the fact that he continues to give Clinton something of a contest this late in the cycle is quite impressive. Notwithstanding all of that, though, Sanders is not succeeding sufficiently well to win the either catch up to Clinton in the delegate count, or walk into the Philadelphia convention with a majority of pledged delegates, as he claims to supporters he will be able to do. Of the 29 delegates at issue in West Virginia yesterday, Sanders won 16 and Clinton won 11, giving Sanders a paltry +5 advantage that does nothing to undercut his deficit in the delegate count. As things stand now, there are roughly 1,057 Democratic delegates yet to be chosen, which includes both 897 as yet unallocated pledged delegates and roughly 150 Superdelegates who have yet to announce who they are supporting. Clinton has a grand total of 2,239 pledged and Super delegates, meaning she only needs 146 more delegates, or 13.81% of the outstanding delegates. Sanders, on the other hand, has a grand total of 1,469 pledged and Super delegates, meaning that he needs another 86.38% of the outstanding delegates to get a majority, something that quite simply isn't going to happen. Indeed, if things go the way most analysts expect Clinton may well clinch the nomination next Tuesday after the primaries in Kentucky and Oregon, or after the Puerto Rico primary on June 5th. How Sanders reacts after that, and especially during the run-up to the convention will be up to him. However, if he wants to have a voice at the convention and in the party going forward, he will need to make peace with the nominee notwithstanding his current rhetoric.