Sane Republicans Trying to Take Party Back
Reasonable members of the House GOP caucus are fighting back. Are they outnumbered?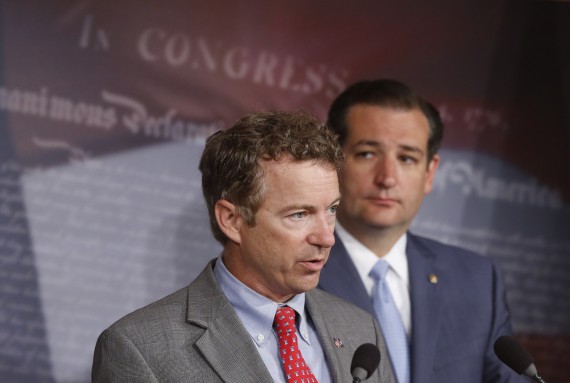 Reasonable members of the House GOP caucus are fighting back. Are they outnumbered?
Washington Wire ("Centrist Republicans Lobby Boehner to End Shutdown"):
A coalition of centrist House Republicans is lobbying House Speaker John Boehner (R., Ohio) to find ways to end the partial government shutdown, lawmakers in the group said Wednesday.

Some members in the group of GOP lawmakers met with Mr. Boehner twice on Wednesday, looking for ways to ease the budget impasse, including by passing a short-term spending bill stripped of all demands to change the federal health-care law.

"We're looking for ways to break the stalemate and get the government back open as quickly as possible," said Rep. Michael Grimm (R., N.Y.) en route to his second meeting of the day with the top House Republican. Mr. Grimm said the group of roughly 16 to 18 "pragmatist" House Republicans is growing in size as lawmakers get increasingly frustrated with the partial government shutdown.

"We're trying to have cooler minds prevail," he said.

The nucleus of the new coalition met Wednesday morning in the office of Rep. Peter King (R., N.Y.) and has reached out to centrist Democrats to try to find narrower policy proposals that might provide an off-ramp from the budget fight that threatens to spill over into the debate over raising the federal borrowing limit.

[…]

New warnings from leaders of the U.S. intelligence community over the national security concerns of a shutdown is adding to GOP worries.

Rep. Frank Wolf (R., Va.) said he was worried about the number of Federal Bureau of Investigation analysts being furloughed. And he said the shutdown's political ramifications would hurt the Republican party.

"I want us to be in a majority again in 2014 and I don't think this is the way to get there," said Mr. Wolf, who would support a short-term spending bill with no policy riders.

But Republican lawmakers cautioned that any resolution would still need to respect the autonomy of the GOP-controlled House.

"We can't allow the Senate to completely dictate what the House is going to do — that's a very dangerous precedent," Mr. Grimm said. He said he was hopeful that the meeting of congressional leaders with President Barack Obama scheduled for Wednesday evening could be the beginning of a "reasonable, rational discussion" that could result in a deal.
Thus far, not so much. But a growing backlash against Ted Cruz and the dangerous path he's leading the party down is evident.
Politico ("Ted Cruz blasted by angry GOP colleagues"):
At a closed-door lunch meeting in the Senate's Mansfield Room, Republican after Republican pressed Cruz to explain how he would propose to end the bitter budget impasse with Democrats, according to senators who attended the meeting. A defensive Cruz had no clear plan to force an end to the shutdown — or explain how he would defund Obamacare, as he has demanded all along, sources said.

[…]

But as the government shutdown heads into day three, a number of Republican senators privately blame the Texas freshman for contributing to the mess their party finds itself in. And now that they're in it, they say it's up to Cruz to help find a solution."It was very evident to everyone in the room that Cruz doesn't have a strategy – he never had a strategy, and could never answer a question about what the end-game was," said one senator who attended the meeting. "I just wish the 35 House members that have bought the snake oil that was sold could witness what was witnessed today at lunch."
That there's no plausible way that Cruz and company will get what they want here has been blindingly obvious for quite some time, yet they've insisted on driving over the cliff.
Leaving aside for a moment that this is a criminal waste of taxpayer money and that it's bad for the country becomes more obvious by the hour, it's a political disaster for the Republican Party.
In the short term, it's going to virtually assure they're not competitive in swing states. Ken Cuccinelli was probably going to lose to Terry McAuliffe–Terry McAuliffe!–anyway because of his extreme position on social issues. But a few hundred thousand federal workers and defense contractors in the state are certainly less predisposed to pull the lever for the GOP than they were a week ago.
Moreover, their "government is bad" mantra gets weaker with each news story about government services and programs that got shut down that seem pretty useful after all.