Santorum 2016?
Would Rick Santorum be the frontrunner for the 2016 GOP nomination? Not necessarily.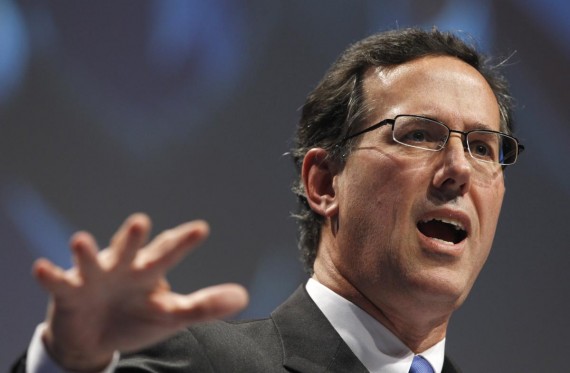 The delegate math makes it next-to-impossible for Rick Santorum to win the Republican nomination this year, but Alex Pareene thinks he'd be the frontrunner in 2016 should Mitt Romney end up losing in November:
The real scary news: Now Rick Santorum is the 2016 GOP nomination front-runner. (It's probably safe to say that the party will explore nomination rule changes between now and 2016.)
David Weigel agrees and explains why it's likely to be true:
It's true because the runner-up of the last Republican primary always starts off with an advantage. McCain 2008. Dole 1996. Bush 1988. Reagan 1976. Romney looked like the candidate most likely to break the trend, but no longer. It's also true because of what would happen if Romney won the nomination and lost. A Romney defeat would come after countless evangelical leaders endorsed a credible candidate and watched him lose to someone the "elites" called electable. Again. It would be the second time they'd been blown off by the party, nominated a moderate, and gone down to defeat. No matter how and why Romney actually lost, the storyline — as it was in 2008 — would be that the party lost its way, and needed to nominate a real conservative next time. In 2009 and 2010, the main proponent of the argument was the less-than-totally-focused Sarah Palin. In 2013, wouldn't it be Santorum?
In one sense, Weigel is correct in his assessment of how the GOP, and especially social conservatives and the GOP base are likely to react if the Mitt Romney is nominated and loses in November. Of course, whoever the nominee is there's likely to be a civil war of sorts inside the GOP following a November loss anyway. However, it's fairly obvious that a Romney loss would be seen by conservatives as further confirmation of their hypotheses that the GOP loses when it nominates moderates, and that the election would have turned out completely differently if the party had only nominated the "conservative" candidate. Ironically, in 20o8 that candidate was supposedly Mitt Romney. Now, despite the fact that his record in Congress and the Senate reveals him to be anything but the limited-government conservative that he now claims to be, it seems that Rick Santorum has been anointed with that title.
That's one reason why I've suggested — here and here — that the GOP should just go ahead, call the conservatives bluff, and give them what they want by nominating Rick Santorum this year. It would give them a chance to prove their hypothesis that nominating a hard right conservative is the only way the GOP can win national elections. More importantly, when he loses (and lose he would) it would force them to explain why they were so very wrong. For those yearning for a return of sanity to the Republican Party, and an de-emphasis on divisive social issues, it would be an opportunity to take control of the ship and steer it away from the iceberg. It might work, it might not, but i would be worth a shot.
That's unlikely to happen at this point, though. The delegate math makes a Santorum victory unlikely, and day after day reveals more evidence that Santorum's campaign is not prepared to go the distance despite the candidate's popularity. So, the GOP is going to roll its dice with Romney and risk what might happen if he loses in November.
That said, I'm not quite sure that Santorum  is as much of an inevitable frontrunner in 2016 as Pareene and Weigel seem to think. First of all, there's the question of whether he'd even decide to run again. Four years is a long time in politics and in life and, much like Mike Huckabee, Rick Santorum may wake up in 2015 and decide there are better things to do in life than run For President. Second, the potential GOP bench in 2016 is far more formidable than anything Santorum faced this time around. From current and former Governors to Senators, there are several potential members of the 2016 field that have a far better resume, and far deeper ties to the evangelicals that have been his life blood this time around. Third, the one flaw in putting Santorum in the "next in line" category as Weigel does is that, unlike Romney and other "next in line" candidates, it's highly unlikely that the former Pennsylvania Senator's 2016 bid would get the backing of many major GOP donors. Their money is likely to go to other potential candidates like Chris Christie or Jeb Bush. Finally, as this election cycle is showing us, the advantages of being the "next in line" may not be what they used to be for Republican candidates. Thanks to the impact on traditional campaigning by new technologies and new players like the SuperPACs, it is likely going to take Mitt Romney longer to wrap up the nomination than any Republican candidate since Gerald Ford in 1976. That's a pretty crappy deal for the so-called heir apparent.
Rick Santorum is likely to be a major force were he to decide to run in 2016, but I think whatever advantages he has will be far less than Pareene and Weigel are anticipating. More importantly, though, if it turns out that Romney wins, then this is likely Santorum's one and only shot at the Presidency. Not that I'd miss him.