Santorum and Climate Change Theology
Rick Santorum sounds like someone applying for a job in a religious institution, not someone running to be the President of the United States.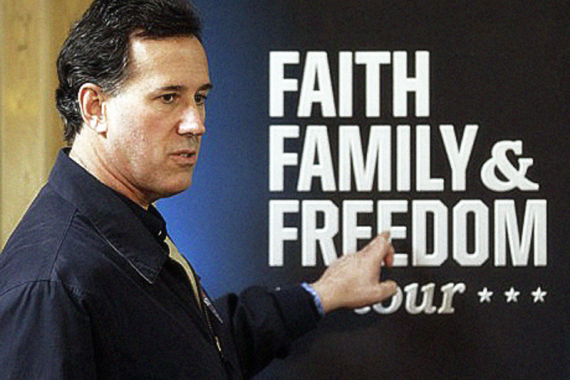 Via the Colorado Independent:  Santorum and Gingrich dismiss climate change, vow to dismantle the EPA we have the following from Santorum:
"We were put on this Earth as creatures of God to have dominion over the Earth, to use it wisely and steward it wisely, but for our benefit not for the Earth's benefit," Santorum told an audience at the Colorado School of Mines where he was a guest speaker Monday at the Colorado Energy Summit.

"We are the intelligent beings that know how to manage things and through the course of science and discovery if we can be better stewards of this environment, then we should not let the vagaries of nature destroy what we have helped create," Santorum said to applause from the conservative crowd.

The former U.S. senator from Pennsylvania argued that science has been hijacked by politicians on the left, and that climate change is "an absolute travesty of scientific research that was motivated by those who, in my opinion, saw this as an opportunity to create a panic and a crisis for government to be able to step in and even more greatly control your life," Santorum said.
In the bolded portions (emphases mine) we have the two pillars of the conservative opposition to climate change and any policies linked to it.  First:  since God gave us dominion over the Earth (check out the book of Genesis) then human have been ordained to manage the Earth and all on it, not the other way around—this leads to a logic that the environment is always under human subordination.  As such:  any notion that humanity has to adjust to environmental concerns gets the power relationship out of order.
Further, if one links the environment to a divine gift (and not just a gift, but something humanity was told to dominate as a result of that gift) means that scientific concerns about any given environmental issue can never win the conversation.  After all, Santorum said above, "we should not let the vagaries of nature destroy what we have helped create"—after all, nature works for us.
Now, I will allow, the notion of stewardship contains within it the idea that humanity is supposed to care for nature, but the way this idea plays out here is clearly that "dominion" supersedes concerns about "using it wisely." Also, the care part of stewardship gives way to  a focus on usage is also key to the thinking:  all of creation has been given for our usage.  (Also:  I think one has to also keep in mind that from an evangelical point of view that a)  God is in control and can fix whatever we screw up and, b) the Messiah will be returning at some point "soon" so the need to worry about the long-term is diminished).
This is an iteration of we get to a situation in which the GOP is perceived as anti-science.
Second, the bolded portion for the last paragraph is key to the politics of this situation:  conservatives ultimately see any attempt at environment regulation as really not about the environment anyway, but about an excuse for increased government control.  Not only does this pay into general concerns about "big government" but this strand of the argument asserts that all this researchy/sciencey talk is just a ruse:  those guys aren't really scientists interested in understanding the environment.  No!  They are Marxists in lab coats looking to fool you all into socialism!
Now, understand:  I do not consider myself an expert on climate change.  I do not even have especially strong views on the subject, although I do accept the rather overwhelming scientific consensus that we have a climate change problem.  What this means in terms of policy is another issue. However, I find it problematic when politicians hand-wave over serious issues and pretend like because, of some inherent belief that they understand topics that would otherwise require a lifetime of study to understand.  I also find the dominion claims especially problematic.  Further, while I understand concerns over taxes and regulations, that doesn't make issues like pollution go away.
In short:  if one is going to make arguments on this topic (and seek to influence policy in this arena) I would like to see more than appeals to the Biblical creation story and fear mongering about government control.
I think that Rick Santorum is sincere (something that is helping him very much at the moment) but every time I read or hear anything that he says about why he believes what he believes he sounds like someone applying for a job in a religious institution, not someone running to be the President of the United States.
h/t:  TPM.