Santorum Wins Three Races Nobody Pays Attention To
Rick Santorum swept three states that are off the media radar screen. Will it revive his campaign?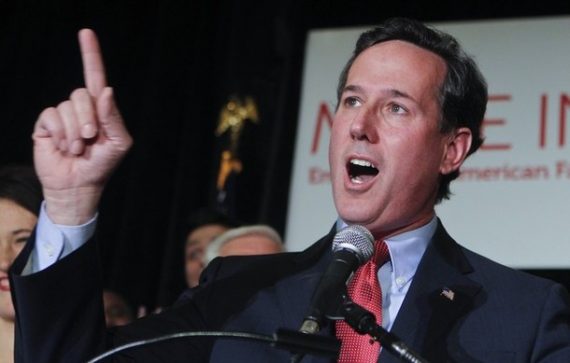 Rick Santorum, who has been an afterthought since his (belated) win in Iowa, swept three states that are off the media radar screen. Will it revive his campaign?
The media narrative of the race is that Iowa and New Hampshire winnow the race to the serious candidates, South Carolina is the first big contest, Florida the first big state, and then there's a lull until Super Tuesday for the two top teams to get reorganized for the stretch run. Until some polls came out yesterday showing that Santorum was doing well, I was only vaguely aware that Minnesota, Colorado and Missouri were having non-binding primaries and caucuses.
Doug Mataconis noted that no delegates were technically at stake yesterday. That's true. But, as I pointed out in the comments, "I'm not sure that delegates really matter at this stage. Otherwise, Newt Gingrich and Ron Paul would be right when they argue that there are still 46 states to go and nothing has been decided. In reality, the outcome of each race leads to a shift in the media narrative and voter expectations."
Will the narrative change? Or will the media stick to its pre-approved script? The early indications are the former.
The Washington Post uses the headline "Santorum's hat trick in Colorado, Minnesota and Missouri jolts GOP presidential race" to frame an AP story subtitled "SANTORUM HAT TRICK."
Rick Santorum swept Tuesday night's nominating contests, providing a jolt to the GOP race. Speaking at a rally in Missouri, Santorum cast his wins as a victory for conservatism.

"Conservatism is alive and well in Missouri and Minnesota," Santorum said. A visibly jubilant Santorum spoke before his third victory, in Colorado's nominating caucuses, was certain. Santorum's victories validated a decision he made to campaign lightly in Florida and Nevada, which preceded Tuesday's votes, and focus on Minnesota, Colorado and Missouri.

It marked a stunning comeback for Santorum, whose hopes seemed to fade after a narrow victory in Iowa was followed by losses in New Hampshire, South Carolina and Florida.

Santorum and former Massachusetts Gov. Mitt Romney both focused their speeches on President Barack Obama, deriding the man they hope to run against in November. Santorum called Obama a "radical" and worked to tie Romney to Obama on policy grounds. But Santorum was careful to show a general election focus.

"I don't stand here to claim to be the conservative alternative to Mitt Romney," he said. "I stand here to be the conservative alternative to Barack Obama."

Romney congratulated Santorum on his victories, but said flatly he still expected to be the GOP nominee. He then ignored Santorum, spending his speech ripping into Obama's leadership.

Former House Speaker Newt Gingrich, who has been jostling with Santorum to be Romney's principal opponent for the GOP nomination, tried to ignore poor showings in Minnesota, Colorado and Missouri by largely staying out of sight. Instead of waiting for Tuesday's results in one of the states voting, as the other candidates did, Gingrich plowed forward to Ohio, where he planned to campaign Wednesday. In third or fourth place in each of the states voting, Gingrich didn't make a public statement about the results. Instead, at campaign stops in Cincinnati, Dayton and Columbus, he criticized both Romney and Obama and linked Ohio's Wright brothers to his own call for an improved U.S. space program.
Politico went with "Missouri, Minnesota and Colorado results: A sweep for Santorum." WaPo's own headline declares, "Santorum revives campaign with wins in Colorado, Missouri and Minnesota." NYT is more subdued with "Another Twist for G.O.P. as Santorum Fares Well."
Nate Silver headlined an afternoon piece (written before the outcome was certain) "The High Stakes in Minnesota, Colorado and Missouri."
A cynic might say that tonight's Republican contests in Minnesota, Colorado and Missouri deserve an asterisk. In Minnesota and Colorado, which will hold caucuses, voters will pick their preferred presidential candidate in a nonbinding straw poll, while picking delegates to county and regional conventions in a separate vote. In Missouri, no delegates are on the line at all; the state will hold a separate caucus for that purpose on March 17.

The results, nevertheless, will provide an important test of how robust Mitt Romney's coalition is on less favorable terrain than in states like New Hampshire or Nevada. And they could potentially revitalize the campaign of one of Mr. Romney's opponents, Rick Santorum.

Nor should one go too far in dismissing the results. The process that Minnesota and Colorado use, holding separate votes for presidential preference and delegate selection at their caucuses, is essentially the same one that was used in Iowa. Missouri is a more debatable case, but as the first primary of any kind held in the Midwest — perhaps Mr. Romney's weakest region — it may tell us something about how states like Michigan and Ohio are likely to vote when they hold key primaries on Feb. 28 and March 6, respectively.
But Silver also buttresses my "media narrative" argument, noting that, "We haven't run forecasts in any of the states. The FiveThirtyEight forecast model was 'trained' on past cases in which at least three different pollsters were active in a state in the closing days of the election." That is to say: nobody was paying an attention to these races until yesterday.
The results were nonetheless surprising. It's not just that Santorum won but that he won in blowout fashion. In Missouri, which Silver reckoned to be "the closest contest, but probably leans slightly toward Mr. Santorum," he won by a ridiculous 30 point margin.
I'm not sure what's more surprising here: That Santorum, who most had written off, won all three contests (and thus has as many wins as Romney and Gingrich combined)? That Romney finished so far back in all three? Or that Gingrich, who the media had positioned as the conservative alternative to the establishment Romney, finished dead last in all three races–even behind Ron Paul.
My guess is that this will give all of us something to talk about for a couple of days but really won't change anything. Santorum still doesn't have any money or organization and it's going to be nearly impossible for him to compete on Super Tuesday.
The next contest is the Maine Caucus on Saturday. There's then a long lull until the Arizona and Michigan primaries on the 28th (3 weeks from yesterday). Washington holds a caucus on March 3rd (the following Saturday) and then Super Tuesday comes four days later with contests in Alaska, Georgia, Idaho, Massachusetts, North Dakota, Ohio, Oklahoma, Tennessee, Vermont, and Virginia. That's going to be a hell of a gauntlet.
Last night's results reminded us that there's very little enthusiasm among the hard core Republican base for Romney. And, apparently, none outside the Deep South for Gingrich. But, with Gingrich not going anywhere, I don't see how Santorum can rally the base and beat Romney.
Joe Scarborough argued this morning that yesterday was a perfect storm for Santorum, the most socially conservative of the Republican candidates. The Komen-Planned Parenthood story, which was a huge win for the abortion rights forces, galvanized the base. Then there was the flap over the Obama administration's boneheaded decision to force Catholic hospitals to provide contraceptives and abortifacients to their employees, which galvanized Catholics. And then the 6th Circuit came out yesterday and overturned a statewide referendum in California banning gay marriage. But I'm not sure any of that will have a lasting impact on the primary contest.
Photo: Reuters Pictures