Santorum and his Theology
Santorum and stewardship of the Earth.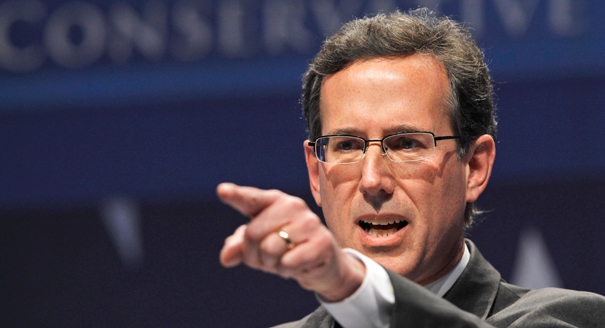 It's felt like all Santorum all the time here recently, and with good reason: he's the latest non-Romney and in some polls leads Romney nationally. There isn't enough tea in China to get me to vote for Santorum in any circumstance, but we can add this article by James Wood to the list of weird things about the Republican candidates in this election cycle:
If Rick Santorum is so staunch a Catholic, why does he often sound such a Protestant, not to say puritanical, note? His remarks about how President Obama's world view is just "some phony theology" have received a lot of attention but too little examination. It turned out that Santorum was talking, in general terms, about "radical environmentalists," and using environmentalism as a synecdoche for everything he abominates in secular progressive politics. "This idea that man is here to serve the earth as opposed to husband its resources and be good stewards of the earth" is, he maintained on CBS's "Face the Nation," "a phony ideal. I don't believe that's what we're here to do. That man is here to use the resources and use them wisely, to care for the earth, to be a steward of the earth. But we're not here to serve the earth. The earth is not the objective. Man is the objective, and I think a lot of radical environmentalists have it upside-down." That kind of ideology, he complained, "elevates the earth above man."

[…]

Of course, it is not possible to put theology aside. I know the theological weight of that word, "steward." When I was a boy, my mother, in the grip of her Scottish evangelical Protestantism, used to chide me for my untidy bedroom, adding that, as a Christian, it was an example of "poor stewardship." Everything is the Lord's, and our brief role on earth is merely to husband it in a right way, a way that gives the Lord His due. Christianity, with its emphasis on the afterlife, has always had a tendency to derogate earthly living as a kind of spectral vanity. And the early Christians, who like St. Paul were convinced that Jesus's return, and thus the end of the known world, was imminent, had particular reason to treat life as a ghostly antechamber to the joys of eternity. There is a sharp difference between the other-worldly asceticism of Christianity and the life-filled practicality of Biblical Judaism, which has a vague or non-existent notion of the afterlife. It was this asceticism, among other irritants, that caused Nietzsche to accuse Christianity of turning life upside-down—of privileging sickness over health, weakness over strength, the life to come over the life here. "Christianity was, from the beginning, essentially and fundamentally, nausea and disgust with life, merely concealed behind, masked by, dressed up as, faith in 'another' or 'better' life," he wrote in "The Birth of Tragedy." As the secularist might see it, Santorum is the one who has got things upside-down.

[…]

So when Santorum says that we must be good stewards of the earth, there is religious zealotry behind the sweet words. He is proposing, in effect, that the earth is dispensable but that our souls are not; that we will all outlive the earth, whether in heaven or hell. The point is not that he is elevating man above the earth; it is that he is separating man and earth. If President Obama really does elevate earth over man (accepting Santorum's absurd premise for a moment), then at least he believes in keeping man and earth together. Santorum's brand of elevation involves severing man from man's earthly existence, which is why it is coherent only within a theological eschatology (a theology of the last days). And he may well believe that man cannot actually destroy the earth through such violence as global warming, for the perfectly orthodox theological reason that the earth will come to an end (or be renewed) only when Christ comes again to judge the living and the dead. In other words, global warming can't exist because it is not in God's providential plan: the Lord will decide when the earth expires. This is Santorum's "theology," phony or otherwise.
Well, where to start? I think that the article's author, Mr. Wood, is making the word "steward" do a lot of work for him, but given some of the things Santorum has said, like his references to Satan and the notion that President Obama is looking to indoctrinate kids by sending them to college, it can't be dismissed. He clearly has some kooky ideas.
Also, as someone who grew up Catholic, it has occurred to me more than once that he sounds more like an evangelical Protestant than a Catholic, excepting his obsession with birth control and sex in general. Santorum is also clearly a global warming denier, which would fit with Wood's thesis.
As I said in the beginning of this post, I would never vote for him anyway. However, I'm still astounded by the number of kooks who have been taken seriously in this primary. Hopefully, when they lose this election, the Republicans will do a little soul searching and field some better candidates next time.
Via Jerry Coyne.