Santorum Lost The Catholic Vote Last Night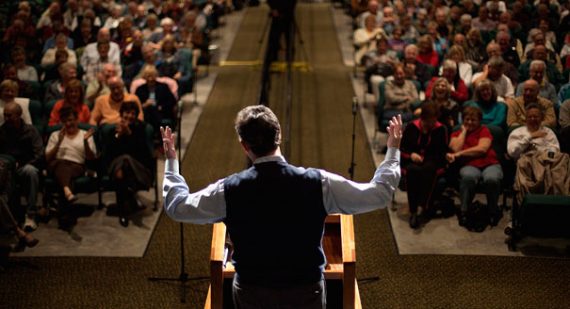 Looking through the exit polling from Michigan and Arizona, there's one fact that stood out to me. In both states, Rick Santorum, who has made his Catholicism and his positions on culture war issues like contraception part of his campaign for weeks now, lost the Catholic vote to a Mormon. In Michigan, Catholics went for Romney over Santorum 44% to 37%, and in Arizona they went for Romney over Santorum 44% to 34%.
Some might consider this surprising considering the religious ties of the candidates, but Ed Kilgore wonders if Santorum ever really had the Catholic vote:
The last contest with exit polling by the networks was Florida. There Santorum won 13% of the overall vote, but just 10% of Catholics; Mitt Romney ran a bit better among Catholics than he did overall. Now maybe you could say Florida's heavily Latino Catholic vote is atypical. What about South Carolina? There Santorum won 17% of the overall vote, but just 15% of Catholics. Again, Romney peformed a bit better among Catholics than among voters generally.

If you want to write off both those states because Santorum did not campaign heavily there, and/or because fellow-Catholic Newt Gingrich was the most important non-Romney candidate, then go back to Iowa. For some reason, Edison Research's entrance polls there did not break down voters by religious affiliation, but did ask if voters considered themselves evangelical or "born-again" Christians. Now that's a term normally associated with Protestants, though ABC's polling analyst Gary Langer has suggested that 14% of Catholics identify themselves as "born-again." Even if you take that "born-again Catholic" minority into account, it doesn't look like Rick did that well among his co-religionists, winning only 14% of non-"born-agains" as opposed to his overall statewide percentage of 25% (again, Romney romped among non-"born-agains," which obviously includes mainline Protestants, Jews, the unchurched, etc.).

So based on prior evidence, there's really no particular reason to think the "Catholic vote" was ever Santorum's to lose. His voting base has always been conservative evangelical Protestants, who also make up a high percentage of the voters fixated on making abortion illegal, a particularly strong Santorum demographic.
This makes sense. After all, more than one pundit has mistakenly called Rick Santorum one of America's leading evangelical politicians when he is, in fact, a Catholic. Considering that this is the group where his support seems to be coming from, perhaps it wasn't a mistake after all.