Once Again, Santorum Loses The Catholic Vote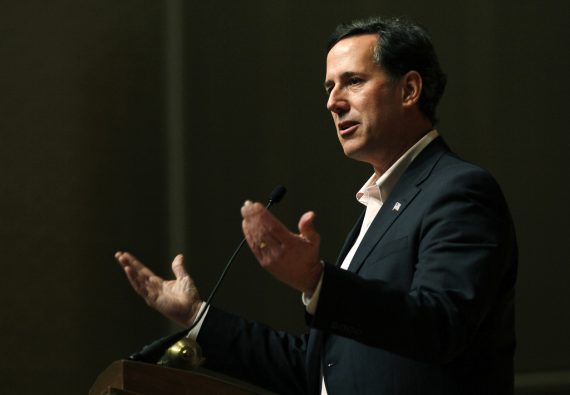 I noted last week that Rick Santorum, arguably the most Catholic candidate to ever run for the Presidency, had lost the Catholic vote in Michigan and Arizona. Perhaps not surprisingly, he also failed to carry Ohio Catholics yesterday:
(CNN) – Rick Santorum, a conservative Catholic who is outspoken about faith-based issues, lost Catholic voters by a wide margin in Ohio on Tuesday, potentially a key factor that allowed Mitt Romney to squeak out the narrowest of victories overall in the state.

According to CNN's exit polls, Romney took 43% of Ohio Catholics on Super Tuesday, compared to 31% for Rick Santorum, and Romney beat Santorum overall by 38% to 37%.

Catholic voters accounted for a third of Ohio's Republican electorate, the largest share of Catholics in any Super Tuesday state.

"The margin of Romney's win among Ohio Catholics is surprising, given Santorum's traditional Catholicism," says John Green, a political science professor at the University of Ohio. "Romney's margin among Ohio Catholics – especially in the three largest metropolitan areas – may account for his close win in Ohio."

Green notes that Romney, a Mormon, has consistently won the Catholic vote in this year's Republican primaries. That pattern runs counter to speculation that Catholics would focus more on hot-button issues at a time when Catholic bishops are battling the Obama White House over government-mandated contraception coverage.
Ohio wasn't the only state where Romney took the Catholic vote from both Santorum and Gingrich, the two Catholics in the race. Despite Gingrich's overwhelming win there, Romney won the Catholic vote in Georgia, although Catholics only represented 12% of the electorate there. Less surprisingly, Romney also won the Catholic vote in Massachusetts in a reflection of his own overwhelming victory there.  Santorum did win the Catholic vote in Tennessee, but his 36% was only one percentage point ahead of Romney's 35%.  Additionally, Catholics only accounted for 9% of the voters in the GOP primary electorate. The exit polls in Vermont and Virginia did not ask for religious affiliation, but one can presume that Romney won Catholics in those states as well. Finally, there was no exit polling in the caucus states.
Ed Kilgore comments:
Santorum's voting base is white evangelical Protestants, a category that happens to overlap significantly with three other demographics where he does well: "very conservative" voters, Tea Party supporters, and voters from rural and exurban areas. Romney does best among moderate and "somewhat conservative" voters, and urban/suburban voters, and best we can tell, Catholics voting in Republican primaries tend to be more urban and relatively moderate ideologically.
Precisely. Perhaps we might notice some differences if the exit polls differentiated between Catholics who attend Mass weekly and those who do not, but those questions weren't asked. Even then, though, I suspect that Santorum still wouldn't have much of an advantage. Santorum appeals, as Kilgore notes, to an ultraconservative brand of religion that simply isn't a huge part of American Catholicism. Yes, there are conservative Catholics even to the extent of people who insist on attending a Latin Mass as much as possible, but most American Catholics are basically a reflection of the population as a whole. And the population as a whole doesn't much like Rick Santorum.