Sarah Palin Not Performing Well In Early GOP Primary States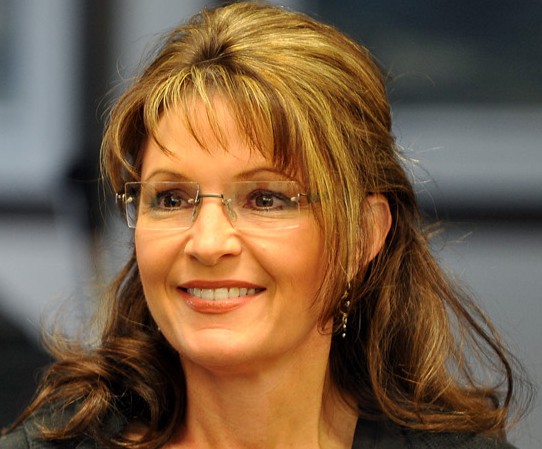 Nobody seems to know what Sarah Palin's Presidential intentions are, but if she does run she may find her fortunes in the early primary states far worse off than many have anticipated:
"These states take their responsibilities about picking out the nominee seriously," said J. David Woodard, a Republican pollster and professor of political science at South Carolina's Clemson University. "There's a real concern about investing somebody with that office who they don't feel has the gravitas."

A detailed examination of Palin's polling in the early going suggests that, contrary to the conventional wisdom, the media splash of her late entry into the presidential caucuses and primaries would barely rock the electoral boat. While her endorsement is likely to be a key 2012 prize, pollsters and Republican operatives in the three states repeat the same mantra: Unusual numbers of Republican voters actively dislike her; and among the majority who like her, few think she can serve as president.

"She has a group of ardent supporters who seem to be outnumbered by a group of ardent detractors," said Ann Selzer, whose Des Moines Register Iowa Poll is the state's gold standard, of views of Palin among Republican primary voters. (It's too early to survey likely caucus-goers, pollsters say.) "There's concern that if she were to do well in Iowa that it would be difficult for her to win, and Republicans in Iowa want to win," she said.

Selzer's survey last summer found that a full 39 percent of Iowa GOP primary voters view Palin unfavorably, a higher number than dislike two other candidates with some tarnish in the state, Mitt Romney and Newt Gingrich. She was viewed favorably by just 58 percent — a remarkable number for a conservative star in a survey of a group thought to be largely conservative Republican voters.
But Palin's polling numbers in Iowa are positively spectacular compared to New Hampshire:
If Iowa is a challenge for Palin, New Hampshire is a disaster. There, Romney is king – Monday's WMUR Granite State Poll gave him 40 percent of the primary vote. A series of PPP polls taken last summer and fall put his lead over Palin at almost 30 points, with the former Alaska governor and Huckabee locked in a statistical dead heat, each drawing around 10 percent of likely voters. And a January Magellan Strategies survey put Palin's unfavorability rating at over 30 percent among a group of GOP voters — 91 percent of whom described themselves as "extremely likely" to vote in the primary.
Even in South Carolina, where Palin is credited with giving a boost to the primary campaign of Governor Nikki Haley last year, Palin is not the first choice of Republican primary voters:
Even there, though, Palin can't seem to crack the top tier. She trails Huckabee and even Romney – whose campaign effectively died there in 2008 — in a January PPP poll, drawing 18 percent to Huckabee's 26 percent. Even in that solidly conservative Republican electorate, 28 percent of voters have an unfavorable opinion of the former Alaska governor, according to the survey.
These numbers could, and probably in some ways would, change with effective campaigning, but the thing about Palin is that pretty much everybody already knows her and has made up their mind about her, and not in a good way: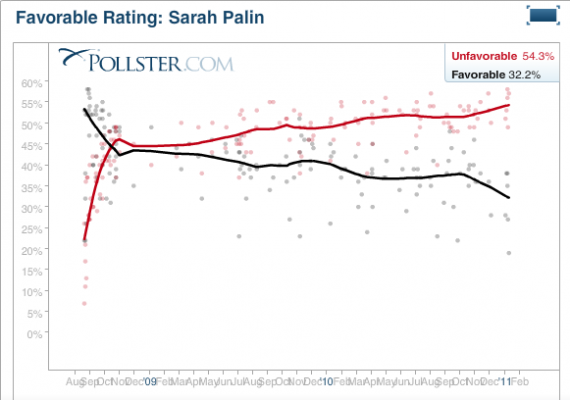 Personally, I wouldn't want to be the campaign manager charged with trying to turn numbers like this into a winning campaign or if I was, I'd demand a heck of a lot of money up front.